Success Stories in the Citizens UK Resettlement Campaign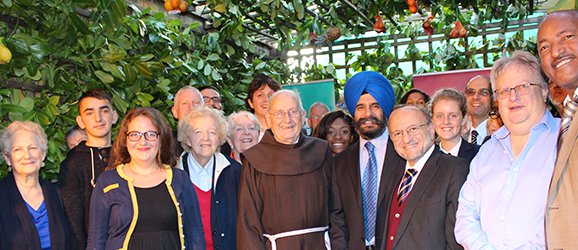 In June 2014, after seeing the crisis in Syria and Iraq in which almost 6 million people have been displaced, leaders from across Citizens UK were distraught. Only very few Syrian and Iraqi refugees had been brought to this country (by May 2015, only 187 Syrians have been resettled in the UK). Leaders wanted to do more. They knew if they organised themselves into strong, diverse teams and worked together, not only could they build successful local campaigns to get their Councils to commit to resettling refugees, but they could inspire people from across the UK to do the same.
Here are a few of their stories.
Kingston
Andree Frieze, a local leader from Kingston Liberal Synagogue explains:
"We knew we had to do something. One of the Citizens organisers was in touch with our Rabbi, Rabbi Charley Baginsky, who then started to build a team of people. First, she pulled together a group from inside the synagogue of people who cared about this issue and wanted to act. Then she tapped into the network of faith communities in Kingston. Soon, a team of senior imams, ministers and rabbis was established."
The team, and their communities, was united by its common goal – to encourage the Royal Borough of Kingston to become the first London Borough to resettle 50 refugees.
Andree continues:
"So we had our team. But then we had to identify the person who had the power to make the change we wanted to see – in this case, Leader of the Borough of Kingston, Kevin Davis (Conservative). But change does not just happen – we needed an action to encourage the Leader to agree to our request. So, on the festival of Succot, when Jewish communities traditionally construct temporary shelters remembering the refugee experience of their ancestors and of those displaced by conflict in recent months, over 50 people gathered outside Kingston Town Hall. We spoke of Britain's legacy of sanctuary, of our own family's experience of migration and refugee status, and of how we were committed to helping to resettle these refugees with us in Kingston."
This team of leaders demonstrated that their powerful communities were also behind this call. As a result, Kevin not only agreed, but committed to work with the local team and Citizens UK to encourage 50 Councils to take 50 refugees each.
Andree exclaimed:
"We did it! We worked together, strategised, pulled in local partners, and we hope to be welcoming in resettled refugees to Kingston by the end of 2015."
Islington
Sister Elizabeth O'Donohue, from St Mellitus Church and Toufik Kacimi from Muslim Welfare House, knew that they had their work cut out for them. They were in an inner-London Borough where housing was in short supply. How were they going to convince the Council and find homes for vulnerable refugees?
But, both Sister Liz and Toufik have many people in their congregations who had to flee violence, seeking sanctuary in the UK. And so they knew they had no option but to organise. The Leader of the Council was initially luke-warm in his reception of the prospect of joining the resettlement program and challenged the Citizens Leaders to action: to find accommodation for the refugees.
Sister Liz told me that there were no costs to the Council in the first year because the resettlement program was fully funded by the EU and the Home Office. However, the challenge they faced was finding affordable private rented accommodation that the refugees could live in.
She described what happened next:
"Leaders from within the Islington alliance pledged to house refugees, offering flats to be rented at Local Housing Allowance rates as well committing to befriending schemes to welcome refugees on arrival. As a result, Islington Council has agreed to sign up to resettle the number of refugees that Islington Citizens finds accommodation for in the Borough."

Norwich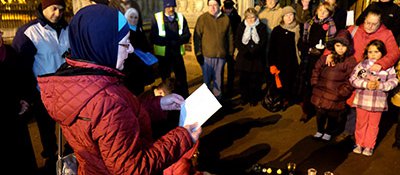 Meike Reintjes, a member of the Norwich Liberal Jewish Community, and Siobhan Aldris (pictured), a member of the Muslim community, are two very determined women.
In September 2014, an email was sent around Norwich asking women from different faiths and no faith to come together to resettle refugees in their city. And so, 'Sanctuary Norfolk' was born. Most of the women attending the first meeting did not know each other but they were happy to achieve a common humanitarian goal. The women invited men and women from their own communities to join, and with the support of Citizens UK they have since come a long way: within a few weeks they organised the first public action, handing chains of little paper people to local politicians, asking for 'Sanctuary for 50 people'.
Excitedly, Siobhan and Meike told me how the campaign unfolded:
"By February 2015, we had met with County Councillors to negotiate the next steps. We involved local media, approached representatives of different parties and gained the support of MP candidates not only for the sanctuary campaign but also for the broader Citizens UK Manifesto 2015 work. While we have not achieved our goal thus far, the Norfolk group has continued to grow, with the Anglican and the Catholic bishops, as well as more than a dozen religious and non-religious groups, supporting their efforts to resettle 50 Syrian refugees in Norfolk. So watch this space!"
Birmingham
In Birmingham, Sister Mary Horgan and Shale Ahmed, were determined to build a new partnership in a divided city. When the Far Right group, the English Defence League (EDL) held a rally in Birmingham City Centre in October 2014, around the corner, our alliance of leaders from diverse communities gathered in Birmingham Progressive Synagogue to learn and reflect on Sanctuary during the Jewish festival of Succot.
Shale described the challenge:
"The Birmingham leaders signed up to the Citizens UK's Sanctuary Campaign and pledged to host the largest pre-election Sanctuary Assembly at the University of Birmingham during the election period. In the preceding months, we got busy in our institutions – from Sanctuary lessons/Assemblies in schools to a special Valentine's Day action outside of the Council House – we managed to raise the profile of the campaign in Brum securing the commitment of those in power to attend our Assembly."
The Assembly on March 26 2015 in the Great Hall of the University of Birmingham was a great success. Over 600 people from across the UK secured pledges from Councils, national politicians and housing providers to resettle vulnerable refugees.
Sister Mary was particularly proud:
"We were really happy that Sir Albert Bore, Leader of Birmingham City Council, agreed to resettle 50 refugees in Brum, aided by a social enterprise that offered 50 homes to ease pressure on council stock."
Even though there are now 8 Councils that have publicly committed to resettling refugees (including Glasgow, which recently committed to over 100 refugees), the Citizens UK leaders all recognised that the campaign was not won yet.
"Now that we have shown there is real local support for resettlement, we have to get Parliament to agree to increase the number of resettled refugees to at least 1500 per year"; explained Meike.
Which is why Citizens UK needs your help: Here are three things that you can do:
Offer to welcome a refugee to your community and find them a safe home - sign up
here
. Ask your council to resettle 50 refugees - sign up for a training event
here
. Ask your MP to up the UK resettlement quota - find their contact details
here
.