Sponsor Refugees launch 2018 Community Sponsorship Awards
Citizens UK's foundation for the sponsorship of refugees, Sponsor Refugees, has launched the nomination period for the first ever Community Sponsorship Awards in the UK. The launch was announced on Monday 7 May at the annual Migrants' Mass at St George's Cathedral in Southwark, London.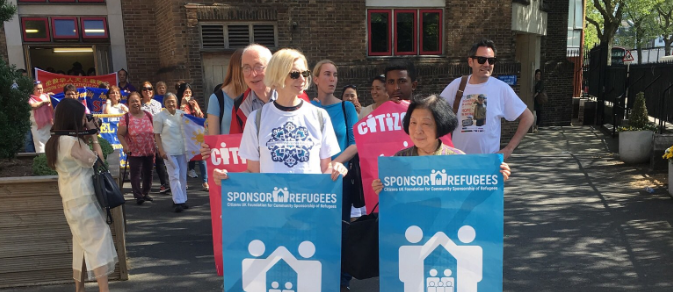 Jointly organised by Citizens UK, 43 Ethnic Chaplaincies and the Dioceses of Southwark, Westminster and Brentwood, the annual Migrants' Mass has been highlighting the plight of refugees and migrants since 2006. This year the Mass focused on community sponsorship, a resettlement scheme that is well-established in countries such as Canada but is relatively new in the UK. A number of community sponsorship groups such as Peckham Sponsors , Herne Hill and the Welcome Committee , marched together towards the Cathedral.
Community sponsorship gives diverse community groups the opportunity of working together to sponsor and welcome a refugee family into their community. Sponsorship groups have to work hard to meet the criteria set by the Home Office and obtain approval from their Local Authority. Typically this involves finding a suitable, affordable home, raising sufficient funds and putting together a comprehensive resettlement plan that outlines how the community will take responsibility for resettling the family: this covers everything from safeguarding to English language provision and more.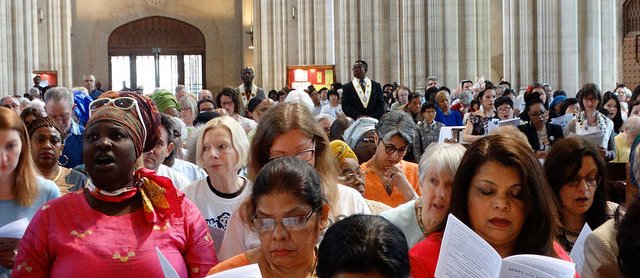 The Awards were announced at the Migrants' Mass in order to celebrate the more than 100 community sponsorship groups that have been set up across the country to date and are working tirelessly to make this scheme a reality. T he awards ceremony will take place in partnership with the International Observatory of Human Rights (IOHR) in London on the 2nd of October.
We invite you to submit your nominations for the following categories:
Community Sponsorship Group of the Year: nominate a group that has successfully resettled its own refugee family via community sponsorship and is doing a fantastic job.
Volunteer of the Year: nominate an individual whose efforts and work embodies the spirit of community sponsorship.
Local Authority of the Year: nominate a local authority which has been supportive of the community sponsorship scheme.
New Community Sponsorship Group of the Year: nominate a group that has recently welcomed its family or is yet to do so to recognise their hard work to date.
Newcomer of the Year nominate a refugee (individual or family) who arrived via community sponsorship in the UK.
Sponsorship Champion of the Year nominate anyone else who has been supportive of community sponsorship: this could be a journalist, a project, or a politician - as long as their work has supported community sponsorship.
Please submit your nominations by the 2nd of July here . Please enter the details of the group or person you are nominating and add a few words to let us know why you think they should get an award.
If you have any questions, please visit the Sponsor Refugees website or email communitysponsorship@citizensuk.org