Scheme to match young talent with employers' skills gap leads to former Monoux student beating global competition to win Apprentice of the Year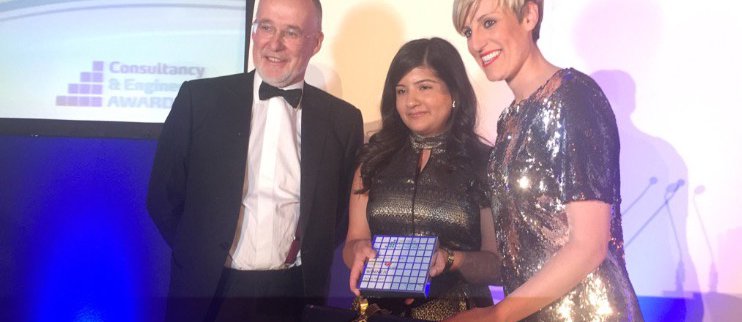 Sanna Shabir, a civil engineering technician apprentice at Atkins Global, has been named Apprentice of the Year at the 2016 international Consultancy & Engineering Awards. The Consultancy and Engineering Awards 2016 recognise and reward business excellence from across the consultancy and engineering sector globally
Sanna earned her place as an apprentice at Atkins through the Good Jobs Campaign - a Citizens UK initiative which connects young people with businesses needing talented people. By working in partnership with employers and educational institutions, the Good Jobs Campaign has helped over 200 young people - who may otherwise have struggled to access employment opportunities without university qualifications - into jobs, apprenticeships and paid work experience.
Commenting on her achievement, Sanna said "This scheme run by Citizens UK and Atkins has changed my life completely - it has provided me with the stepping stones that will enable me to build a successful career in engineering.
"The Good Jobs campaign not only helped me secure a permanent role in Atkins, it changed me greatly as a person both professionally and personally. Winning this award has been a real thrill and I feel incredibly honoured to have won this award and to have that all the efforts I have put in be recognised."
The Good Jobs Campaign delivers sector-specific employability skills training to 16-18 year olds across 3 sectors; Engineering, Creative Industries and Healthcare, where young people participate in sector specific workshops with the employer partner. The workshops range from learning how to code to using engineering skills to design refugee settlements. These are coupled with soft skill training sessions including CV writing, interview preparation, negotiating and effective networking workshops.
Martha Crawford of Citizens UK commented "We are so proud of Sanna - both of her achievement at Atkins and her continued commitment to the Good Jobs Campaign at Citizens UK.
"Not only is she a rising star in her field, she continues to dedicate her time to students across London by teaching on our Pathways to Engineering programme to encourage other students to take up apprenticeship opportunities. She is a great role model for the young people she works with and a credit to the success of the Good Jobs Campaign."
The partnership between Atkins and Citizens UK allowed 18-25 year olds who lacked the skills and networks to get their foot in the door, whilst promoting engineering as a viable career especially for young females who often would not have considered the sector otherwise. Between 2013 and 2015, 20 young people were enlisted into London Living Wage internships at Atkins. Of the 20, 7 went on to become Junior Engineers within the firm including Sanna.
Liam Harrison, Director, Atkins said "Our partnership with Citizens UK has introduced us to some brilliant young people that perhaps wouldn't otherwise have considered engineering as a career. Sanna is a great example of someone making the most of an opportunity to gain work experience and then employment. She is thriving at Atkins and we're very proud that she's part of our team."
Sanna regularly engages in a range of activities geared towards encouraging others to pursue apprenticeships in STEM subjects. In her efforts to help others overcome the widening skills gap and access jobs with a strong career path, Sanna serves as an Atkins apprentice ambassador which involves her promoting apprenticeships in engineering across the UK. Sanna visits schools and provides students an insight of what engineering is about as well as the benefits of taking on an apprenticeship. She is also on the team which delivers the Pathways to Engineering programme at her former college, Sir George Monoux Sixth Form College.
David Ball, Interim Principal of Sir George Monoux Sixth Form College remarked "We are thrilled to hear that Sanna has won the prestigious Apprentice of the Year Award. Sanna was an outstanding student who excelled on our Good Jobs programme, run in partnership with Atkins and Citizens UK.
"We are proud supporters of Citizens UK's campaign to connect young people to jobs. Sanna's success demonstrates that students have a range of excellent alternative choices to university."