Santa visits Sunderland: How workers won the real Living Wage
From action to accreditation!
Winter 2021… t'was the season for the University of Sunderland to finally pay its staff the real Living Wage. Tyne and Wear Citizens leaders had heard from staff and students struggling on low pay, so they put on a Christmas-themed action, in partnership with the University's Unison and UCU branches, asking University bosses to accredit as a Living Wage employer. This would also mean the University joining Sunderland City Council, Gentoo and many others in a venture to make Sunderland a Living Wage City.
Even the cold could not deter Santa and their Elves. They dressed up, shared testimony, sang Living-Wage-themed carols and gifted mince pies to the Head of HR. Their tune of 'don't be a scrooge this Christmas time!' gained traction on social media and in press headlines, and in the New Year they took their rightful seat at the negotiation table.
Fast forward to the present day – Living Wage Week 2022 - and these same leaders are celebrating the launch of Sunderland Living Wage City, with the University playing a key role.
Paying a real Living Wage to people affords workers the ability to strike a work-life balance and avoid the stresses that come with being overworked and underpaid. I am privileged to work on a campaign at a local and national level that strives to get this for workers. Gayle Purves, Tyne and Wear Citizens leader and Living Wage action team member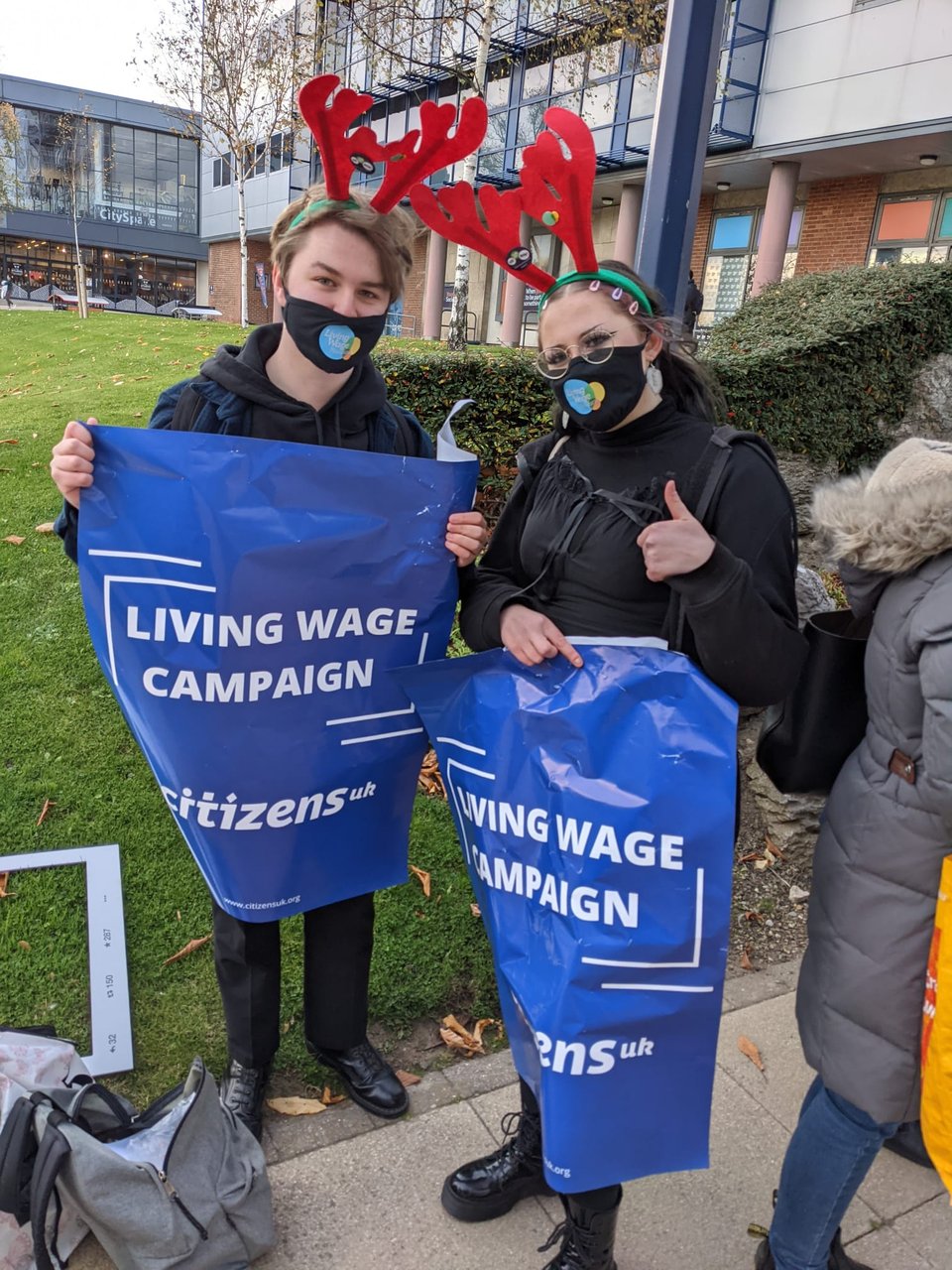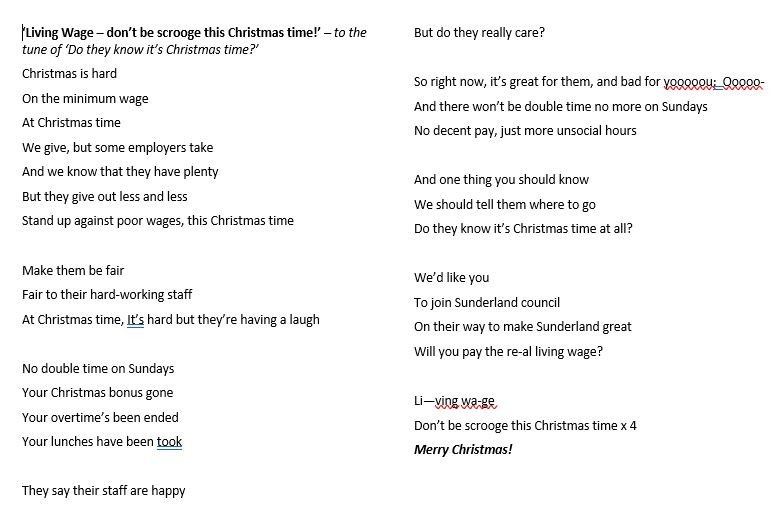 Why it matters that wages account for the cost of living
Gayle Purves is on Tyne and Wear Citizens' Living Wage action team. Reflecting on her motivations for joining the campaign, she says:
"I experienced low paid insecure work some years ago and the experience of not having enough money to pay bills yet being too exhausted and worn down to fight the injustice has stayed with me.
Working extra hours when low-paid is often seen as a solution to the problem. This may be a short-term fix, but paying a real Living Wage to people affords workers the ability to strike a work-life balance and avoid the stresses that come with being overworked and underpaid."
Another key leader, action team member and Santa on the day is Val Barron. Val lives in Sunderland and her work involves supporting local churches to respond to poverty. Val says:
"I see so many people visit the foodbanks who are in-work yet low paid. If we truly want to tackle poverty, we have to pay a real Living Wage."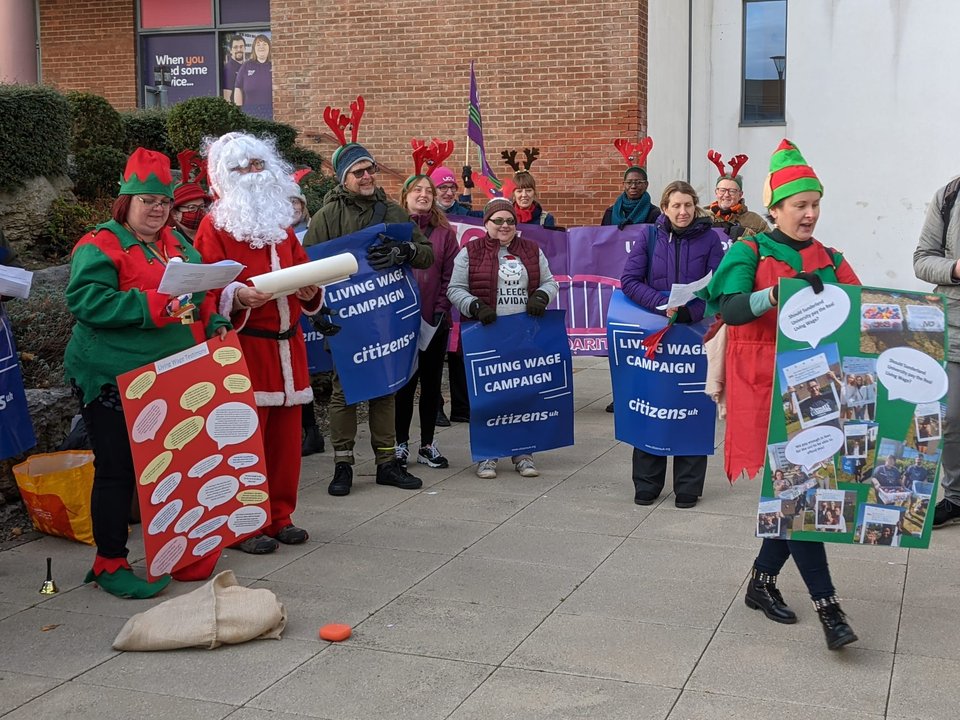 So, how exactly did the University of Sunderland end up on Santa's nice list?
Listening to workers on low pay
When Gayle and her team first approached the University, they were told low pay wasn't a priority issue across campus. So, in September they gathered stories in a process called a 'listening campaign', and heard from workers and students who were on low pay or in zero-hour contracts. She explains:
"The listening that predated the action was strategic. We held it during fresher's week to maximise the people we could potentially speak to, on a public footpath that was a main thoroughfare to the university campus! Although the security guards pointed and talked about us, we were not doing anything wrong."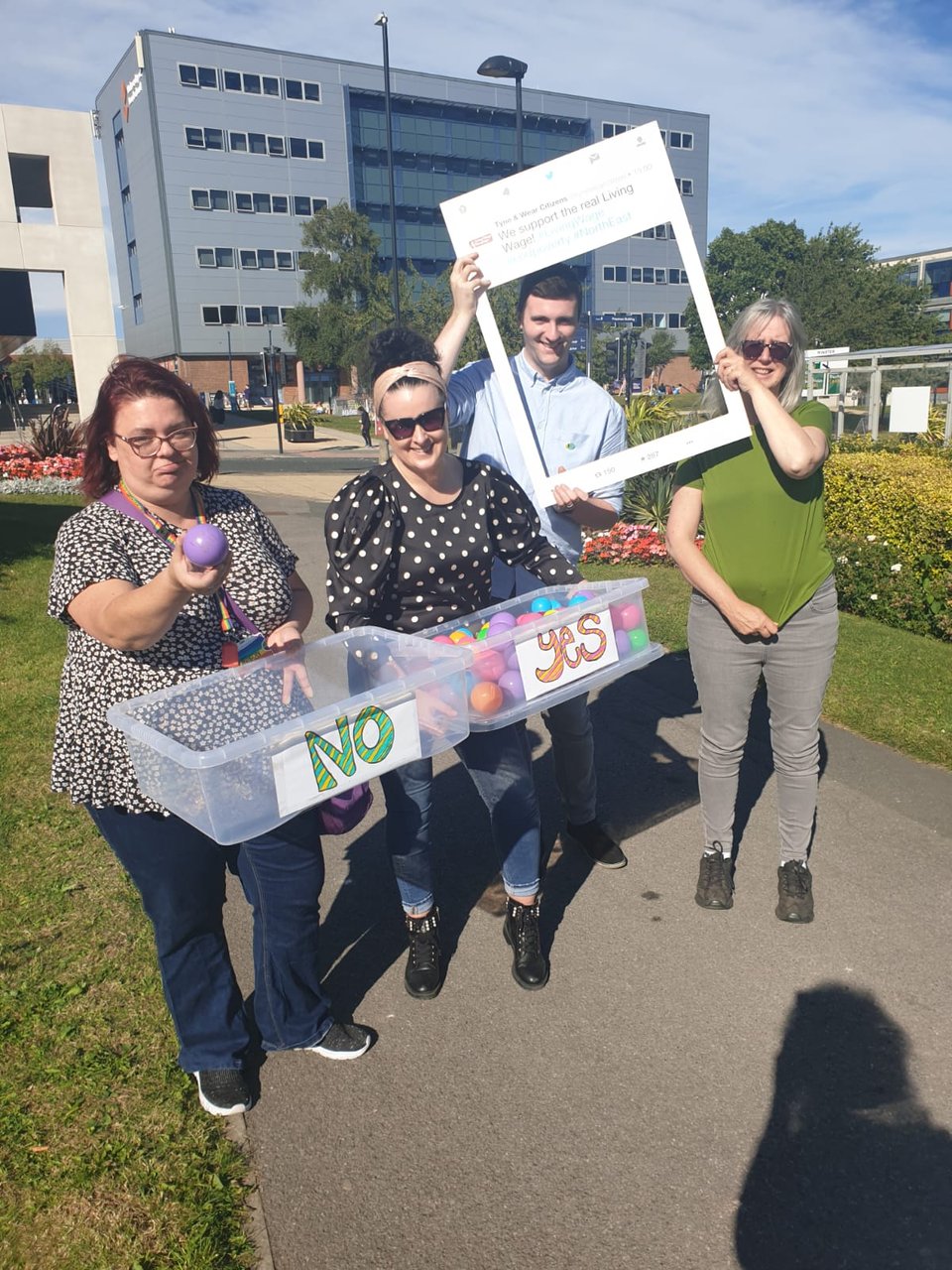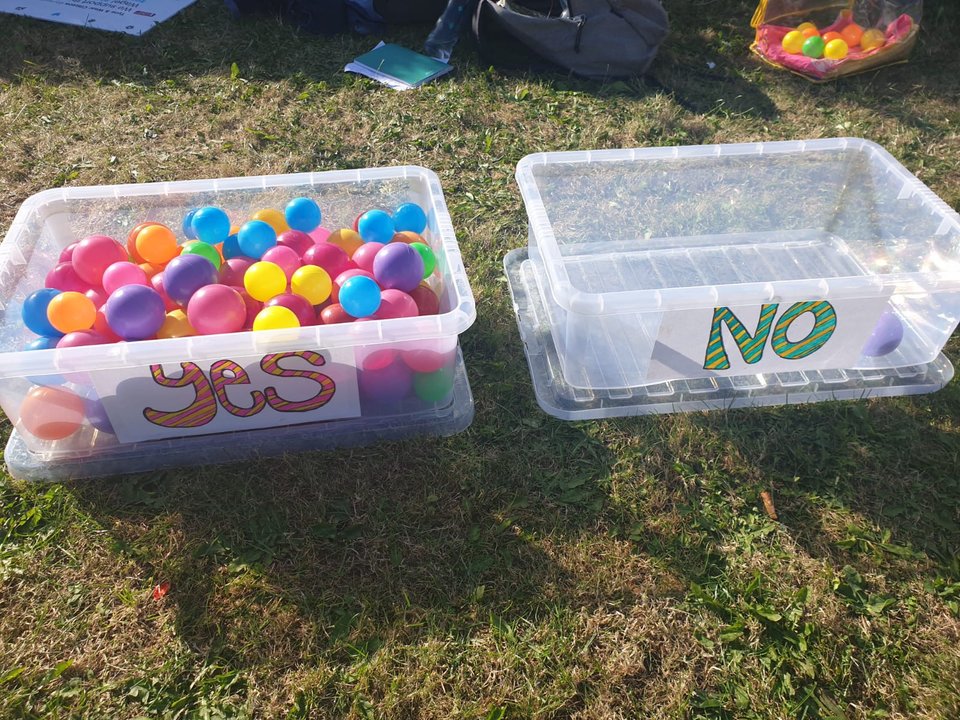 Passers-by voted on whether the University should pay staff a real Living Wage by dropping them in one of two boxes marked 'yes' or 'no'.
Using listening and action as a negotiation tactic
Gayle explains: "We sent the results with photos to University leaders, and also told them that we were going to do an action on the 24th November outside the offices where the Board of Governors were meeting that day. The Vice-Chancellor and Chief Executive, Sir David Bell, agreed to meet with us.
We discussed whether to go ahead with the action, when we had already been offered a meeting for the New Year, and decided to proceed but with a fun, thankful and celebratory tone. So, on the day we had two elves and Santa. The Deputy Chair of the Board came down with the Head of HR and we sang carols, gifted mince pies and presented testimony from low paid staff printed on large, coloured card. The symbolism of the Head of HR holding that testimony in their hands was not lost on anyone.
We always have fun with our actions, they are not combative. Because it was so unusual and unique, we left them wondering...what are they going to be capable of if they don't get what they are asking for!?"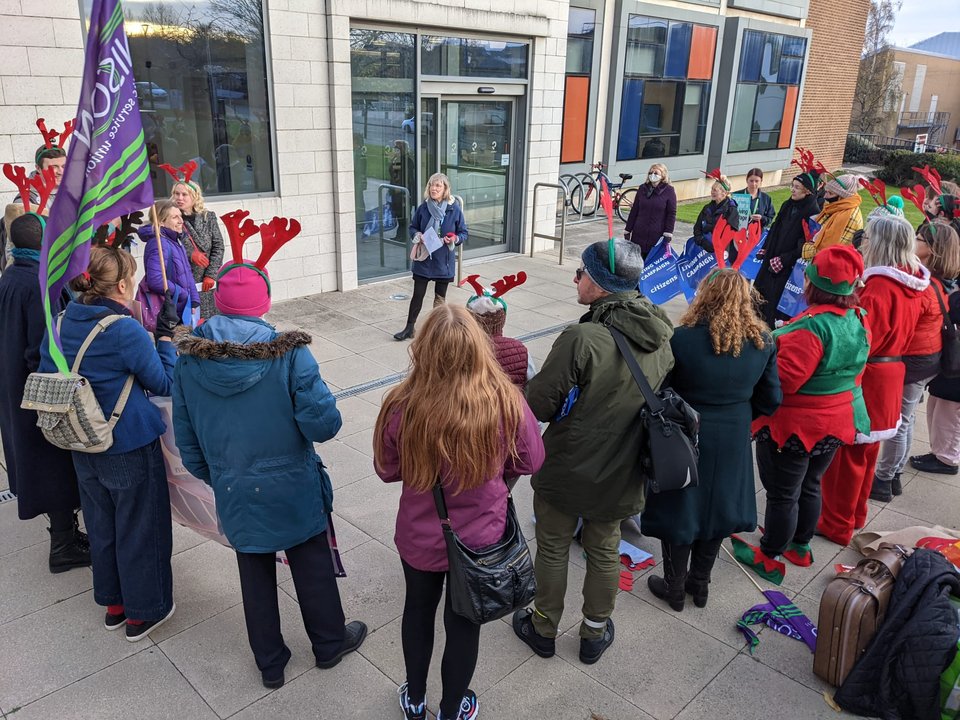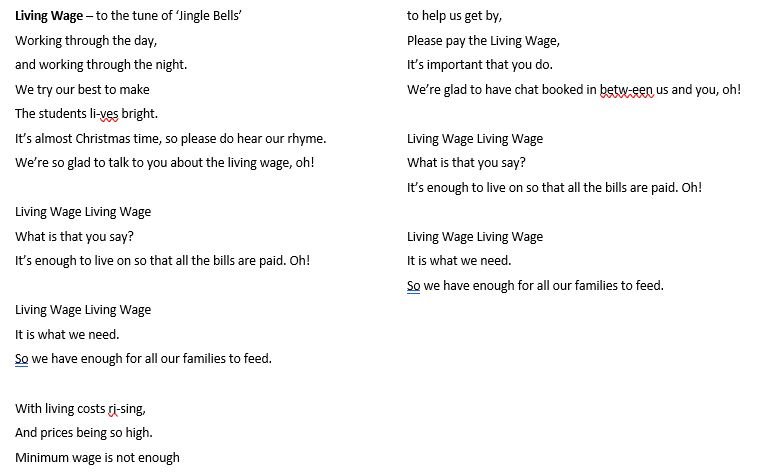 Barely 12 days of Christmas had passed. Tyne and Wear Citizens leaders joined the Board of Governors, describing what a difference the real Living Wage would make to staff and to wealth-building in the city.
The Board voted to raise the pay of all staff in line with the real Living Wage.
The impact: Leaders developed, institutions strengthened, and change made
Proving their commitments, the University of Sunderland became an accredited Living Wage Employer from the 14th February 2022 – the best Valentine's gift ever. Leaders who were developed through the campaign have stepped up to Co-Chair the Living Wage Action Team and others are going on Citizens UK's 3 and 6-day Community Leadership trainings.
Moreover, the alliance is strengthened and united, as leaders push for all employers across Sunderland to pay the real Living Wage. Gayle says:
"We had an excellent Chair for the Living Wage Action Team, Neil Duffy. Meetings were held in true Citizens UK manner - with a clear agenda, good time-keeping, and, most importantly, fun! This led to a very productive and diverse team. The relationship with UNISON, for example, was key to our success. They have become a member of Tyne and Wear Citizens and maintain a great presence on campus. 
Together, we have strengthened our relationships and power as an alliance, developed leaders and, most importantly, won a permanent pay rise for workers."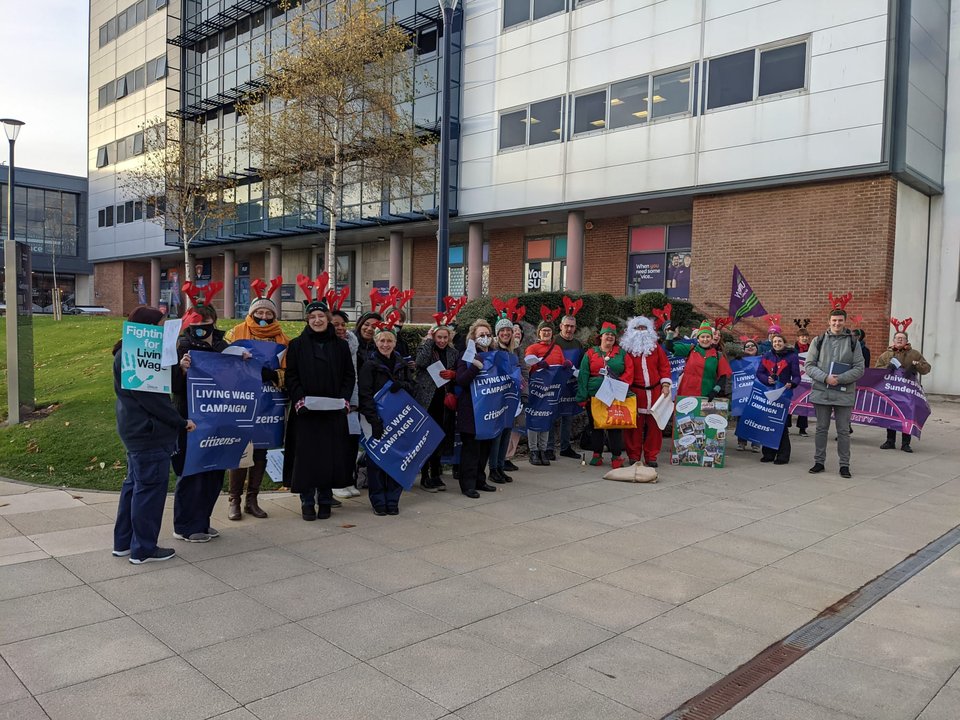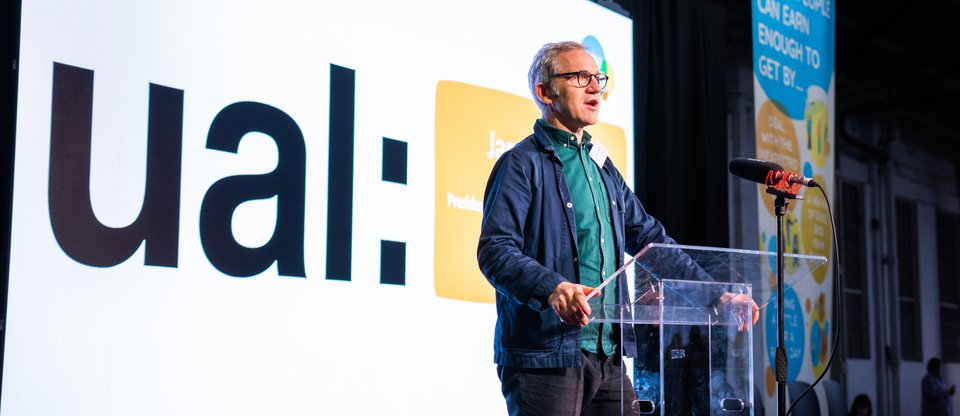 Join the movement of 11,000+ employers across the UK paying employees a real Living Wage. Use the button below to read more.
You can also find out more about how the Living Wage rate is calculated here.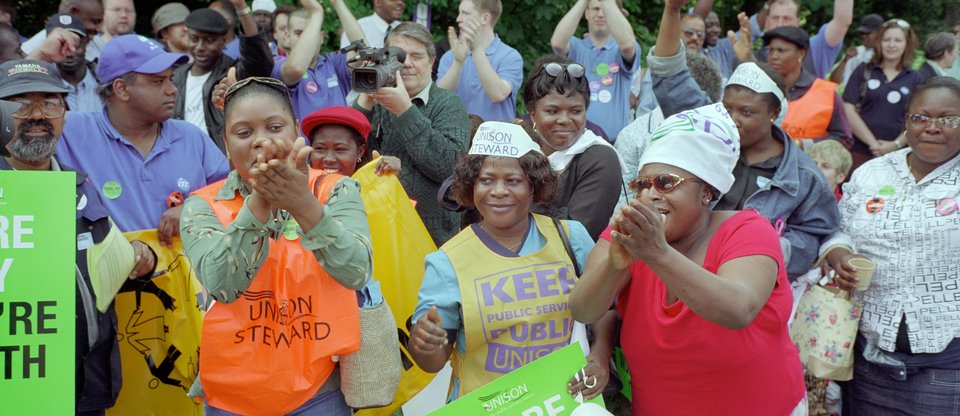 You can also take action in your area, whether you are a worker on less than the real Living Wage or wanting to support the movement. Start Organising by encouraging your institution to join one of our local Chapters.
Posted by Sylvie Pope on 16 Nov, 2022