#RefugeesWelcome Vigil Calling on the Prime Minister to Resettle 1000 refugees before Christmas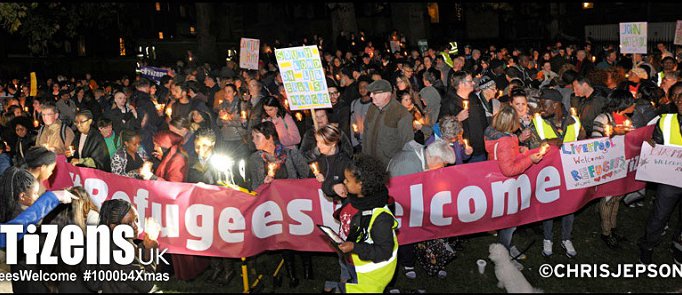 On Tuesday 13 October, over 900 leaders from Citizens UK called on Prime Minister, David Cameron to break the deadlock between central government and local councils to enable Syrian refugees to be brought to the UK before freezing temperatures see more children die in refugee camps in the region.
This was also an opportunity to announce the progress that our teams have made around the country, including securing:
40 Councils that have committed to resettling at least 50 refugees despite the holdup of ongoing negotiations over the financial deal with government, the total pledged is 3,047
25 Universities – have committed £3.5 million worth of scholarships to fund 147 places for Syrians
Landlords – 727 private landlords have registered their properties to be used by Syrian refugees
The call to speed up the resettlement of Syrian refugees has come now in order to minimise the number of avoidable deaths of children in refugee camps this winter after six children died due to freezing temperatures last year. We asked the Prime Minister for at least 1,000 of the most vulnerable refugees to be brought to the UK before Christmas.
Members of Citizens UK were joined by supporters of partner organisations, Avaaz and 38 Degrees, to lay wreaths outside Parliament in remembrance of the six children who died in the refugee camps last year because it was too cold and call for a speedier roll out of the announced resettlement programme.
Bishop Paul Butler said: "Local councils are telling us they are ready and willing to take refugees and the UNHCR are reporting that they can resettle at least 1,000 refugees from camps to the UK before Christmas. We know that through the local councils Citizens UK has engaged there is appetite to help more than 3,000 people now. However for this to happen, central government needs to provide the right support to local authorities. They need to speed up the existing and successful Vulnerable Persons Relocation scheme to avoid more deaths of innocent children this winter."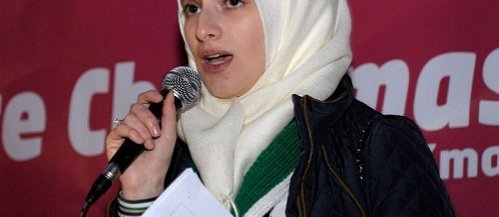 Leaders were addressed by Bishop Paul Butler, Rabbi Danny Rich, Senior Rabbi of Liberal Judaism, Sheikh Abu Sayed from Darul Ummah Mosque, Rabbi Laura Janner-Klausner, the Senior Rabbi of the Reform Movement, Yvette Cooper MP, Angus Robertson MP, Tim Farron MP.
Together Citizens UK, Avaaz and 38 Degrees have registered over 700 landlords who are offering private property to be used to home Syrian refugees and secured over £3.5 million in scholarships from leading universities including LSE, Sussex, Warwick, York, SOAS and Edinburgh to enable young Syrians to continue their studies.
Citizens UK has been running training programs to bring different civil society institutions like churches and colleges together and get them to, join forces and organise pledges of housing, English language classes and health care, before persuading local authority leaders to agree to accept refugees into their area. Already 40 local authorities have confirmed they will resettle 3,000+ Syrian refugees between them despite ongoing deadlock over local authority financing.
Zrinka Bralo, Citizens UK leader said: " We welcomed the announcement from the Prime Minister that he would significantly increase the number of refugees that the UK resettles. However the timescales just don't add up. The crisis is happening now, so we need significant action in 2015, not in two, three or five year's time. That's simply too late for the children who having nothing but a sheet separating them from freezing temperatures.
" Last year six children died needlessly, thousands more suffered respiratory illnesses. We cannot remain silent and allow more innocent children to suffer. Particularly when the British public has spoken; pledging support practically, financially and emotionally and demanding that the most vulnerable families languishing in refugee camps be brought to the safety of the UK to communities who welcome them. "
So far the Government's Vulnerable Persons Relocation Scheme, set up specifically to help resettle Syrian refugees, has, in more than a year provided sanctuary to just 216 refugees. The 40 local authorities Citizens UK members have worked with to secure commitments to welcome refugees have pledged 3,047 places, ten times more than the number of Syrians resettled by the Government to date.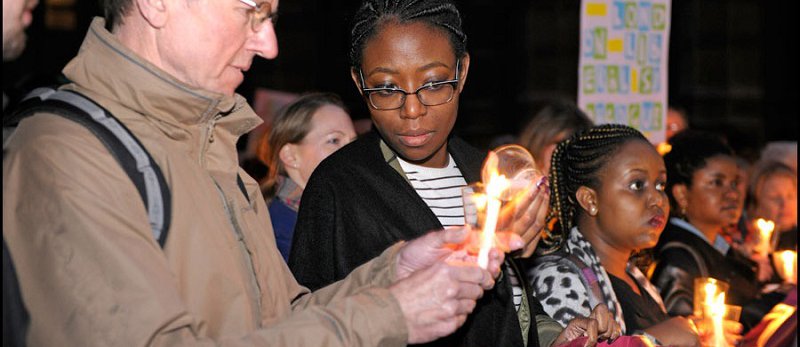 Citizens UK members and supporters of Avaaz and 38 Degrees held wreaths at remembrance actions in Parliament Square and at 7 venues across the country. Collections of warm clothes to be sent to the camps to help refugees who will be remaining in the tented cities for another winter will also be made.