REAL LIVING WAGE HOURLY RATES INCREASE TO £8.75 IN UK AND £10.20 IN LONDON AS COST OF LIVING RISES
REAL LIVING WAGE HOURLY RATES INCREASE TO £8.75 IN UK AND £10.20 IN LONDON AS COST OF LIVING RISES
Heathrow becomes first Living Wage airport with 3,200 workers set for a Living Wage pay rise
The Living Wage Foundation announces new UK Living Wage of £8.75 per hour, an increase of 30p per hour
• Mayor Sadiq Khan announces new London Living Wage of £10.20 per hour, an increase of 45p per hour
• The UK rate is £1.25 per hour more than the minimum wage (for over 25s) and the London Living Wage is £2.70 more an hour
• Today, Heathrow Airport becomes the 1st airport in the UK to sign up as a Living Wage Employer (see attached press release)
• Heathrow join more than 3,600 Living Wage employers across the UK and 1,000+ in London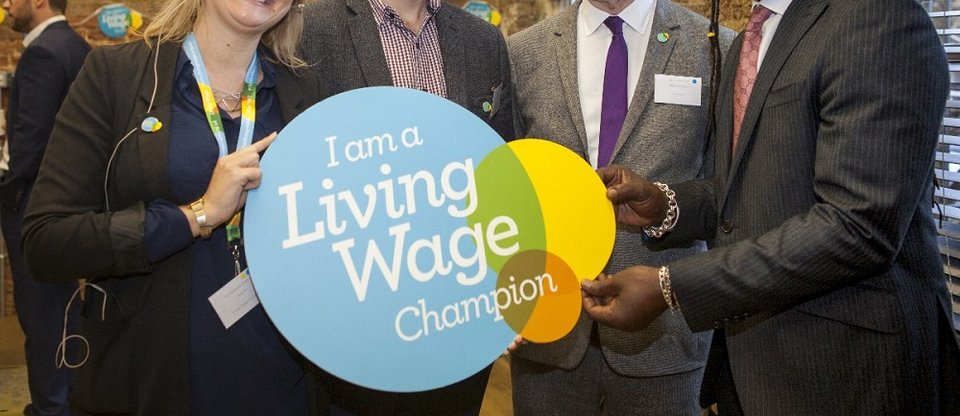 The Living Wage rates are independently calculated, based on the real cost of living in the UK and London. The 2017 increases have been largely driven by higher inflation feeding through to the basket of goods and services that underpin the rates, with rising private rents and transport costs also having an impact.
The announcements come after new research published by KPMG yesterday showed that 5.5 million people across the UK are still paid less than the real Living Wage, that's 1 in 5 workers, 21% of the UK workforce.
The Living Wage Foundation announces that Heathrow airport will become the first Living Wage airport. This recognition will see the UK's largest airport ensure 3,200 airport workers are paid the Living Wage by the end of 2020 and marks a significant milestone in the airport's long term plan for sustainable growth.
Heathrow is amongst over 150 employers accrediting in the build up to Living Wage Week, including the National Gallery, Somerset House and JLL.
They join over 3,600, employers across the UK, including a third of the FTSE 100, household names IKEA, Aviva, Nationwide, Chelsea and Everton Football Clubs and Google, as well as thousands of small businesses, who are choosing to pay the real Living Wage to ensure all staff, including onsite contractors, earn a wage that meets the real cost of living.
More than 1,000 employers have signed up to pay the real Living Wage since Living Wage Week last year, including companies as diverse as LUSH, Diageo, Landsec, Arriva Rail, Rambert and Slush Puppie.
Living Wage Foundation Director, Katherine Chapman said:
"The new Living Wage rates announced today will bring relief for thousands of UK workers being squeezed by stagnant wages and rising inflation. It's thanks to the leadership of over 3,600 employers across the UK who are committed to paying all their staff, including cleaners and security staff, a real Living Wage.
"Heathrow Airport signing up is a major milestone for the Living Wage movement. As the first Living Wage airport, bringing a pay-rise to 3,200 workers, Heathrow sets an example for other major UK employers to follow.
"In-work poverty is today's story. New figures out yesterday show that 5.5 million people are still paid less than the real Living Wage – it's fantastic that this year alone over a thousand more employers have chosen to go beyond the legal minimum and pay a real Living Wage, putting fairness and respect at the heart of their business.
"Great businesses know that, even during these tough times, not only is fair pay the
right thing to do but paying the real Living Wage brings big benefits. Nine out of ten
accredited Living Wage employers report real benefits including improved retention, reputation, recruitment and staff motivation."
Heathrow CEO John Holland-Kaye said:

"Heathrow's status as a world-class airport is down to the quality and expertise of our colleagues. We firmly believe that paying the Living Wage is the right thing to do as a responsible employer. It will help us to attract and retain the best people, supporting them in building a rewarding career at Heathrow.

"We are proud to be accredited by the Living Wage Foundation and are committed to going further to support responsible employment practices throughout our supply chain.

"This accreditation is another step in delivering our ambitious sustainability strategy, Heathrow 2.0, and a significant milestone for realising our vision for Heathrow to be a great place to live and work."
The new London Living Wage has increased from £9.75 to £10.20 per hour, an increase of 45p an hour, to reflect the higher cost of living, including rents, facing families in the capital.
More than a thousand London-based employers have signed up to pay their staff the hourly rate required to make ends meet in the capital, with over 250 signing up as Living Wage employers in the last year.
London Mayor Sadiq Khan celebrated the new London Living Wage at cosmetics firm Lush on Oxford Street, which recently signed up to pay all staff a real Living Wage.
Living Wage rates are being launched at events across the UK during the week, in Edinburgh by the First Minister of Scotland, Nicola Sturgeon, in Cardiff by First Minister of Wales Carwyn Jones, and being welcomed by metro Mayors of Greater Manchester, Liverpool City Region and Cambridgeshire and Peterborough.
Read more about the history of the Living Wage campaign, started by Citizens UK in 2001.