Payday lender Wonga goes into administration: Citizens UK reaction
Payday lender Wonga has collapsed into administration this week. In part, this comes as a result of the introduction by law of a cap on the cost of credit which was campaigned for by Citizens UK from 2009 and won in 2015. Read this blog to learn more about this campaign, which helped protect vulnerable people from falling into even greater debt.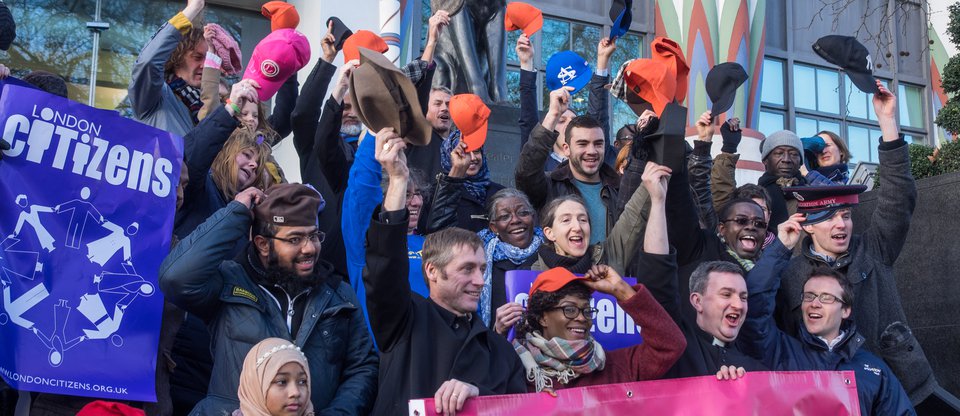 Like all Citizens campaigns, we began by listening to the concerns of the communities we serve. Colleen Beasley, a leader from St John's Church in Hoxton, courageously shared her experience as follows: "I became involved in the campaign for a cap on credit because I myself was a victim of these charges. It's an embarrassing situation to find yourself in, but the relentless charges and fees meant my original, relatively small debt quickly spiraled out of control. Being in debt and knowing that the debt is growing is a frightening experience which has a serious influence on your well-being" .
In 2009, we organised an action led by faith leaders outside the headquarters of the Royal Bank of Scotland. A few months later we held an Assembly with Stephen Timms MP, the then Financial Secretary to the Treasury, alongside his opposition counterparts, calling for the Government to introduce a cap on interest rates. We repeated this call at the 2010 General Election Assembly, during which we won a commitment from David Cameron to investigate the possibility of such a cap.
Our call was supported by the Bishop of Stepney, Adrian Newman, and the Archbishop of Canterbury Justin Welby . We kept the pressure up until 2013, the year in which this legislation was successfully passed, by running local actions and actively promoting the use of credit unions, a more ethical option for those needing access to loans. For example, TELCO leaders handed out fliers to customers outside a branch of The Money Shop, another high profile payday lender charging extortionate fees that trap people into a cycle of debt.
Once the cap came into force, our leaders held an action calling on Wonga and others to respect the spirit of the cap by refraining from adding other hidden charges that would harm customers. We also held negotiations with Wonga and Speedy Cash, which led to them changing their advertisement practices by ending the use of muppets and other family-friendly messaging in their ads.
Commenting on Wonga's fall, Citizens UK Executive Director Neil Jameson said: " Very few people will shed a tear for Wonga: people do need access to short term loans but they deserve ethical lenders like credit unions which are rooted in the community, not payday lender sharks seeking to make a quick buck off the back of people's misery ". Neil also highlighted the fact that the need for payday lending can and should be reduced by employers going a step forward and choosing to pay the real Living Wage, which is based on the true cost of living.
Our reaction was covered by The Daily Mirror, The Express, The Daily Mail, The Sun and others. Neil Jameson also discussed the topic with Julia Hartley-Brewer on talkRADIO .