Oxford Street Brands urged to "Be Like Lego"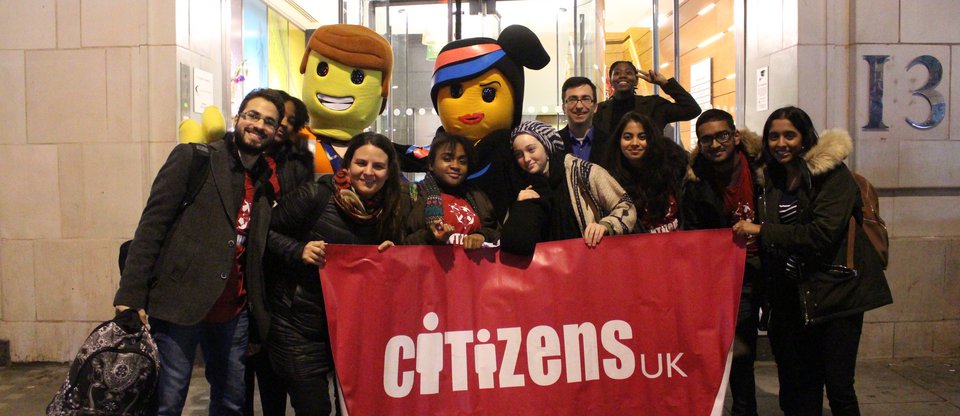 Citizens UK are set to hold a public action in Oxford Street on Monday 19 th December in order to call on retailers to rethink their advertising in newspapers that divide, demonise and discriminate against minorities.
Several teenage leaders dressed up as Lego characters, calling on 8 high street (1) brands to "Be like Lego" (2) as part of their request for a meeting to discuss how the negative portrayal of migrants and refugees leads to the demonization, distrust and blaming of immigrants.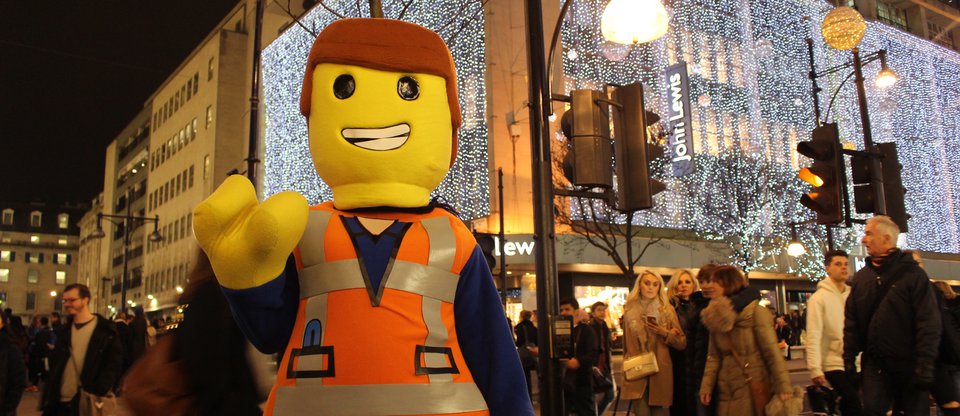 They hope to build a relationship through which they aim to persuade major brands to withdraw its advertising and other promotions from newspapers that are publishing divisive hate campaigns. Each retailer was presented with a Christmas present of Lego figures holding hands together, representing the values of diversity and equality.
18 year old Carissa Williams, a youth leader for the Stand Up Stand Out campaign, works with migrant youth to organise for a free and accountable press. As one of the leaders for this action Williams said "We are concerned by the bias and inaccuracy in reporting standards around migration, and the direct consequences this has on our families. Across our membership we have heard of hundreds of stories of individuals and families facing abuse. Far too many people who live here feel unsafe.
"This narrative of hate is causing division and violence in our country. We are calling on all major advertisers that help fund and support such narratives to work with us and be more like Lego – showing that there is no place for hate."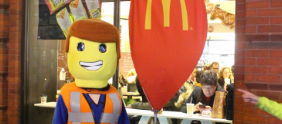 Richard Wilson, founder of the Stop Funding Hate campaign which supports this action, commented " Like Stop Funding Hate, this is a light-hearted campaign action with a serious message. For too long, elements of the UK press have been playing on fear, prejudice and hatred to boost their ad revenue. With experts warning that hate incidents have been "fuelled and legitimised" by the media, it's vital that brands now start to consider the ethical implications of where they advertise.
"This issue goes beyond politics – it's about who we are as a society – and about basic British values: fairness, neighbourliness, goodwill and civility. We hope that John Lewis and other retailers will listen carefully to what Citizens UK members have to say, and take the opportunity to follow Lego's example."
(1) The 8 brands who were approached were Boots, John Lewis, PC World, Carphone Warehouse, Vodafone, Tesco, McDonalds and Body Shop.

(2) "Be like Lego " refers to the fact that Lego decided to stop advertising with the Daily Mail which publish discriminatory and often false articles about migrants and refugees as they believe it contradicts their ethical values.