Over 125 social care, charity and faith leaders join call for government to fund real Living Wage in social care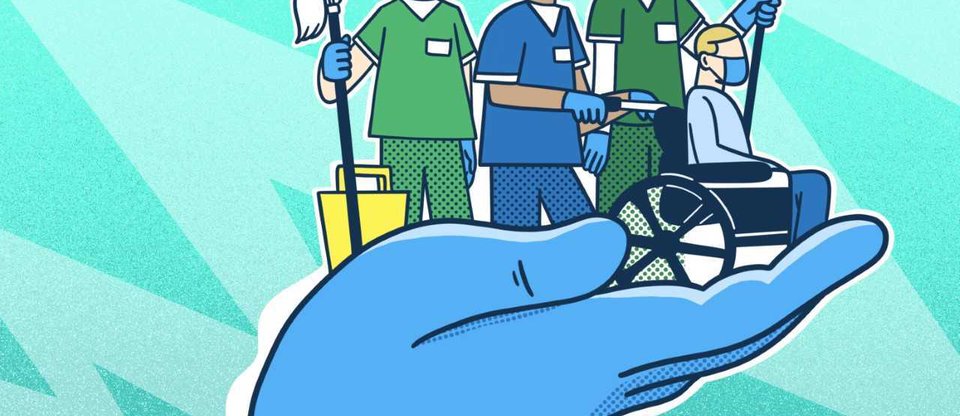 Citizens UK is upping pressure on the government to provide a real Living Wage for care workers on the eve of the Chancellor's Covid-19 financial statement.
How are we increasing the pressure on the government?
Last month we launched our #LivingWage4KeyWorkers campaign. Today (July 7, 2020) pressure mounts on the government to deliver a funding settlement that ensures those working in social care get paid a real Living Wage (£9.30 across the UK and £10.75 in London).
A Living Wage for Care Workers Charter has been signed by over 125 care, charity and faith leaders asking Prime Minister Boris Johnson to improve the pay of care workers. This includes Anne-Marie Plas, who started the UK's Thursday clap for carers. She has offered her support for the campaign.
Alongside this, religious figures across England and Wales are organising Care Home blessings to highlight the plight of poorly paid staff and thank them for their efforts during Covid-19. Blessings took place in Leeds, Barnet, Manchester, Somerset, Essex, Buckingham, Newham and across Wales.

Other actions include school children from St Anthony's RC Primary School in Newham, who delivered care packages and wrote letters to thank local care workers.
Why is a real Living Wage so important?
Jackie, one of the UK's 900,000 front line care workers, said: "I've been working as a care worker for fifteen years and I love my job, but we are so undervalued. Many of my colleagues struggle to get by each month, sometimes they don't even have enough for the bus fare to get to work. But we are all so committed, we take pride in our job and provide high quality service. We have significant responsibilities in our job and it can be emotionally draining. We go above and beyond for the people we care for, the least we deserve is to be paid a decent wage."

Recent evidence from the Resolution Foundation reveals that almost half (500,000) of all frontline care workers currently earn below the real Living Wage . In addition to this, new research from the Living Wage Foundation finds around 280,000 social care employees are in insecure and low paid work that leaves them particularly vulnerable to Covid-19 .

Matthew Bolton, Executive Director at Citizens UK, said: "The pressure is mounting on the government to do what it can to ensure our care workers are given a real Living Wage. By funding social care with the £1.4 billion estimated as needed to bring all care sector staff onto the real Living Wage we can ensure these vital workers are given what they have worked so hard for. We have applauded them but now it's time to take action to raise their wages."
What can you do?
A petition appealing for Matt Hancock MP to give care workers a real Living Wage , which was started by care worker Tabitha, who spent 29 days ill with Covid-19 and was left reliant on food donations as her low paid, zero hours contract left her with no safety net, has now reached over 7,000 signatures . Signatures are still coming in daily.

You can also write to your MP asking them to support the campaign for a real Living Wage for care workers here.
Quotes in support of the Living Wage for Care Workers campaign
Rt Revd Paul Butler, Bishop of Durham, said: "The UK's 900,000 social care staff have worked tirelessly through the Covid-19 crisis to look after the most vulnerable in our society, yet so many are struggling themselves because of inadequate pay. I am proud to sign Citizens UK's Living Wage for Care Workers Charter along with many other faith leaders from across the UK. The Government must prioritise the proper funding of social care so that all care workers can be paid at least the real Living Wage and be helped to live a dignified life."

Sam Monaghan, Methodist Homes Association, the UK's largest charity social care provider, said: "We are proud to pay our staff the Real Living Wage. Now, more than ever, we need to demonstrate how we appreciate the work our care staff carry out and paying them the RLW wage is part of that."