Our response to the Department of Health's green paper on Mental Health
Today, the Department of Health and Social Care published a Green Paper in response to its consultation on mental health provision for children and young people. Mental health has been voted by Citizens UK members as the organisation's top priority. Please see our response to the newly published Green Paper below.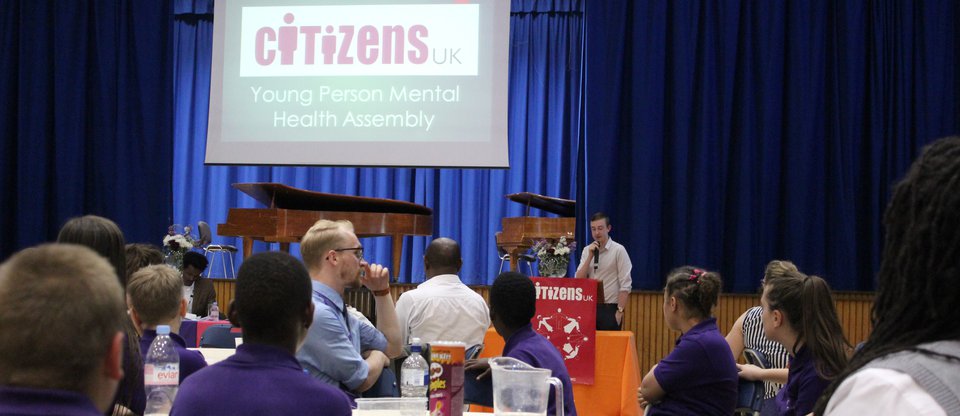 Carina Crawford-Khan, an organiser with Citizens UK, a community organising charity whose members are campaigning with schools to improve access to mental health services for young people, said:
"We welcome the Department of Health's focus on schools and those aged 16-25; this is the age that many young people suffering from mental health illnesses fall through the gaps. It is also encouraging to see that at risk children – such as those living in poverty, in gangs, or in social care – are referenced and we urge the prioritisation of support for these children.
It is vital that every child has access to statutory counselling in school ( as they do in Wales) and we seek assurance that this will be part of the Mental Health support teams. We also seek assurance that the drive to deliver this in schools will not result in extra responsibilities for already stretched schools and that they will be given the requisite resources for this important provision.
The way forward in both preventing and supporting those with mental health illnesses is a bottom-up, community-based approach and we're pleased the Department of Health is open to working with existing community projects. Additional and improved mental health services - especially for young people - are needed urgently. We invite the Department to work alongside our Citizens UK alliances across the UK and provide communities the support they desperately require."
Citizens UK's mental health leadership group is calling for:
Every school in England to have access to a statutory counsellor (as in Wales)
Early intervention projects which support parents' mental health and wellbeing to be given adequate resources
Schools to be given additional resources to finance the vital role they must play