NEWS: Over 1000 London Citizens meet Mayor Sadiq Khan
London Citizens Assembly last night held an accountability assembly to follow through on a powerful agenda for change that was set with Mayor of London, Sadiq Khan, back in 2016
Over 1200 citizens packed Southwark Cathedral for a night of celebration and accountability with the Mayor which spanned Living Wage, Housing, Citizenship and social integration to knife crime and community safety.
The room heard of the confirmation of the first-ever London Community Land Trust homes to be built on the Olympic Site and a new £10m revolving fund for community-led housing.
Schools and University leaders received backing from Mayor Sadiq Khan to support a loan scheme for children born in Britain but unable to afford Citizenship fees.
The Mayor made commitments to work with Citizens UK on Knife Crime and Community Safety and a candlelit vigil was held by mothers and young people affected by violence.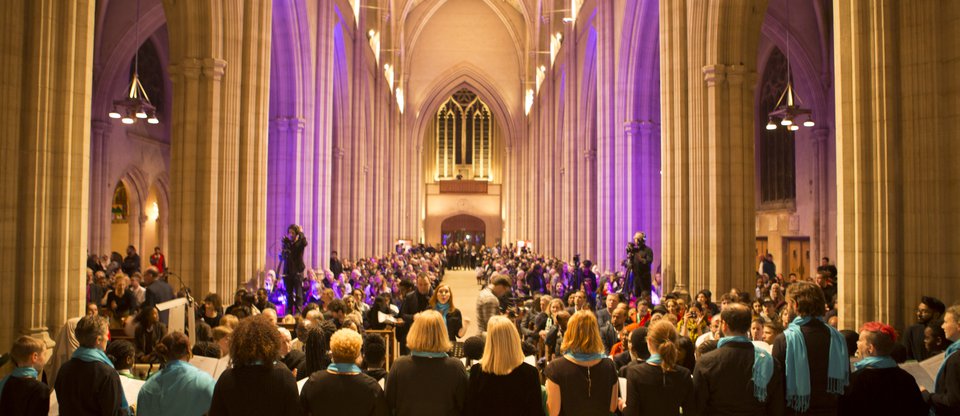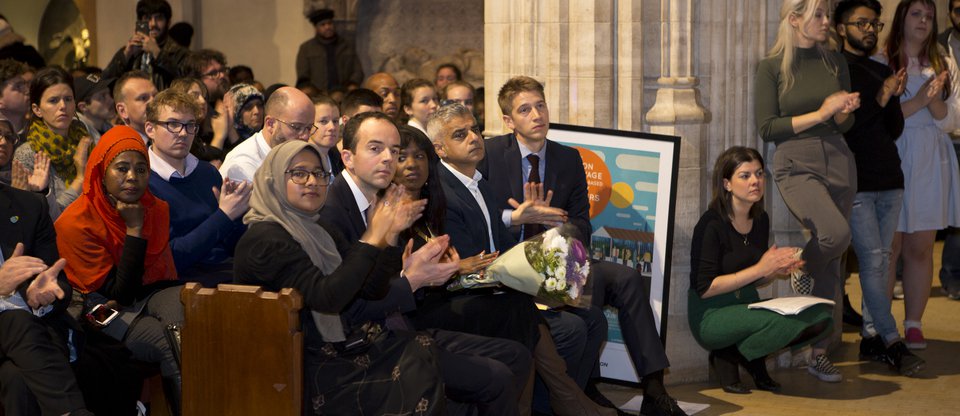 Last night over 1,000 community leaders and members from Citizens UK's alliances across the capital gathered in St George's Cathedral to meet with Sadiq Khan. They came from member institutions across the city including churches, synagogues, mosques, trades unions, schools, colleges, universities and community groups.
Senior faith leaders including Anglican and Catholic Bishops, Rabbis and Imams and community leaders including headteachers, parent groups, University directors and charity CEOs participated alongside people from the 200+ organisations that make up London Citizens. The programme reflected the life and experiences of the people who make up their organisations.
The hall heard stories of direct experience of the housing crisis, low pay in the city, community safety and barriers to British Citizenship. London Citizens' 350,000 members highlighted Housing, Low Pay, Refugee Welcome and Social Integration as top concerns in 2016 and, two years on, we celebrated progress on areas the Mayor has worked on as well as asking for further action.
Revd Dr Simon Woodman, Minister, Bloomsbury Central Baptist Church, said: "All throughout London organised citizens have been working hard to improve their communities. Tonight we will hear from the Mayor on his progress on promises made to London Citizens during the Copper Box in 2016 to make London a better place to live. Whilst the politics of Westminster is deadlocked and distracted there are still many important issues affecting our city and we look forward to greeting Mayor Sadiq Khan and holding him to account."
Gill Burbidge, Principal of Leyton Sixth Form college, said: "I'm delighted that our students, who are already taking a leadership role on issues ranging from community safety to social integration will get the opportunity to hear from the Mayor of London and discuss the issues facing our community, as he updates us on pledges made at the Copper Box in 2016."
Bethan Lant, who will be celebrating the news that CLT homes have finally been confirmed for the Olympic site, said: "I tried shared ownership, but with property prices so high, that option was not truly 'affordable'. Without my Community Land Trust Flat, I couldn't have afforded a property in London suitable for me and my children."
Yvonne Wade, Deputy Headteacher at St Antony's Primary School Forest Gate, said: "The Living Wage is about dignity for workers and the need for parents to be able to put food on the table for their children. We're asking Mayor Sadiq Khan to help us get more big employers, including football stadiums like Wembley and transport hubs like City Airport accredited as Living Wage employers after his good work ensuring London Stadium has joined the thousands of employers accredited by the Living Wage Foundation."
The Mayor of London, Sadiq Khan, said: "I am excited to have the opportunity to talk to London Citizens once again. Despite the major challenges London has faced over the last two and a half years, we have managed to deliver real progress. We have more Londoners being paid the London Living Wage, we have started City Hall's first-ever council homebuilding programme to build more than 11,000 social rent homes, we are introducing hard-hitting measure to clean up our dirty air and we are helping people facing fuel poverty to stay warm and save on their bills. I look forward to continuing our discussion with London Citizens – not only about this progress we've made, but about our bold ambitions for the future."
London Citizens is an alliance of community organising charity Citizens UK.
Find out how to get involved by going to your chapter page and contacting the relevant organiser: https://www.citizensuk.org/local_chapters or writing to us at info@citizensuk.org