Newham educators discuss importance of citizenship education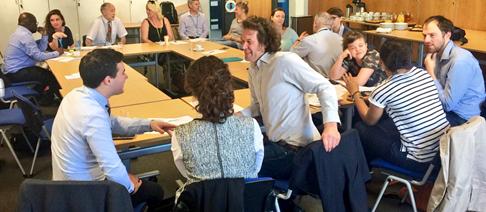 On Friday 24 th June, educators in Newham London held a Roundtable meeting to discuss the importance of citizenship education and the need to promote civic participation among young people. Education leaders from The University of East London, Birkbeck University of London, St Angela's School, St Bonaventure's School, University of East London Students' Union, and Newham Sixth Form College attended the meeting which was hosted by the CASS School of Education at UEL's Water Lane campus in Stratford.
This was the day after the EU Referendum, and we could not ignore the fact that result had sent shock waves to most people in London. Our keynote speaker, Stephen Timms MP for East Ham, shared the work of the Education Select Committee of which he is a member. He emphasised the need for political literacy and moral education and gave the example of the Newham Youth Parliament and the Newham Young Mayor as good examples of citizenship in action.
Discussions focussed on the role of universities in promoting citizenship education in schools and colleges. Educators reflected on citizenship education and meaningful opportunities for empowerment of young people by helping them to develop critical thinking skills and building their confidence to participate in civic life.
Education leaders agreed to collaborate through Newham Citizens and agreed to work on three main work streams. Watch this space!