Newham Citizens and E16 CLT to work together to build Newham's first Community Land Trust homes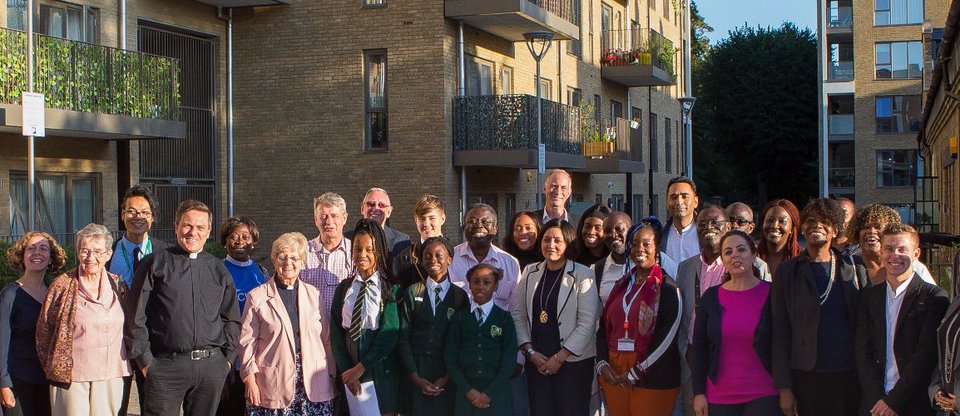 Newham Citizens and E16 CLT have agreed to work together to develop plans for Newham's first Community Land Trust (CLT).
E16 CLT have been organising in the Custom House neighbourhood of Newham, and Newham Citizens are a broad-based alliance of 23 organisations in the borough who work for better housing, the Living Wage, and building a safer community.
Why are CLTs important in Newham?
CLTs will allow people to remain in their community. The member institutions in Newham, our churches, schools and charities are constantly having to pick up and support people through a personal housing crisis. The impact of the housing crisis hits hard here, with over 25,000 on the council housing waiting list.

CLTs are a community-led solution to the housing crisis, where ordinary people develop and manage homes. The homes remain under community ownership, ensuring they remain genuinely affordable, based on what people actually earn in their area, not just for now but forever.

Both organisations believe CLTs can be an ambitious solution to the fact many residents have no choice but to move out of the borough and are a genuine part of the solution to Newham's housing crisis. Together they are working to develop a project that can be delivered with communities to open up the potential for CLTs to be delivered across Newham and be a regular part of the mix of affordable homes in new developments.

Both organisations genuinely see the potential for CLTs to play a key role in tackling the housing crisis our members face. As a community-led approach to housing, CLTs can put people and relationships at the heart of development while building wealth within Newham.
Newham Citizens bring with them the London Community Land Trust, who have years of housing development experience and will provide support and advice to the organisations.
Board of E16 CLT
Two core members of Newham Citizens will be joining the board of E16 CLT. Caroline Verdant will join the team, from St Antony's Catholic Primary School in Forest Gate. Caroline's motivation comes from her personal experiences of having to move away from her home in Newham and live out of the borough.

"I am extremely excited about being involved with the E16 CLT project," Caroline said. "It is an issue that I'm passionate about as, due to the lack of affordable and social housing in Newham, I am unable to live in the borough where I was born, raised and currently work. Being part of this CLT campaign allows me to give a voice to the community. We want to create a brilliant pilot of a CLT in Custom House, so that we can one day ensure there are CLTs across the borough."

Father Sean Connolly will also join the board from St Stephen's Catholic Parish in Manor Park. He has twenty years of organising experience and is an expert at building strong communities. He said: "As a Newham leader over 20 years with Newham Citizens I am excited to be working with E16 to deliver the first CLT in the borough. At this decisive moment citizens are coming together with an innovative and ambitious contribution to the housing crisis to strengthen and sustain our communities for generations to come."