New campaign launched to extend the Government's refugee resettlement scheme
Citizens UK institutions and leaders, as well as 'refugees welcome' groups across the country, were instrumental in ensuring that in 2015 the Government introduced its Vulnerable Persons Relocation Scheme (VPRS) to resettle 20,000 Syrian refugees to the UK by 2020.
The Home Office is currently reviewing the future of refugee resettlement beyond 2020. There is a risk that the Home Office will decide to scale down - or even stop altogether - the resettlement of vulnerable refugees.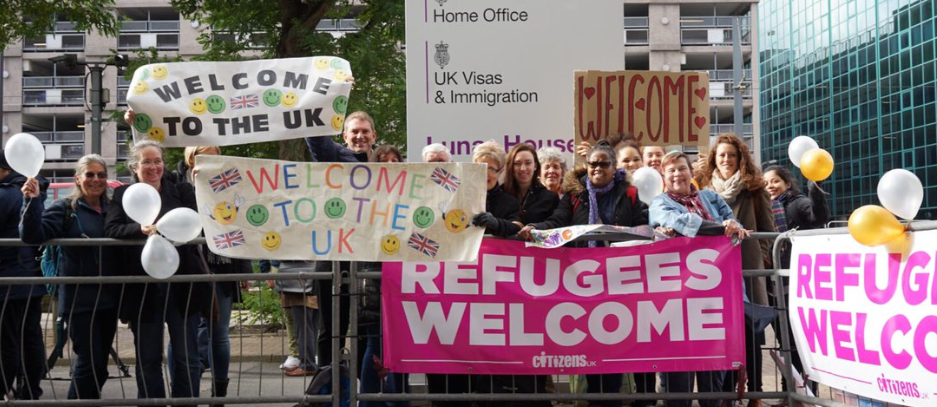 That's why this campaign aims to secure refugee resettlement for another generation and ensure that the Home Office build on the work they have already done so far to make this scheme a reality.
We are proud of the fact that this scheme has to date offered sanctuary to over 10,000 of the most vulnerable refugees, including families with disabilities or experiences of torture.
Scaling down refugee resettlement could mean fewer families being allowed to come the UK and less financial support available to Councils to help rebuild the lives of families arriving in their area. At a time when conflicts around the world continue to force millions to flee, the UK could decide to do less, not more to support refugees.
Our online petition to the new Home Secretary, Sajid Javid, is just the start of what we hope will be a revival of the 2015 #refugeeswelcome movement. Please add your name to the petition by clicking here - and help send a clear message to the Home Office at the very start of their review process.
This is also an opportunity to make the government's refugee resettlement scheme even bigger and better than it is now. By signing the petition you can also opt in our email communications and ensure that you are up to date with any campaign actions over the coming weeks.
We are particularly keen to hear from anyone who has been actively involved in the resettlement of refugees, for example by finding properties, raising funds, lobbing local councils and helping newly arrived families settle in.
Finally, you can watch and share our campaign video on Facebook to help us spread the word and keep the pressure up.