My first delegates assembly
My first delegates assembly with Lewisham & Greenwich Citizens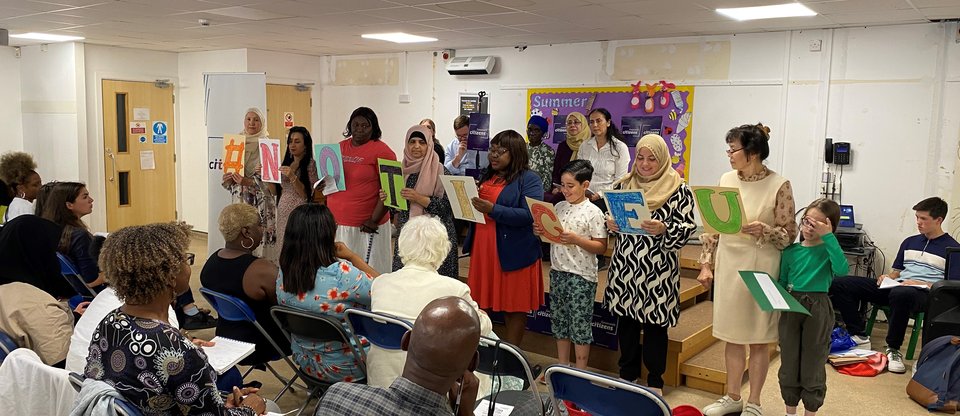 By Austin, 15, a work experience student at Citizens UK
The general atmosphere when everyone started to arrive was very welcoming. There were people from all sorts of different backgrounds, and already it was clear that there was a sense of community within the building. The key community leaders introduced themselves, and the members from across Citizens UK were given a moment to meet and relate to each other.
This was then followed by a summary of what the assembly would consist of, and then one representative from each institution was given a small amount of time to introduce themselves and who their institution represents such as schools, churches and Islamic centres.
I was amazed at what Lewisham and Greenwich Citizens has managed to win over the last year or so.
Firstly, the Community Land Trust team shared how 7 years of engaging with the community and the support of 2 Mayors had enabled them to claim a piece of land for them to build 11 genuinely and permanently affordable houses on. Greenwich Citizens Housing team has since been inspired by this victory and have secured 2 sites they are hoping to build on.
Organising isn't just about big wins it's also about small victories that can bring meaningful change. I was particularly inspired by a story about a parent who took their 5 year old child to Specsavers. The girl, who was looking for a pair of glasses, was unhappy that there were no black characters on any of the glasses or advertisements in the shop. The parent and her daughter filed a complaint on the Specsavers website, but no action was taken due to the fact that it was simply 2 local people who were unhappy about a small problem, which Specsavers deemed insignificant.
The parent was angry about this and decided to attend a community conversation about race. Through this, they were able to gather support from Rathefern primary school and the school community. The students learned about community organising, building power and the art of storytelling. They wrote poems and letters to Specsavers. Since then, Specsavers have agreed to change this on a global scale and have invited the school to devise a new character which will be used globally. I'm reminded of the African proverb: "If you want to go fast, go alone, if you want to go far, go together" the team were patient, built power, worked together and made change.
Once we had celebrated the wins the alliances were back to thinking about what next. That meant starting the cycle of organising again and listening.
This was achieved through a creative activity where community leaders wrote down the issues being faced by the community, and stuck them on a tree, the roots being the problems, the flowers being the changes needed, and the birds being the next steps after these changes.
Finally, some votes took place, deciding who would hold power over the alliance of Greenwich and Lewisham citizens, and how long these people would be in power so that new leaders could constantly develop. The leaders then discussed what makes a good leader and how they can constantly develop.
Campaign teams were advertised and people were given the opportunity to ask each other about whether they would like to join a campaign. After the meeting had finished, everyone was given a few minutes to reflect on the assembly.
It was my first delegates assembly but as I reflected I can see why these meetings are the heart beat of any alliance. You get to celebrate wins, develop new leaders, make important decisions about the alliance and commit to next steps.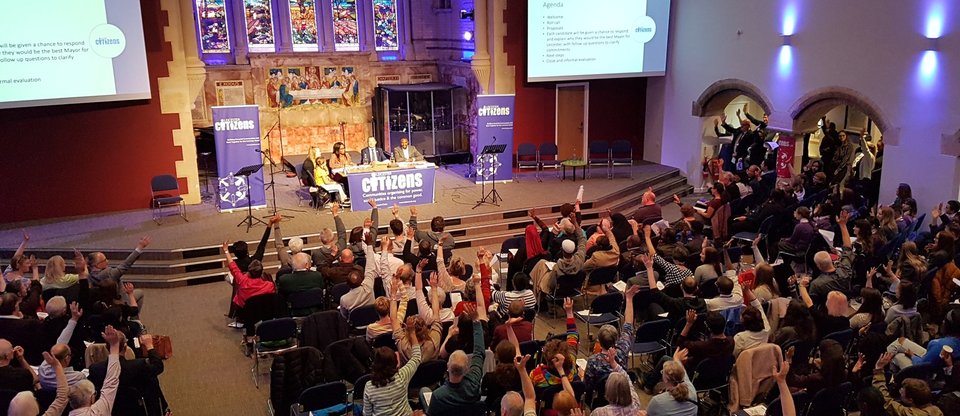 Find your local Chapter
Want to get involved? Find your local Citizens UK chapter to learn more about local campaigns and how you and your institution can get involved!
Posted by Lauren Del Fabbro on 2 Aug, 2023