More headliners announced for Greenbelt Festival 2017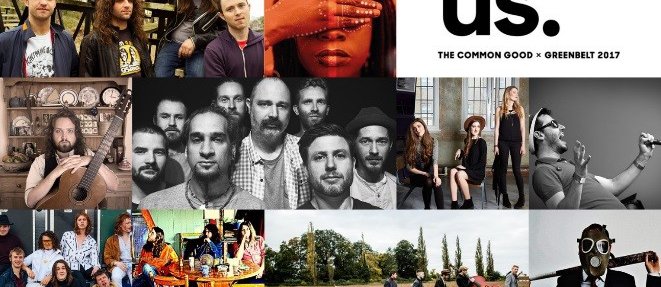 Second set of lineup announcements for 2017
Boughton House, Northamptonshire, 25-28 August
FOUR DAYS OF MUSIC, ARTS, ACTIVISM, IDEAS,
FAITH & SPIRITUALITY IN IDYLLIC COUNTRY HOUSE GROUNDS OVER AUGUST BANK HOLIDAY WEEKEND.

Back at Boughton House for a fourth year with its 44th consecutive edition, Greenbelt Festival is looking forward to celebrating The Common Good .

Adding to the names already released on February 28th
IDEAS: Food poverty campaigner and writer JACK MONROE , global organisational theorist and business elder CHARLES HANDY . Filmmaker, writer and activist JENDELLA BENSON. Catholic political theologian ANNA ROWLANDS. And quirky States-based theologian GREG GARRETT.
More on all these thinkers, writers, speakers and activists here .

MUSIC:
Featuring the global fusion sounds of LA CHIVA GANTIVA. From Jordan and Palestine, Shamstep festival band 47SOUL . With his community choir project, RICHARD NAVARRO and LET THE PEOPLE SING. Rising star and soul chanteuse MAHALIA, Liverpudlian melodic pop from CLEAN CUT KID.
More on all these music names – and more – here .

LITERATURE:
Devon-based poet ANTHONY WILSON curates a bill of Poets for The Common Good, featuring four great British female poets: JOSEPHINE CORCORAN, SASHA DUGDALE, REBECCA GOSS and NANCY CAMPBELL .
More on these literature names here .
PERFORMING ARTS:
Irish comedic and physical theatre from the LORDS OF STRUT. Immersive circus cabaret from MARY BIJOU CABARET & SOCIAL CLUB. Whimsical walkabout theatre with RANDOM ACTS OF KINDNESS presented by THEM TWO DANCE. And poignant and frenetic physical theatre with HAPPY HOUR presented by TMESIS THEATRE COMPANY.
More on all this theatre here .

WORSHIP & SPIRITUALITY
Featuring the NINE BEATS Global Collective in residence all weekend. And the SOUL SANCTUARY GOSPEL CHOIR (with Rev. Lucy Winkett) from London.
More on all this here .



Plus much more to be announced throughout April.
The programme introduces a rich and diverse array of thinkers, poets, musicians, philosophers and campaigns, covering themes of peace-making, migration, the economy, ecology, race, climate change, community-building and organising, interfaith, sexuality, and belonging.
As well as music, ideas and literature, exciting streams of comedy, performance, circus, theatre, and spoken word run throughout the festival – alongside spirituality and activism.
The festival film can be viewed here .
Ticket deals can be found here.
Information about the 'Open Festival' offer is here .

LISTING AND PRESS INFORMATION
All events take place at Boughton House, nr Kettering, Northamptonshire, 25th – 28th August 2017, with 10,000 festivalgoers expected.
For further information please contact: Rachel Wakefield
Email: rachel@greenbelt.org.uk
Phone: +44 (0) 7989 515540
NOTES TO EDITORS
Greenbelt is a festival of artistry and activism that saw its first edition way back in 1974 and has hosted its annual festival every single year since. But thinking of Greenbelt as just another 'festival' doesn't do it justice. It is also an idea, a way of seeing – part movement, part moment. Its genius is that it defies easy description. You have to be there.
Celebrating artistry and nurturing activism, Greenbelt Festival is an act of the imagination – inspirational, provocative and fun. Energised by a progressive Christian worldview, Greenbelt creates a festival that is inclusive, open-minded, participatory and generous in spirit.

Greenbelt online
Website / Instagram / Twitter / YouTube / Facebook