Milton Keynes pupils demand road improvements on walk to school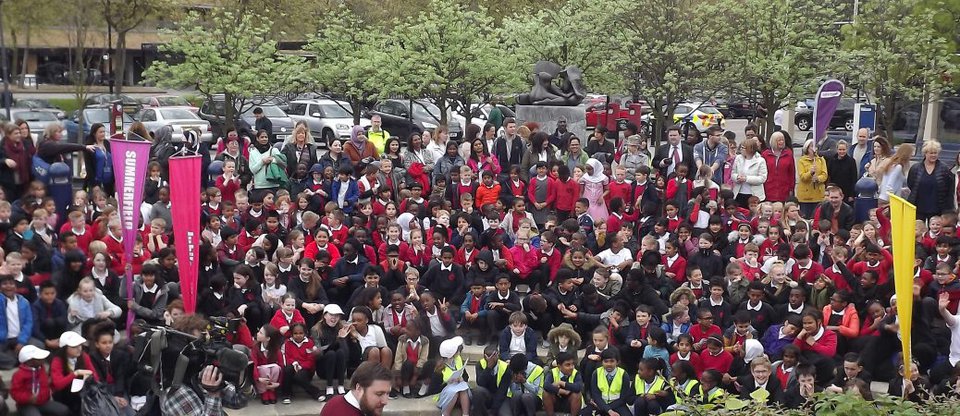 Milton Keynes school children have called for 50 road safety and environmental improvements to mark the town's 50th birthday.
Today 300 pupils walked from their six Milton Keynes schools to Civic Offices to ask the Leader of the Council for 50 improvements to the Redways to make their routes to school safer and cleaner.
Employees from local businesses including Dentons, Santander and Shoosmiths, joined the action and pledged to help support schools on Redway litter patrols later this term.
A pupil from Jubilee Wood Primary School said: "We are fed up with the litter, broken glass and other rubbish dumped on the Redways and we want to clear it up. Our school council are willing to look after the Redway next to our school and we have already started to pick up litter and think about ways to make it a better route to the city centre."
A survey of more than 2,000 pupils in five schools shows that 82% of pupils use the Redways but only 37% think they are safe. A pupil from Southwood Primary School said: "The more people use the Redways, the less scary it is".
The main goal of the campaign is to gain pledges from Milton Keynes Council and The Parks Trust to plan and implement 50 Redway improvements. The priority improvements which the pupils want are:
litter removal (backed by 67% of the survey respondents)
improved lighting (62%) and
Jocelyn Kirkwood of Shoosmiths said: "We are committed to being involved in our local community and to working together to achieve results that make a real sustainable difference. If we can help tidy and regenerate a Redway near schools, that is important to us."
The six schools who took part in this action are all members of Citizens:mk, an alliance of 23 community groups including churches and Muslim associations, as well as schools.
"We value active citizenship and training young leaders from schools is an important part of what Citizens:mk does," said Lucian Hudson, Chair of Citizens:mk and Director of Communications at The Open University.
"I am really impressed by the children," said Tony Berwick, Headteacher of Jubilee Wood School. "They have put their case across to the business leaders with style. We now hope the wider community here in Milton Keynes will support this campaign."