Lord Alf Dubs launches guide to help communities settle refugees in UK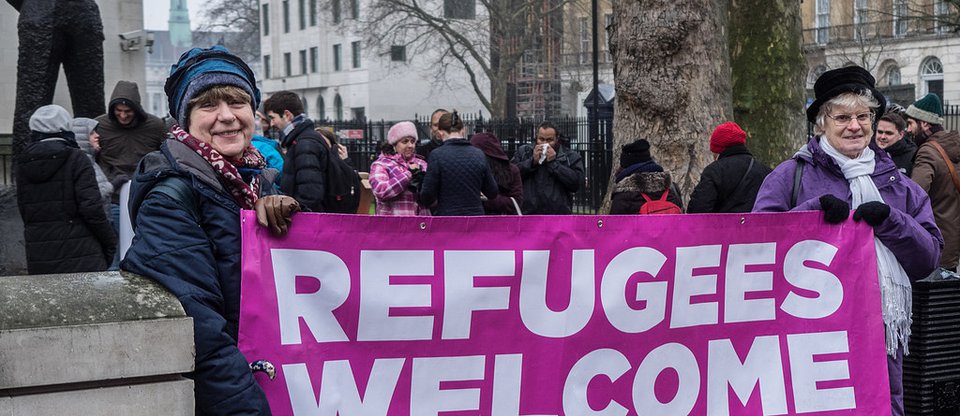 Lord Alf Dubs launches new CUK guide to sponsoring or helping resettle refugees in the UK
A practical guide to support communities who want to sponsor or help refugees settle into local communities was launched yesterday by Lord Alf Dubs who was himself saved from the Nazis by English stockbroker Nicholas Winton on the Kindertransport .
Welcoming Syrian Refugees: An introductory guide has been produced by Citizens UK, together with Migrants Organise, the Rural Refugee Network and TERN (The Entrepreneurial Refugee Network). Available via this link: https://issuu.com/theuniversityofwinchester/docs/print_refugee_brochure_2?e=2137537/46284033
It is the first guide of its kind to offer practical advice to people who want to get involved in helping refugees on their arrival in the UK, and is inspired by the large number of people wanting to help. The guide is informed by the experiences of Refugee Welcome groups across the UK.It offers practical step-by-step advice to individuals, groups and community organisations on how they can help resettle Syrian refugees. It also provides information on how to form support groups, approach Local Authorities, and what groups will need to provide.
Citizens UK executive director, Neil Jameson, said: "Many people have been contacting us saying they want to help and it became clear we needed practical guidance spelling out what help, what finances and what level of commitment would be necessary, if we were to successfully help resettle refugees here.
"We hope this guide will enable faster rates of resettlement in communities, demonstrating that the UK has the capacity and the appetite to resettle greater numbers of refugees. It is also hoped that the guide will inspire other teams to come together to aid resettlement, providing them with the knowledge and confidence to turn their good intentions into practical help."
So far Citizens UK has persuaded 44 councils to offer 3,097 places to Syrian refugees. It's also identified 700 private landlords who are offering properties, persuaded a dozen universities to offer £3.5 million of scholarships for refugees and in 2015 successfully challenged the Prime Minister to resettle at least 1,000 people before Christmas.
In 2016 a forum was established to share tips and best practise in supporting refugees, creating templates, models, and information to share across the UK. This guide takes the best aspects of that learning and also includes information from official channels such as the Refugee Council.
Julia Thistleton, Co Chair, Rural Refugee Network said: "A founding aim of our charity has been not only to successfully source accommodation for Syrian families and to help them to independence, but also to share what we've learnt with other teams of volunteers like ours in order that we may work together to resettle greater numbers more quickly and more effectively. Working with Citizens UK and TERN we've reached out to a significant number of teams across the UK and have collated some inspiring ideas and templates in an online and published guide which we hope will help achieve this aim."
Ben Fraser, TERN – The Entrepreneurial Refugee Network said: "We at TERN are really hopeful about the impact of this guide in welcoming more vulnerable people into our communities. TERN recognises the crucial need of the VPRS scheme to save lives, but also hopes that through this guide and interaction with refugees in our communities, more people will start to appreciate the great value that refugees can bring to our economies and societies. Thank you to Citizen's UK and the Rural Refugee Network for putting this guide together, let's welcome refugees and help them build new lives here."
Gonzalo Vargas Llosa, UNHCR Representative to the United Kingdom, said:
"The community support in the U.K. for Syrian refugees fleeing war and persecution has been overwhelming. This response has a profound impact on those seeking sanctuary; it helps rebuild lives, facilitates integration and ultimately allows refugees to enrich the communities that have taken them in. The Welcome Guide is an exceptional initiative designed to provide invaluable practical guidance to individuals, charities and community groups on welcoming those in desperate need."
Refugee Council Chief Executive Maurice Wren said: "The Syrian refugee resettlement programme has been an example of Britain at its best as communities up and down the country have opened their hearts to families who are in desperate need of shelter. Each refugee that Britain resettles has their life transformed, if not saved, by the programme.
"Refugees who are resettled in the UK are often extremely vulnerable, and it's vital that they're able to access specialist support they need to help them integrate into their new lives in safety. As we know at the Refugee Council from decades of experience in this area, committed volunteers play a key part in this process by helping to ensure that all refugees receive a warm welcome and assistance to settle into life in Britain and this guide should help equip them to do just that."It's vital that the Government learns from the successes of this resettlement programme and uses them to develop a national refugee integration strategy which ensures that all refugees in Britain - not just those who are resettled here – receive a warm welcome and the specialist support they need to begin rebuilding their lives."
Zrinka Bralo, Chief Executive of Migrants Organise, said: "We are so pleased to support the production of this wonderful guidance pack. The popular response in Britain to the refugee crisis has been an inspiration for all those struggling for justice, fairness and a welcoming and open society. Migrants Organise will continue to work with all parts of this growing mass movement and to develop the resources, campaigns and coalitions to support refugees arriving in Britain and to combat prejudice and discrimination."
Stephen Hale, Chief Executive, Refugee Action, said: "The Syrian conflict has led to the biggest refugee crisis in living memory. In the midst of this horror, the welcome given to refugees by many individuals, charities and groups across the country has been incredible. We hope that this guide will help such communities ensure that they are able to provide the best possible support to Syrian refugees."
Malcolm Little, Refugee Support, British Red Cross said: ''From the start of the crisis many volunteers across the UK have been proactive and committed in addressing the SVPR scheme challenge. The many things they have done and learned are reflected in this excellent and nationally relevant guide. The work being done to source accommodation helps save lives.''
Colleen Molloy, City of Sanctuary National Development Officer, said: "We welcome the launch of this useful guide to support and inspire new people and groups to respond to the crisis in Syria by welcoming vulnerable Syrians into their communities. City of Sanctuary welcomes all refugees and asylum seekers by building places and spaces where they will feel safe and welcomed and develop a sense of belonging."
Citizens UK is the national home of community organising – a network of over 350 faith groups, schools and colleges that work together for the common good. They have been campaigning on the Syrian crisis for over 18 months and created www.refugees-welcome.org.uk to help coordinate the public's response.
The Rural Refugee Network is a UK registered charity set up in 2015 in response to the Syrian crisis. We work to source accommodation in the UK for Syrian families (focussing primarily in Hampshire and West Sussex) as well as seeking foster carers and supported lodging accommodation for unaccompanied children. We work directly with families and children who arrive to help make resettlement and community integration effective and we aim to help our families work towards independence within 18 months - where this is achievable. One of our core aims is to share learnings with and from teams across the UK in order to help a greater number of Syrian refugees resettle into the UK more quickly and with greater efficacy.
TERN - The Entrepreneurial Refugee Network , is a new social enterprise aimed at helping entrepreneurial refugees access the support they need to start a business. ​TERN's premise is that entrepreneurialism is a powerful way to integrate refugees into society. Many refugees are highly skilled professionals and experienced business people – but they lack a track record and access to business networks in their new country. TERN helps refugees build businesses and challenges the perception of refugees as just victims and a burden to our society.
TERN is dedicated to addressing 3 specific challenges faced by entrepreneurial refugees:
1. Isolation: refugees are usually spread widely across the country, and no register is maintained, so TERN will launch a nationwide business case challenge for refugees shared through local community groups and social media to build The Entrepreneurial Refugee Network.
2. Support: TERN provides training, mentorship and expert advice tailored to the needs of each individual and helps them understand the local market.
3. Funding: TERN helps refugees prepare for investor pitches and provides access to start-up funding.
For more information contact
Julia Thistleton at hello@ruralrefugeenetwork.org
It is supported by UNHCR