Living Wage decision imminent after call for London Stadium boss to leave an Olympic Living Wage Legacy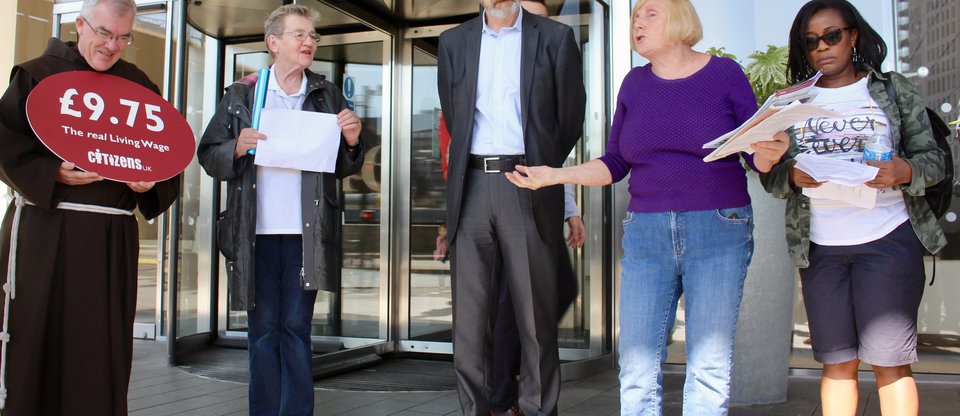 Cleaners from the London Stadium joined East London Citizens (TELCO) to call on the Stadium's boss to pay a London Living Wage to all workers at the home of West Ham United.
Cleaners thanked Mark Robinson, Head of External Affairs at LLDC, for paying a Living Wage throughout the London 2017 Athletics Championships but called for this to be extended all year round to all staff - including at West Ham United home matches.
Mr Robinson confirmed on behalf of E20 Stadium LLP that a feasibility study into the Living Wage was due to be completed next week and a final decision on whether or not to implement the Living Wage will be taken by E20 Stadium's Board at its next meeting later this month.
The real Living Wage is independently calculated by the Living Wage Foundation as £9.75 in London and is voluntarily paid by over 3,400 businesses and organisations who go further than the government's legal minimum wage of £7.50 for over 25s.
Cleaners shared stories of the challenges of living on £7.50 an hour in London and the impact this was having on their families whilst cleaning in a Stadium, which played host to multi-million pound earning footballers and Olympic heroes like Mo Farah.
One cleaner, who asked to remain anonymous, said: "This month I have been able to buy better quality food from the supermarket, purchased some much needed new shoes and clothes and visited my local cinema for the first time in a long time. They are small pleasures but it would not have been possible without the London Living Wage this month.
"The rest of the year is hard work and its difficult to survive on £7.50 in this city. We think its only fair that we are paid the London Living Wage all year round and we want E20 Stadium to accredit as a Living Wage employer"
TELCO's leader, Bernadette Harris, presented Mr Robinson with a relay baton saying:
"We were proud to call the 2012 Games the world's first Living Wage Olympics but a legacy of low pay, and the impact that has on poverty in East London, is not what we had in mind when the Games were promised"
"On the penultimate day of the Athletics and as the new Premier League season kicks off, we pass the baton of legacy on to E20 Stadium to run with, and we hope to work with him to ensure a lasting Living Wage legacy at the London Stadium for all workers, all year round"
TELCO (The East London Citizens Organisation) is part of the community organising charity Citizens UK who have been calling on all Premier League football clubs and sporting stadia to pay the real Living Wage.
Michael Pugh, Living Wage Community Organiser with Citizens UK said:
"We understand the E20 Board have reviewed the existing contracts and the next step is for E20 Stadium to become a Living Wage accredited employer to ensure this extends to all workers, all year round, thus leaving the Living Wage legacy East Londoners were promised."
E20 Stadium LLP was set up as a joint venture by the LLDC and Newham Council to oversee the management of the Stadium. In February 2015, London Stadium 185 (LS185), a subsidiary of VINCI Stadium, was appointed to operate the venue on a day-to-day basis and they then subcontract out cleaning, catering and security services.
West Ham United rent the stadium for £2.5 million a year and are not directly responsible for the day to day running costs of the Stadium - which falls instead on taxpayers.