'Life on the Living Wage' photography exhibition unveiled for Living Wage Week spotlighting workers
The Living Wage Foundation unveiled a new photography exhibition to celebrate people earning the real Living Wage and employers who choose to pay a real Living Wage to their direct and third-party staff. The photo exhibition was displayed through Living Wage Week, the annual celebration of the Living Wage movement, from 6-12 November.
The exhibit featured portraits of ten workers and community leaders, which are accompanied by their personal stories of being on low pay and what earning a wage based on the cost of living means to them. It also celebrated well-known 'iconic employers' who choose to pay a real Living Wage to their direct and third-party staff, such as the London Ambulance Service NHS Trust, IKEA and Mercato Metropolitano.
The photographs were taken by Cian Oba-Smith, an Irish Nigerian photographer who was born and raised in London and whose work involves showing misrepresented communities in a different light; and Andreia Afonso, an up-and-coming photographer currently studying at University of the Arts London.
The exhibition was on display to the public at Mercato Metropolitano My Elephant Park and Somerset House during Living Wage Week.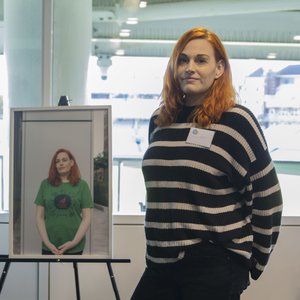 The London Living Wage should be a baseline for any London employer. With rents rising and workers being forced further out with longer commutes and higher fares, it's time to demand a wage that covers the basics such as rent, travel, food and also allows for savings, successful loan/mortgage applications and the holidays we see our CEOs taking. To be working 50+ hour weeks and still not being able to live is not 'working'. It's not about greed, it's about basic needs. Sallie Baker, hospitality worker, Branch Secretary for Unite Hotel Workers and Vice Chair of the Hospitality Combine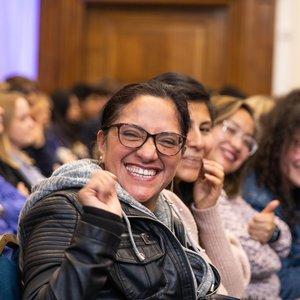 I am paid the Living Wage thousands of people in my community are not, and it makes me angry. We all have a right to fair pay that can be the basis of security and happiness for us and our families. Living Hours is so important too – it's one thing to have a decent hourly rate but we also need the security of a fixed number of hours of work so we can plan our lives. Doris, a cleaner and Community Leader
Launched by Citizens UK in 2001, the Living Wage campaign has won over £2 billion of additional wages, lifting hundreds of thousands of people out of working poverty. We're campaigning to ask every employer to step up and accredit with the Living Wage Foundation, ensuring that all internal and contracted staff, from cleaners, to security guards to catering staff, get paid at least the real Living Wage.
Posted by Aanisah Khan on 12 Nov, 2023