LGBT hate crime reports triple in past five years – an intersectional approach to recording hate crime is needed
LGBT hate crime reports have almost tripled in the past five years – as this BBC News report shows. Our members are supporting an intersectional approach to recording hate crime to improve victims experience of the system.
Hate crime report
Earlier in the year we published a report on hate crime – Overcoming everyday hate in the UK: Hate crime, oppression and the law . One finding showed that certain groups experienced hate crimes at higher rates. 88.5% of transgender people surveyed said they had experienced hate crime; and 81.8% of gay or lesbian people.
One participant in the hate crime report, who wished to remain anonymous, gave testimony on an homophobic hate crime incident: "So one of the things that stuck with me was about 12 years ago now, when I was a university student and I was with my girlfriend at the time. We were walking, holding hands, across the park, to campus. And this group of guys, about four of them just started walking alongside us, shouting abuse, rape threats – in the middle of the day, and it was a walk that I did all the time, and it just serves as a reminder that if I'm anywhere in public, with a partner, I just feel 'well if we show who we are, we are potentially going to be threatened and abused.'"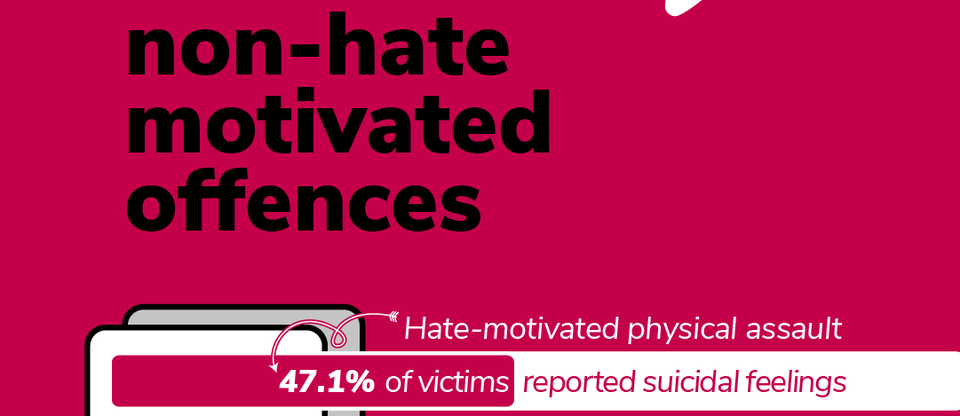 The latest news about LGBT hate crimes tripling over the last five years is only those who have come forward and reported it. The real picture of what LGBT hate crime looks like is possibly much worse than these statistics. This is why our campaign to allow an intersectional way of recording hate crime is important. It would allow people to select a number of different reasons why they were targeted – and ensures the police have a more accurate picture of what is going on.
Challenging hate together
Challenging hate together
Citizens UK members have had success challenging hate and improving mutual understanding as a broad coalition of local organisations, from all faiths and none and inclusive of many different communities. Peter Kingham, Project Manager at the Q Alliance in Milton Keynes described his experience in Milton Keynes : "Working with our friends at CitizensMK has given us the opportunity to understand different cultures and communities. It shows we all have a part to play in reducing hate crime by challenging language, assumption, stereotypes in our own behaviour and those around us. An ally has a powerful voice...and we are all allies to someone."
As the public consultation on hate crime law continues, it is vital more people come together to challenge hate.
Citizens UK is launching a non-party political Misogyny Hate Crime Ambassador Scheme to train a diverse group of leaders and campaigners to speak out and raise the issue of misogyny hate crime campaign with politicians.
How to get involved?
We are launching a non-party political Misogyny Hate Crime Ambassador Scheme to build support for the campaign.
We have a training session on this on Tuesday, November 17 at 3pm for one hour. Sign up here .
You can also join us in our fight to make misogyny a hate crime .