Interview with Dr Simon Mason: Celebrating Pride Month
Interview with Dr Simon Mason: Tyne and Wear and TELCO Citizens
Veteran community organiser and Tyne & Wear Citizens leader Dr Simon Mason reflects on being involved with the founding of the Living Wage, justice in mental health - and how to improve LGBT representation in Citizens UK local alliances.
How did you get involved with community organising?
I first became involved in community organising in 1996 when I worked as a vicar in Plaistow and North Canning Town, in east London. I was a leader in the early stages of the Living Wage Campaign started by leaders in TELCO. One strand of the campaign was to get banks to adopt the Living Wage. HSBC bank had recently moved its HQ to Canary Wharf and we decided to attend its AGM. We bought shares and a group of leaders attended their AGM in 2001. It was my job to stand up and, through a Point of Order, speak to the AGM about the Living Wage.
"I told the booted and suited audience about the security guards, cleaners and caterers at HSBC who were on poverty wages. People who were having to work two or three jobs each week to make ends meet for their families."
Radio 4 broadcast the TELCO action at the HSBC AGM. It was the first time the phrase, 'Living Wage' was heard in the UK. That TELCO action on HSBC bank got us our first meeting with Sir John Bond, the HSBC Chairman. Some thirteen years later HSBC became a Living Wage employer. The same year as the NHS Trust I now work for became a Living Wage employer.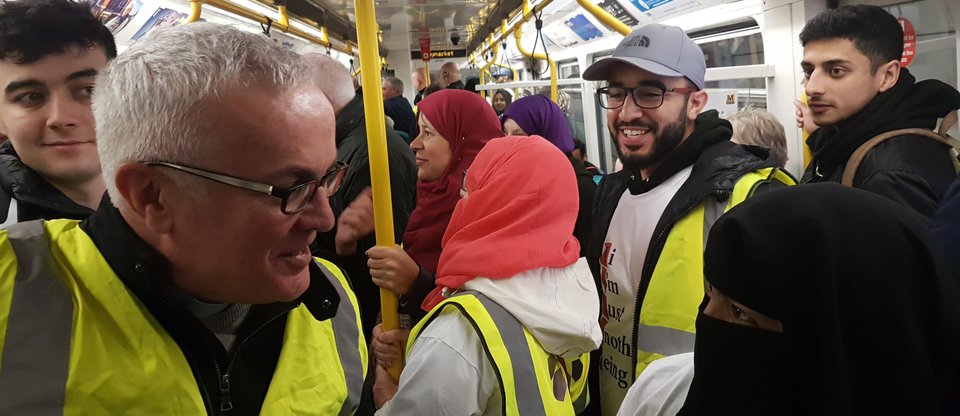 Simon joins a Tyne and Wear Citizens 'Reclaim The Metro' action to support victims of Islamophobic hate
What are the benefits of being a leader within Citizens UK?
I have had the honour of founding two CUK Chapters. The first was TELCO in east London. The second is in my home town of Newcastle. Tyne and Wear Citizens was launched in the autumn of 2017. The iconic Tyne Theatre was filled to capacity as over 1000 delegates from twenty-eight institutions across the region assembled to launch the latest chapter in Citizens UK. This launch broadcast by the BBC came on the back of several years of hard work, with leaders meeting monthly to support a community organiser who worked with us to secure the funding for a full-time organiser and then launch the chapter.
In the room that evening were people from all walks of life - students, university lecturers, charity sector workers, and people of faith - Quaker, Christian and Muslim. Truly a broad-based alliance.
What impact has being a leader had on your community?
In 2018 Tyne and Wear Citizens organised a Citizens Commission on Mental Health in the North East. At the first public hearing in Newcastle students and teachers from schools in Newcastle and North Tyneside testified to the benefits of face-to-face counselling in schools. Those students from St Thomas More RC Academy are now spearheading a CUK National Campaign for Schools-based Counselling. Something which already happens in schools in Wales, Northern Ireland, and Scotland. Now we want counselling in all schools in England. Tyne and Wear Citizens is leading this national work with the launch in the autumn of the campaign to get a counsellor in every school in the North East. Newcastle East Academy Trust decided to be a partner in this action because they know the benefits to their students' mental health of having a counsellor in every school. Mayor Jamie Driscoll, made a public commitment at the Tyne & Wear Citizens Mayoral Assembly in 2019 to fund the roll-out of Schools-based Counselling across the North East by the end of his first term as Mayor.
"The regional programme is the first stage in a national campaign by Citizens UK to establish full-time counselling in all schools in England. Our partners in this Citizens UK national campaign are the BACP and two trade unions, UNISON and the NASUWT."
It's Pride Month and Citizens UK want to use this moment to reflect on the future for community organising and the LGBT community.
Citizens UK has made some good progress in some chapters recently on organising around the common concern of hate and harassment. In Nottingham, in the past few years, the LGBT community has been deeply involved in organising with a diverse range of communities and institutions suffering racism, misogyny, antisemitism or islamophobia. But broadly Citizens UK has struggled with how to ally itself to the interests of the LGBT communities. When I was organising with TELCO, the alliance shied away from LGBT issues out of respect for faith-group leaders who valued marriage and feared the moral implications of the AIDS epidemic gripping the world. TELCO did not want to tread on the toes of its key faith group leaders.
There are just a handful of LGBT institutions in membership of our 15 broad-based alliances in England and Wales. Citizens UK has been recognised as a Good Employer by Stonewall, the LGBT campaigning organisation. However, we could and should do more to link LGBT issues with campaigns around hate crime, mental health, homelessness and poverty.
"There is significant research linking LGBT issues and mental health, yet no testimonies in the Tyne and Wear Citizens Commission on Mental Health bore witness to this. That tells me that, as a leader we have much work to do in order to harness the power of the LGBT community around actions of shared self-interest."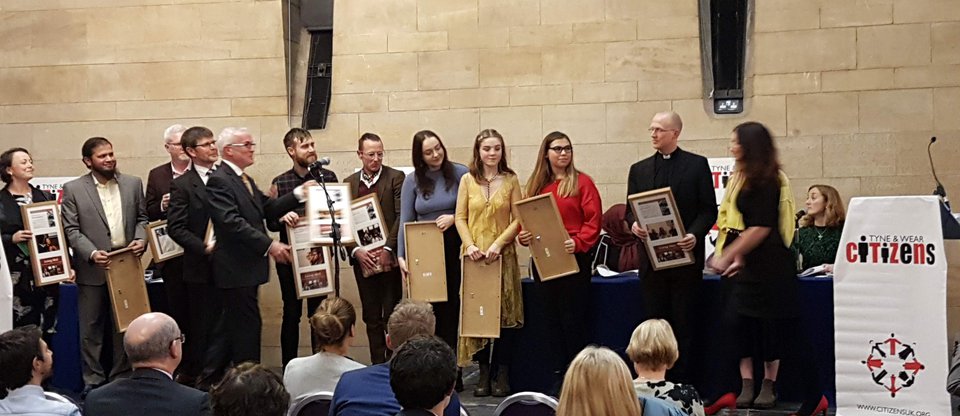 Simon and commissioners at Tyne and Wear Citizens "Living Well" mental health report launch
Simon Mason is a founder member of TELCO and Tyne and Wear Citizens, and a Mental Health Community Organiser
Take action with Citizens UK:
If you are an LGBT leader or member of an LGBT organisation interested in learning more about community organising - and helping us better embed the issues of common concern to the community in our work - you can get in touch with us on: supporters@citizensuk.org