International Women's Day 2018: Q&A with champion of Living Wage movement Bernie Harris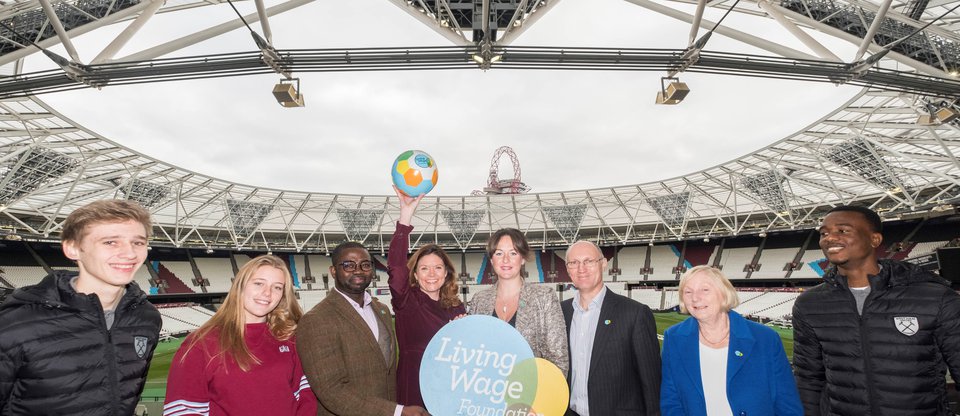 With more than 20 years' community organising experience in East London, Bernie Harris (pictured on right in blue celebrating the recent West Ham Living Wage accreditation) was and still is instrumental in championing rights on issues that affect women and families.
To mark International Women's Day, Katy Davies from our communications team caught up with Bernie to ask her questions around why we need to celebrate women and how equal can women be in UK society?
Katy: What was your role in the origins of the living wage campaign and what have been your biggest achievements so far?
Bernie: "I was a senior member of the NHS back in 2001 and I saw poverty first-hand. While we could treat the symptoms associated with the health problems, it became clear that we must address other factors involved in order to tackle poverty experienced by families in East London to improve the health of children, women and their families".
"Families weren't able to participate in civil society as both parents had to work and simply didn't have the option of having food, shelter and warmth should one of them fall ill. Combined with this was the beginnings of sub-contracting the cleaning staff due to cuts in the health authority where I was based, which in doing so removed workers rights to sick pay and holiday."
"I worked with TELCO citizens and a number of other local leaders and union representatives to address these issues faced by the workers and negotiate a living wage, which is calculated based on the real cost of living. Paying a real living wage not only lifts people out of poverty but takes them out of the benefits trap."
Katy: What do you thing is the biggest issue affecting gender equality today?
Bernie: "The gender pay gap, combined with the types of work known for being inconsistent, occasional and low-paid and more likely to be done by women, such as sub-contracted cleaning work."
"Also, women are far too often still defined by their marital status in the UK and Europe - if they are married, assumptions are made about if they are likely to have children which affects their progression in the work place. But by equal token, nowadays, more and more women are choosing to lead independent lifestyles, or marrying much later or choosing not to have children - are 'undefined' by employers and in some cases expected 'fill the gaps' by working late or covering holidays for those who have family-based lifestyles. There's a lot to do on the perception of women, their worth and agency in and outside of the workplace."
Katy: Why do you think we still need to have 'International Women's Day' in 2018?
Bernie: "I've worked all around the world including in Tanzania, where International Women's Day is a very celebratory event. There's no doubt that around the world, women are still viewed as secondary citizens despite this day of celebration, and here in the UK, we are expected to 'accept' that we are more-or-less equal, however, I would ask the question, is this really the case? Or have we been conditioned to accept what we think being equal is, while still having to work our way around the notion."
Katy: Finally, who would you say are women that you look up to?
Bernie: "The Pankhurst Women - Sylvia and Emily as well as Emily's granddaughter Helen who I was lucky enough to meet on the South Bank during the Women's March a few years ago! I told Helen about the work of Citizens UK and how it is inspired by the Suffragettes movement."