International community change-maker to lecture in Birmingham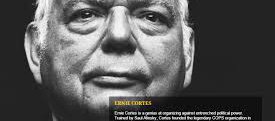 INTERNATIONALLY RENOWNED COMMUNITY CHANGE MAKER TO DELIVER LECTURE ON THE ROLE OF CIVIL SOCIETY IN CREATING A STRONG DEMOCRACY
Internationally renowned speaker, community change maker and Co-Director of the Industrial Areas Foundation, Ernesto Cortes Jnr. will be delivering a lecture, Democracy and Inequality: Why a Strong Civil Society is Needed for a Strong Democracy , at the University of Birmingham Business School on Friday 26 May 2017.
Pro-Vice-Chancellor and Head of the College of Social Sciences, University of Birmingham, Professor Saul Becker and national community organising charity, Citizens UK, are welcoming Mr Cortes to the UK and Birmingham to learn from his more than 50 years' experience of building civic power across the USA. The lecture is part of a series of events and partnerships that the University, championed by Professor Becker, is undertaking as part of its commitment to civic engagement.
During his presentation, Mr Cortes will argue why a strong and active civil society is so important to the way democracy is both learned and practiced. His experience has taught him how important it is for the key institutions of civil society like faith and education to challenge the growth in inequality for many reasons, but particularly for its corrosive effect on the human condition and the quality of family and community life.
As the UK prepares for a General Election on June 8 th , it is anticipated that Mr Cortes' words and experience will prove highly relevant at such an important time, and a reminder of the central role Civil Society must play in a healthy democracy - and not just at Election time.
Neil Jameson, Director, Citizens UK said: "Ernesto Cortes has been instrumental in building more than 30 broad-based organisations whose hallmark is the development and training of ordinary people to do extraordinary things. Over the years, these organisations have leveraged billions of dollars for poorer communities across the South West of America.
"His work has brought together pastors, teachers, nurses, schools and families to build some of the best known and longest standing Community Organisations in America. They have fought for and won billions of dollars of investment into their communities and trained thousands of community leaders to take power by using the tools of democracy and relationship building.
"Citizens UK has a 30-year working relationship with the Industrial Areas Foundation, with Mr Cortes being instrumental in helping Citizens UK revive the tradition of community organising; he remains a great inspiration and teacher for a new generation.
"I look forward to the learning opportunity his presentation offers, and the chance to debate and discuss his ideas and methods with community leaders, academics and representatives of the business community who we hope will join us."
The event will bring together a diverse audience of key stakeholders from a variety of sectors across the city as well as leading Academics and a panel of thought leaders and experienced practitioners.
Pro-Vice-Chancellor, Professor Saul Becker, said: "We are delighted to welcome Mr Cortes to the College of Social Sciences at the University of Birmingham. We are a civic University, founded to push forward the boundaries of knowledge and make a positive impact on people's lives. Mr Cortes' incredible success in engaging communities to improve lives in the USA is truly inspirational and we look forward to hearing him speak on this and share his experience and learning This visit, alongside our longstanding relationship with Citizens UK, reinforces our commitment to civic engagement."
You can learn more about the University of Birmingham's ground breaking partnership work with Citizens UK here.
To attend the event and be part of the conversation on the day register here: https://www.eventbrite.com/e/democracy-and-inequality-why-a-strong-civil-society-is-needed-for-a-strong-democracy-tickets-34138995655
Places are limited and booked on a first come first served basis, so it is vital you book to attend via the link.