Inauguration Day Action: Build Bridges Not Walls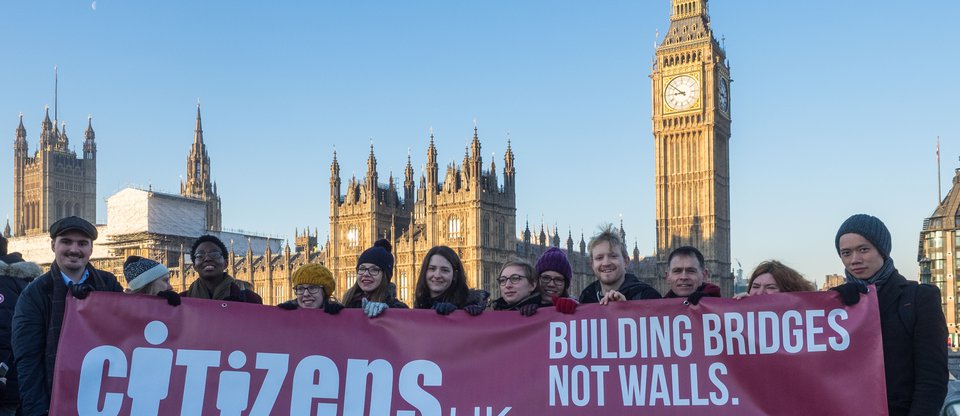 On 20th January 2017 Donald Trump will be inaugurated as the 45th President of the United States of America. That day, together, we will drop banners from bridges across the country to send a simple, hopeful and unmistakable message: we will build bridges not walls, to a peaceful and just world rid of oppression and hatred.
Please join on a bridge near you at 8.30am.
Why now, why this?
Donald Trump's election – driven by hate and fear, lies and division – is the most significant moment yet in the rise of a new far right politics in western democracies.
Trump has demonised migrants, Mexicans and Muslims. He has mocked disabled people and talks casually about assaulting women. He has threatened to take rights away from ordinary people, hand even more power to a corporate elite and reverse urgent action on climate change.
The slide towards a 21st century fascism threatens the very fabric of our society.
There are countless reasons to protest this moment, because this affects all of us.
But not equally.
We face a period of intensified oppression and violence for ethnic, religious and other minorities already struggling for freedom from hatred and discrimination.
This vicious politics challenges our rights at work and at home, it seeks to divide our communities, and it leaves the future of our planet hanging in the balance. It claims to stand for ordinary people, but at its heart lie financial elites, anti-science operators, and authoritarian bigots .
Bridges Not Walls is a chance to defy the rise of the far right in your own words, while showing common cause with every group that will be on its frontline.
Trump's campaign undermined the commonly-held values of transparency, tolerance, truth and decency; openly urging violence and intimidation. His politics seeks to redirect anger – created by runaway inequality and the global financial crisis – away from unaccountable elites and towards our fellow citizens.
It is clear that this politics of fear and hatred is emboldened on this side of the Atlantic too. Many politicians, public figures, and media platforms in the UK and Europe have failed to stand and oppose it. Worse, many are helping – through either action or inaction – to create a new normal where where bigotry and extreme right wing views and language are accepted as an everyday part of life . In doing so they are undermining all efforts for justice, equality and shared humanity on a liveable planet.
In Britain in 2016 we have seen a rise in racist and Islamophobic attacks, and the political scapegoating of migrants and minorities. This has happened before. We know where it can lead. It must not happen again.
We have the power to challenge this. It's clear that the huge majority of people prize hope over hate, decency over division and solidarity over silence – but we know this isn't going to fix itself.
So, as that majority we have a choice.
Either we allow the acceptance and amplification of a new far right agenda, and the violence against minorities that will inevitably follow.
Or we use this moment to create a loud, clear and colourful cry for the universal values of peace, respect, equality, and justice.
To defend the rights of our fellow citizens and challenge the real causes of injustice.
And to confront the lie that the decline of living standards, dignity and power of ordinary people is the fault of the most oppressed in society.
The politics we face require us to work together more than ever to make common cause.
On 20th January, we will push back against the forces of hatred and division. We will extend a hand of solidarity to brothers and sisters in the USA, the UK and around the world.
We will build bridges between our communities and unite as citizens.
We will show we are here, and here for each other, and we're not going anywhere — not one of us.
We will call loud and clearly for #bridgesnotwalls.
We need as many people as possible to amplify the message.
Join or create a #bridgesnotwalls banner drop action today .