In conversation with Bishop Dr Eric Brown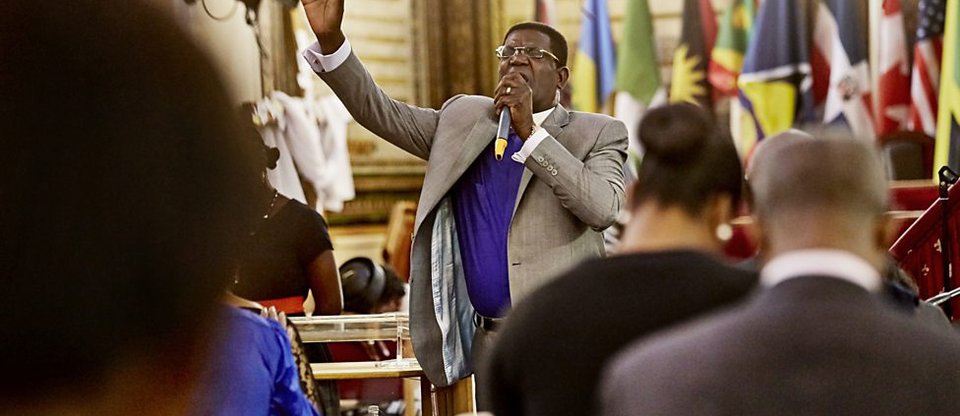 On Windrush Day we spoke to Bishop Dr Eric Brown about his thoughts on the scandal, and on a number of topics around community organising.
How did you get involved with community organising?

I got involved in community organising around1989, when Neil Jameson approached me. This was during the time I served as a National Youth and Christian Education for the New Testament Church of God. He asked some very pivotal questions, one of them was: what made me angry? And at that time I answered that the issue of racism and injustice and the suffering of marginalised people are some other things that motivate me in ministry.

He kindly shared with me information about broad-based organising and from there it was it was plain sailing really. I went with him to Chicago to learn more about community organising, and I was involved in the initial meeting in Birmingham to set up Citizens UK. I consider myself and the New Testament Church of God a founding member of Citizens UK.

At first, we were called Citizen Organising Foundation (COF), and then as the work grew, we incorporated other regions and became a national movement. I'm so proud of what we have achieved over those years and the work that is now touching millions of lives up and down this country and beyond.
What are the benefits of being a leader at Citizens UK?

It was my privilege to serve the organisation for well over 25 years and the last 15 years of that as the Chair of Trustees. Over those years I've seen the work that has touched many lives - on the issues of refugee welcome, the real Living Wage, campaigns to turn Strangers into Citizens, affordable credit, and a whole range of other issues.

During my time as Pastor of the Wood Green New Testament Church of God, we used community organising to build leadership teams and grow the congregation from 350 to nearly 1,000 in a four year period. I also got to work with other institutions in Wood Green such as the Borough Deans and the Nation of Islam to tackle gun and knife crime in our borough.

As a former Chair of Trustees, it is just amazing to see what we have achieved. It is incredible to see young men and women being recruited who are taking community organising as a career, and to see them working in different regions and with different faith groups in different interest groups and associations. One of the most amazing things about community organising is how it brings people of all persuasions together to work in unison for the common good.

I think of my own leadership in civic society and in the church – it has improved enormously and I really thank God that I've been able to make a contribution and also to have an impact on the lives of people in this nation.
What impact has being a leader had on your community?

Alongside clergy from other Pentecostal churches, I was also part of Citizens UK's Black Clergy Caucus which led the campaign to stop predatory lending through payday loans. The Black Clergy Caucus also played a role in advancing the Strangers into Citizens campaign.

However, sadly from the church community we have not been as fast to take up community organising as others have done. I feel a little bit remiss about that, and I think sometimes people look at the cost of membership, and also the fact that we don't have a great pool of resource capable and available, people are not engaged in all the works of organising. To that extent I've been rather disappointed that the Pentecostal church in particular had not engaged community organising as we should.
It's Windrush Day and Citizens UK want to use this moment to reflect on the future for community organising and the black community. Can you share your thoughts about this?

The Windrush scandal is a disgrace. In particular, how successive British governments have treated people, particularly of African Caribbean descent, who came here (by invitation) to help rebuild the country. These were the same people from the Caribbean and other parts of the Commonwealth who fought with their British counterparts in the war. They did so much for what was then called "the mother country" and, having come here to rebuild the broken-down country, they are now disenfranchised and have their rights taken away. It's been a scandal.

On Windrush Day 2020, I think the government is wanting to make some adjustments and there will be some announcements as to how they plan to take it forward. I just pray that justice will prevail and will be done by the government.

I want to encourage the Black community in the UK to unite, let us stay together and don't stop agitating for what is right. This whole British political and economic system was built on slavery and on the lives of black people and we need to keep on agitating, and to make sure that our legitimate complaints are not only heard but responded to. So let us wait and see what will happen and the meanwhile let us play our part to make sure that justice is done for those who have been treated so badly.