How these young Leaders got the police to stop posting photos of weapons online
Tehillah and Josephine are young leaders from Notre Dame School in Southwark, London, and part of South London Citizens.
Together, they've been campaigning to change their local police policies around knife crime and stop and search. They are also part of the Citizens UK team engaging the Mayor's office on community relationships with the police.
Here, they tell us what gives them the passion to change their community and how they have successfully won campaigns.
What inspired you both to get involved with Citizens UK?
Josephine: I feel I'm quite outspoken [laughs]. And my English teacher [at Notre Dame School in Southwark] told me what Citizens UK was about and encouraged me to join.
Sometimes I feel like maybe I'm being a little too passionate or over ambitious. Then I'd see other people working on campaigns and I'd be like "whoa, they're way more passionate than me!". It encourages me to be like them - and that passion isn't a bad thing.
Tehillah : I wanted to get involved with Citizens UK because it allowed me to project my voice and the passion I have always had on issues in society . Being involved with Citizens has allowed me to have access to opportunities I would've never been able to receive by myself, like being part of the team who negotiated with the Deputy Mayor and being able to speak about policing and young people on ITV news!
Does the publication of police photographs of the weapons they have recovered after raids and arrests actually do more harm than good? Two teenagers we hear from tonight say the answer to that question is yes. @RiaChatter has this special report. pic.twitter.com/5SoSWn00nb
— ITV London (@itvlondon) July 26, 2019
Where does that passion come from do you think? What makes you want to make change in your community?
Josephine: Growing up, I've always been someone that loves to help people who aren't as fortunate as me. In the future, I want to be a doctor! And I've also grown up in areas where crime is really high, I've seen a lot.
Every other day, I hear about the death of someone. And I know of two people who have died this year due to knife crime. When I'm older, if I have children or nieces and nephews, I wouldn't want them to go through the same things I have. I want the next generation to have different experiences.
Tehillah : For me, it is very similar to Josephine. My passion has really stemmed from growing up with issues that have been normalised, like knife crime.
Everyone in my community wished for that to change, and I wanted to do something to help make that happen.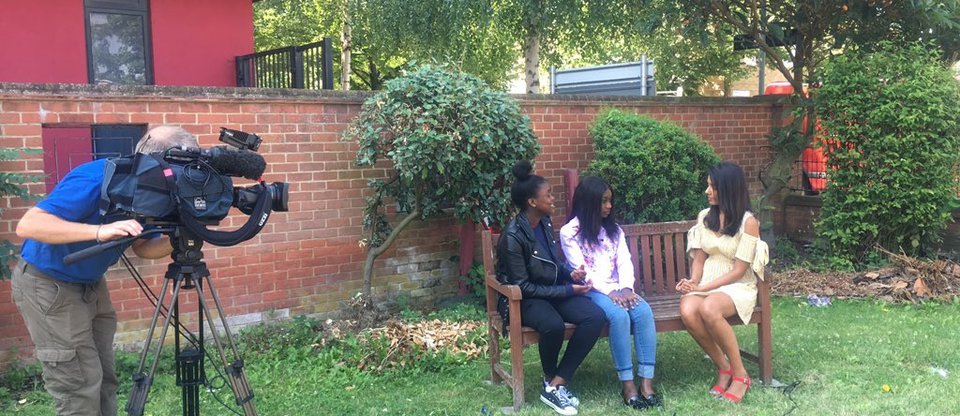 So tell us more about the campaign you worked on to stop your local police posting images of weapons on social media. How did this come about?
Josephine: Knife crime was one of the top issues we spoke about at our school. So we really tried to focus on that and how we could prevent it from happening.
Tehillah : And we started to listen to people in the community about it, and what they felt like we should do to tackle it. A lot of the problems that came up in those conversations was around police posting pictures on social media of weapons they had found and how this would give young people ideas.
Josephine: Yeah, and if someone was already self-conscious about going onto the road without a weapon, they're going to think "wow, that's really big. I'm not carrying a good enough weapon."
So that's when we created #GirlCaught to start getting support for our campaign online and in our local area.
Tehillah : Josephine and I were invited on ITV to speak about the campaign and we eventually got to meet with the borough commander . We expressed our concerns in this meeting about how posting weapons online was affecting our community. And we wanted to show teenagers doing good things for their community.
He agreed with everything we said and eventually said the borough would stop posting these pictures. We had been campaigning on this issue for months and months; it was a really huge win for us!
Tehillah: "I've become so much more confident [since becoming a Citizens leader]... It's helped me to gain really good listening skills, which has allowed me to listen to the problems and challenges in my community."
What are the next steps for the campaign? Is there anything coming up that really excites you?
Josephine: We want to grow it outside of our borough and to other places in London. And we're really excited about the work we have been doing around police training too.
Involving teenagers, like us, in how the training will work is so important as we're really affected by stop and search. We know it needs to happen, but it's about retraining officers on their approach to it. I think this will change a lot of things and our relationship with the police.
We are proposing a three strike rule, so officers can be held accountable, and be retrained.
Josephine: "I wasn't brave to talk about certain things that affected me [before joining Citizens]. I spoke to my mum...she told me to think about the other people that I could be helping by sharing my story. And that hit really deep for me."
During your time as a leader at Citizens UK, what have you learnt?
Tehillah: I've become so much more confident. I can chair meetings now, and speak in front of hundreds of people! It's helped me to gain really good listening skills as well, which has allowed me to listen to the problems and challenges in my community.
Josephine: When I first joined Citizens UK, I wasn't brave to talk about certain things that affected me. I found it quite scary! I spoke to my mum, who encouraged me by saying it's not just about me, it's bigger than that. She told me to think about the other people that I could be helping by sharing my story. And that hit really deep for me.
Like Tehillah said, I've also become a lot more confident too - and definitely built up my leadership skills. Working on campaigns at Citizens UK has also felt like I've got massive responsibility! I've had to step up and be organised. I have learnt to be a lot more patient with my time, I even use my calendar now [laughs].
And what's the one tip you'd both give to young people wanting to get involved in community organising?
Tehillah : Be open-minded. Citizens UK is made up of all kinds of members, who share the same passions as you, but you may disagree on solutions to the problem. It's all about listening to others.
And don't be shy! Make sure to grasp every opportunity around you. Citizens UK has loads of chances to get involved you may not even know about.
Josephine: And you may think at first 'what is this?', I know I did! But stick with it - you're not going to understand community organising from the first meeting. It's a journey and a process when it comes to building on campaigns.
One thing that kept me reassured during this time was that everyone is on the same journey and we're all fighting for the same thing. So just get stuck in!
Find out how a group of young Citizens Cymru Leaders created a podcast to help the Somali community open up about mental health.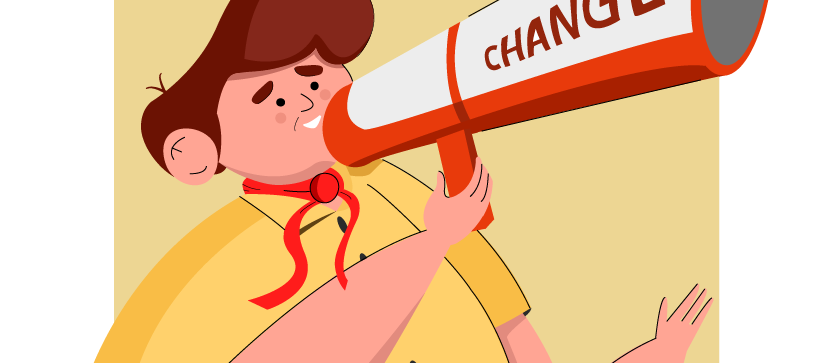 Watch Leaders from Josephine and Tehillah's school, Notre Dame, breakdown everything you need to know about Community Organising