How people-powered public services can help bring us closer together
Today London Mayor Sadiq Khan is launching his social integration plan from our pioneering project, Parents and Children Together. Will Bibby from Nesta and Sally Gimson from Citizens UK and PACT write about how this mum and dad powered group is making a difference.
Social integration is determined by how equal a society is, the relationships between different people, and how active people are in the communities in which they live.
With an ageing society, an increasingly diverse population, growing inequality, and rising disenfranchisement with democracy, social integration is rightly high on the agenda. We argue that a model of public services that actively seeks out the expertise, experience, and energy of local people to improve the lives of those around them - what we call people-powered public services - can play a major role to increase social integration.
People-powered public services are well placed to help on all three fronts: supporting people to be active citizens through social action, tackling barriers and inequalities by reaching people who need help the most, and promoting shared experiences by creating trusting relationships - whether that's to support people living with long-term health conditions , bridge the generational divide , or support parents help their child's development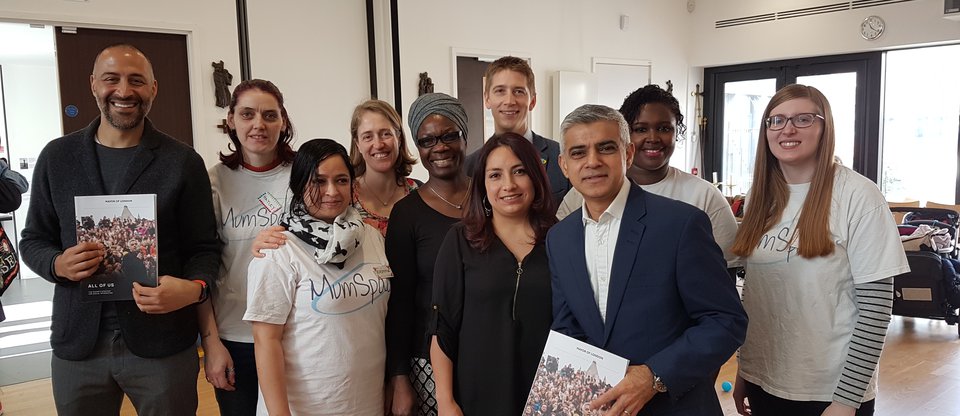 Today, the Mayor of London launched his Social Integration Strategy at a local MumSpace in Southwark - where he set out his plan to connect Londoners from all walks of life and announced a new £600k London Family Fund to back innovative projects that bring families closer together.
Bringing parents and communities together
The MumSpace where Sadiq Khan launched his strategy is part of a programme called Parents and Communities Together (PACT), delivered by community organising charity Citizens UK, that does just that.
PACT uses community organising to bring socially excluded families together to support each other and make change in their communities. It works with local institutions - such as churches, mosques, tenants' associations, schools, and local maternity and health visiting services - to create communities of mums and dads who are empowered to change their lives. Instead of being "done to", MumSpace mums feel in control to support each other. They also feel confident about asking for help from professionals such as health visitors. They like the fact that MumSpace is somewhere where their well-being is as important as their children's.
The programme has been shown to improve the lives of both mums and kids by improving maternal mental health and wellbeing and early developmental outcomes for children. This approach has also been particularly successful at reaching mums who usually don't feel confident using mainstream services.
PACT has helped people like Mona, a migrant mum-to-be who was living in a state of chronic loneliness, anxiety and depression. Mona had recently moved to London, where she had no close friends and her parents lived far away.
After attending her local MumSpace, she made new friendships, shared worries and concerns, and was supported by parents going through the same experiences. Feeling anxious about many aspects of parenthood, Mona joined one of the parenting courses on offer, giving her much greater confidence in her abilities as a mother
"After the birth of my son, Mumspace became the first place we went to. It felt safe, accommodating, a place where everybody would be able to understand the challenges and emotions I was feeling."
Similarly, after the birth of her son, Hannah was feeling lonely and isolated, like many new mums do.
"I found it really hard after I had Marren. It makes me upset just remembering."
After Hannah joined her local MumSpace, she met other mums going through the same experiences, giving her confidence she wasn't alone. When Hannah's son started nursery, she decided to volunteer with PACT, helping other parents going through similar experiences she went through.
How are we supporting people-powered public services?
Nesta, in partnership with DCMS , is supporting Citizens UK to scale up Parents and Communities Together to at least three new places across the country, mobilising the support of at least 250 volunteers to support over 900 families.
The programme is part of the £1.2m Early Years Social Action Fund which aims to scale similar social action programmes that improve child development outcomes in the early years by directly supporting parents.
It is part of Nesta's work to develop an evidence-base for and provide practical examples of how people-powered public services can reshape the relationship between people and the state and tackle some of the big challenges we face as a society.
Parents and Communities Together is one tangible example of how social action, working alongside public services, can bring people together to improve the lives of those around us and increase social integration.
Over the past decade, Nesta has supported over 100 such projects. But we need more to shift the way that public services are designed and delivered to not only recognise but draw on the time and talents of everyone in our society.
Every place should actively consider how they can encourage this - both through dedicated funds and strategies such as those announced by the Mayor of London today, as well as thinking about how we can design in people-power to all public services.
Because encouraging people helping people isn't just a nice thing to have. It's something that can help improve and compliment public services to reach more people, support people in ways mainstream services often cannot, and, ultimately, bring us all closer together.
Find out more:
If you want to find out more about Parents and Communities Together (National) please get in touch with Sally Gimson at sally.gimson@citizenuk.org, or if you want to know more about the Early Years Social Action Fund and Nesta's work on people-powered public services, please get in touch with Will Bibby at will.bibby@nesta.org.uk.