Harrow Citizens sign up at pre-founding partners' assembly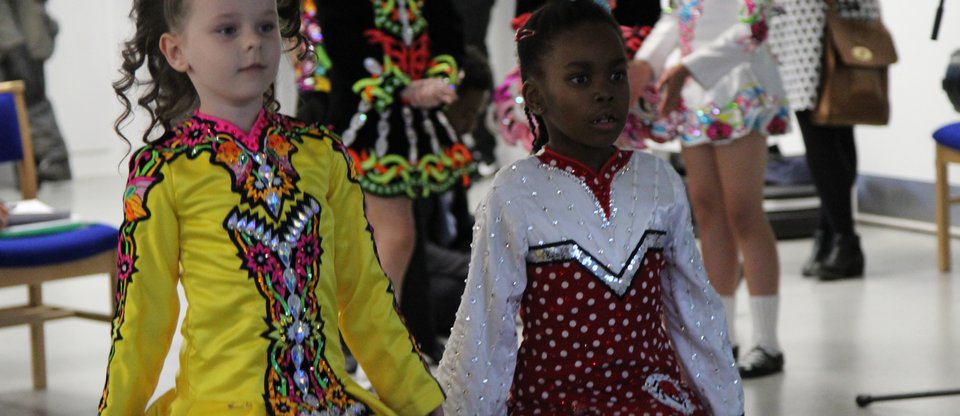 Young Irish Dancers entertained at the launch of Harrow Citizens.
The foundations of a broad community-based movement dedicated to improving the lives of people in Harrow through local campaigns and targeted action will be laid today at an inaugural meeting at St Jerome's Church of England Bilingual Primary School.
Leaders from faith groups, and schools, will combine to form a new alliance under the banner, Harrow Citizens, part of national community organising charity, Citizens UK. The aim is to stimulate a grassroots movement in Harrow that will become powerful enough to represent the interests of ordinary people.
Scores of supporters have signed up to a pre - founding partners' assembly, laying aside their differences in the interests of the common good.
The emerging organisation will become an affiliate of Citizens UK, a powerful and growing network of over 350 faith groups, schools and colleges. It is committed to developing the skills of communities so people are better able to identify their own needs, improve their neighbourhoods and participate more fully in society. It already has the ear of leading politicians.
Citizens UK, through its affiliates, has a strong track record in fighting for social justice. Its campaigning in east London earlier this century led to the creation of a voluntary Living Wage - currently £8.25 nationally and £9.75 in London. More than 3,000 businesses, with almost 70,000 workers, are signed up to the scheme which has cross-party support.
Other campaigns have included demands for more permanently affordable housing, dignity for refugees seeking sanctuary, improved employment and training opportunities, and a cap on the cost of pay-day loans.
But the ethos of Citizens UK is not to impose campaigning ideas on local affiliates. Rather, it encourages communities to organise and decide on campaigning priorities based on burning local issues.
The Rev'd Rod Green, leader of St Peter's Harrow, said: "Harrow is a diverse borough with many different faith and community institutions. It is in a strong position to build on this inheritance, working together to build a diverse, inclusive movement underpinned with its own funding, and local organisers.
Paul Amuzie, Brent Citizens Community Organiser said: "The aim of Citizens UK, and our affiliates, is to encourage people to become involved in public life, thus strengthening their institutions in the process so they are powerful enough to represent the interests of civil society to our local representatives."
Harrow Citizens is launching a 'listening campaign' to uncover local issues. By November, a delegates assembly will be held followed by a full public launch of Harrow Citizens in April, 2018. The aim is to attract 350 delegates to an 'accountability assembly' with councillors from the London Borough of Harrow.
Founding Partners of Harrow Citizens include:
Two churches: St Peter's Harrow, St John Fisher
Two Synagogues: Northwood & Pinner Liberal Synagogue, Kolchai Synagogue
Two Mosques: KSIMC, Stanmore, SICM, North Harrow
One School: Northwood School