Happy Father's Day from DadSpace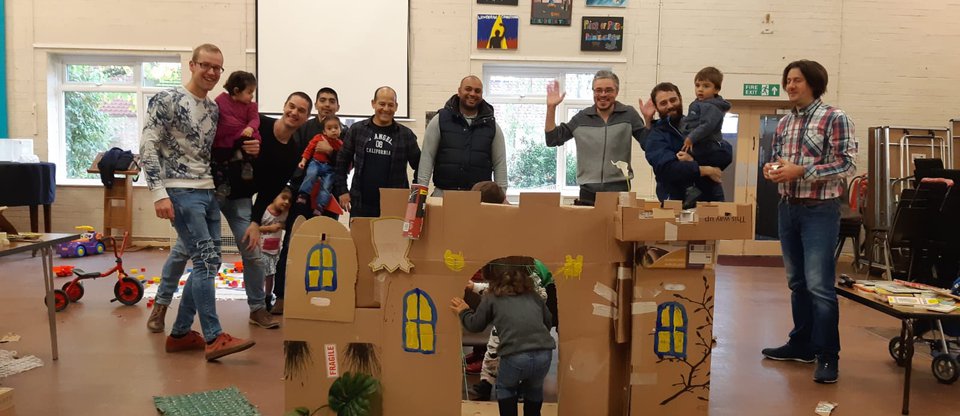 Ahead of Father's Day, we spoke to Sebastian Crankshaw, who is one of the fathers who attends DadSpace in Southwark. DadSpace is run by Parents and Communities Together (PACT), and is a space for babies and toddlers to play and for local Dads to meet, share and receive information on issues such as bonding with your baby, safety, parenting and many more. Click here to find out more about DadSpace .
How did you come to find out about PACT and DadSpace?
To be honest, I don't know exactly where it came from but probably, like many Dads, I was put onto it by my partner who I think sent me a link of weekend activities.
What impact has PACT had on you as a person?
Through DadSpace it's been great to feel like my role as a father is actually acknowledged and valued. There's a completely understandable focus on mothers in terms of access to resources, which can sometimes feel a little bit isolating as a Dad.
How did you feel as a father before coming and how do you feel now?
I've always been glad to be a Dad, and fairly confident, but DadSpace has not only increased my personal confidence, but made me realise that Dads can offer a lot of help and support to each other, and that sharing our experiences (joys, pain, excitement) is both important and fulfilling.
What impact has PACT had on your family and on your child?
It's given me something structured to do with Lilou, and has been a source of friendship, advice and support, which is all the more valuable for being completely independent from my relationship with Lilou's (my daughter's) Mum. I think anything that strengthens a father's role, that encourages the development and growth of that role as something unique and good in and of itself is very valuable.
What advice would you give to new fathers on Father's Day?
Come and join us at DadSpace! Failing that, meet and connect with other Dads! And, speaking more personally, I think there's a real narrative around being unprepared for fatherhood or fearing that you're too childish or that you won't know what to do. To a large extent, this is all nonsense. No-one knows what to do because every child is different. The whole point is that you are creating and developing a new relationship with someone you will love and who will love you. Take it on its own terms.
A final thing: you probably will feel a bit isolated and useless at the beginning. Maybe you will see your role as supporting Mum and that as a Dad there's not much you can do. This is normal and natural - I think a Dad's role grows a bit more with time, and isn't quite as visceral from day one as it is for mum. This separation of roles can be really useful, but it also requires communication - both to constantly negotiate roles with your partner and your child as they grow, and to create proper alone time for yourself and your child. The more time you spend, the more you will learn (and giving Mum a break definitely helps too!)