Full Community Sponsorship of refugees launched in the UK: first refugees expected to arrive within weeks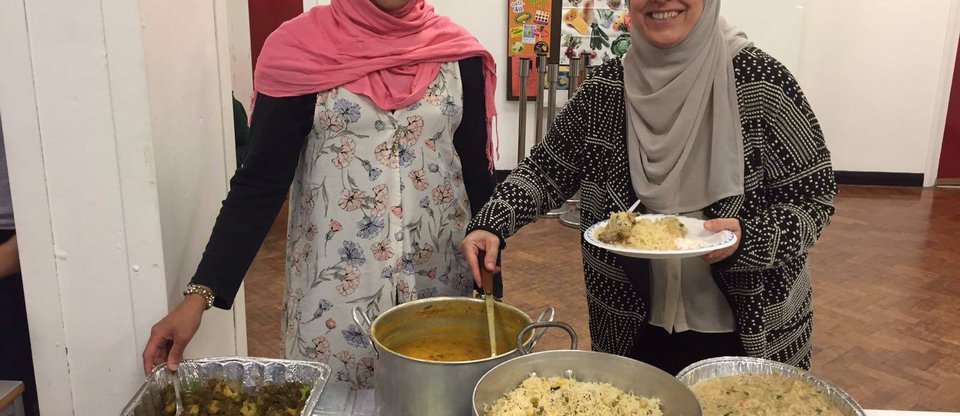 Following extensive consultation with the National Refugee Welcome Board and Citizens UK, the Home Office has today (19 July) launched Full Community Sponsorship for refugees. With the launch of the brand new scheme (modelled on a similar, hugely successful, programme in Canada) community groups will be given the opportunity to personally welcome and support refugees arriving in the UK.
Full Community Sponsorship gives community groups, including churches, synagogues and mosques, an opportunity to get involved in helping refugees through taking the lead responsibility for their resettlement and integration in a community. The sponsoring groups raise money to help support refugees and are obliged to demonstrate to the Home Office that they are capable of providing the welcome and practical help needed. Citizens UK has launched Sponsor Refugees, a foundation established to promote and support community sponsorship.
The National Refugee Welcome Board, a network of more than 40 civic society organisations, convened by Citizens UK, has been instrumental in bringing Community Sponsorship to the UK. A number of local groups across the country have been working in cooperation with Citizens UK and the Home Office since the turn of the year to become 'vanguard' community sponsors. As a result of this announcement, some of these groups expect to be welcoming refugee families to their communities within weeks.
Initially, this scheme will only include a small number of sponsorships, but many groups have shown an interest in the scheme, and are working on sponsorship plans. The National Refugee Welcome Board believes that, in time, Community Sponsorship has the potential to become a significant pathway to refugee resettlement in the UK. (In Canada, more than 250,000 refugees have been resettled through sponsorship in the last 25 years).
The scheme has been welcomed by faith leaders and refugee groups across the UK:
Bishop of Durham, Paul Butler , Co-chair of the National Refugee Welcome Board said: "The launch of Community Sponsorship in the UK, which has been so successful in Canada, will help church groups to get involved in resettling refugees in their communities in a way which has previously been unavailable to them. We are confident it will grow, leading to many more refugees from across the world's trouble spots being able to resettle in the UK and build a safe, new life. There is a real public appetite for Community Sponsorship across the UK, and many people have already signed up to help."
Zrinka Bralo , CEO of Migrants Organise, and Chair of the National Refugee Welcome Board, said: "We welcome the development of Full Community Sponsorship, both as a way to provide safe routes to sanctuary for refugees and for our communities to be involved in their integration. It is a fantastic addition to the UK's efforts to aid refugees, but it can, and should, only ever be one of the ways refugees are able to claim protection in the UK. It must not be seen as a substitute or replacement for the overriding legal and moral duty of care we owe to refugees under the Geneva Convention."
Refugee Action's Chief Executive Stephen Hale said:
"Inspirational volunteers around the country are already at the heart of many communities welcoming refugees to the UK and helping them to rebuild their lives. Drawing on over 30 years' experience of resettlement with volunteers central to our work, we know that their involvement is vital from providing a warm friendly face upon arrival to fostering a longer term independence ensuring they integrate fully into local life.
"We welcome the Home Secretary's leadership in standing up for refugees' rights and a united Britain right from the start of her new role. Community involvement, whether in the form of a sponsorship scheme or through established partnerships with charities and local authorities must always be set up in a safe, sustainable way with refugees needs front and centre."
The launch of Community Sponsorship has been welcomed by faith leaders from across the UK:
Cardinal Vincent Nichols, Archbishop of Westminster, said: "The Catholic community is keen to play an important role in helping to resettle refugees in the UK, responding to the situation with kindness and compassion as we are called to when confronted by those in need. We are delighted that the community sponsorship is being launched in the UK; Catholic charities have been involved with shaping the scheme and we already have groups keen to sign up and help. This innovative scheme will enable everyone to get involved with welcoming refugees, offering a very real and tangible way for people to help new arrivals settle into their communities."
Dilowar Khan, Executive Director, East London Mosque Trust said:
"Our hearts go out to refugees that have fled violence and war. The East London Mosque and London Muslim Centre has a long standing reputation of facilitating fundraising for humanitarian causes, and as such has raised several million pounds over the past decade for others in need – made possible by the generous donation of our congregants.
The Mosque and Centre is now offering its support to refugee families through the Community Sponsorship scheme. We have already raised hundreds of thousands of pounds for charities helping refugees and the victims of war across the world, however now we wish to support at least 5 refugee families, when they arrive in the UK; providing them with the support, housing and financial assistance that they will need. We plan to start by raising enough to support one refugee family and then continue to fundraise as others arrive.
We believe it is our moral and religious duty to help alleviate the suffering of those that have fled war, and will be calling upon all our congregation members to support this campaign."
Commissioner Clive Adams , Territorial Commander of The Salvation Army in the United Kingdom and Ireland, says: "We are delighted that Community Sponsorship is being launched in the UK, and that The Salvation Army has been involved in helping to shape the scheme. Our participation is a demonstration of our belief in humanity's intrinsic value. We hope that the first Salvation Army Community Sponsorship group will be able to welcome refugees within weeks. Many of our members are eager to get involved and do what they can to offer help and sanctuary to those fleeing conflict; Community Sponsorship will enable them to do this in a very real hands-on way."
Refugee Council Chief Executive Maurice Wren welcomed the announcement of the scheme, saying: "This scheme helps harness the eagerness and determination of the public to welcome refugees into their communities. Hopefully it can also become a way for more refugees of all nationalities to reach the UK safely and legally in the future. While this sponsorship scheme is welcome progress, it must be complemented by a much wider, compassionate and comprehensive response from the Government to addressing the global refugee crisis which prioritises giving more refugees safe passage here, particularly those who are desperate to join their loved ones."
Notes to editors
Information on Community Sponsorship
Community sponsorship is starting small and within certain limits:
In September 2015 the Government pledged to resettle 20,000 Syrian refugees via the Syrian Vulnerable Persons Resettlement (VPR) scheme.
In addition to the refugees arriving under the VPR scheme, the Government has also committed to accepting up to 3,000 vulnerable children and family members directly from the Middle East and North Africa.
The Full Community Sponsorship scheme will apply to families from both resettlement routes.
Syrian refugees coming to the UK under community sponsorship will be included in the 20,000 resettlement quota up to 2020 that the government has already announced (so it will not increase the numbers resettled)
Community sponsors will NOT be able to identify Syrians in the region that they wish to sponsor (so Syrians already in the UK will not be able to select family members under this scheme)
Community sponsorship will NOT be used to house and support unaccompanied children
Sponsored refugees will be entitled to:
Refugees will be selected and screened for resettlement via community sponsorship by the UNHCR (the United Nations High Commission of Refugees) and the British government.
Before they leave the region they will be offered training on life in the UK and learn about their sponsoring group and the local area in which they will live
Their flight to the UK will be paid for by the British government
They will receive a 5-year humanitarian visa (and thereafter will be able to apply to stay in the UK and eventually become citizens)
The adults will be entitled to work immediately or to claim Job Seekers Allowance
The children will be entitled to free schooling
They will have free access to the NHS
They will be able to claim Housing Benefit and other benefits
Who can become a sponsoring group?
The beauty of community sponsorship is that all sorts of different groups of people can be involved
It is even possible that individuals in a local area could get together and constitute themselves as a sponsoring group.
The role of the sponsoring group
The main responsibility and motivation of community sponsors is to provide a warm and personal welcome to the refugee family they are sponsoring. Other key tasks will include:
Welcoming the refugee family at the airport and escorting them to their new home
Providing a 'welcome pack' of food, other essentials and some cash to keep them going in the first few days
Helping them to settle into their new home (how to work the appliances and sort out household bills)
Helping them to register with the Job Centre, for benefits and with a GP
Helping the children find their feet at their new school
Helping the family to find their way around their new community (showing them public transport, leisure facilities and places of worship)
Enrolling adults in official English classes (and helping them with English conversation)
Have funds amounting to £4,500 per adult refugee (so for a family of 2 parents and 2 children, £9,000) to be used for things like English language classes or unforeseen expenses. The group will not have to pass this money to the government or the local authority – and it may not all get spent – but it is required to show they can adequately support their refugee family
Citizens UK is the national home of community organising – a network of over 350 faith groups, schools and colleges that work together for the common good. They have been campaigning on the Syrian crisis for over 18 months and created www.refugees-welcome.org.uk to help coordinate the public's response.
So far Citizens UK efforts to persuade councils to participate in resettling Syrian refugees have persuaded 44 councils to offer 3,097 places. They've identified 700 private landlords who are offering properties, persuaded a dozen universities to offer £3.5 million of scholarships for refugees and successfully challenged the Prime Minister to resettle at least 1,000 people before Christmas.
Citizens UK has established Safe Passage; a group of volunteer lawyers, interpreters and refugee charity specialists setting up a process so that those who have a good legal right to claim asylum in the UK may do so. They have launched an emergency fund to raise money to help unaccompanied minors escape the immediate threat of demolition of the Calais camp.