Free Equal Power Summer Workshops
This summer, Fawcett Society are partnering with Citizens UK and other organisations to run a programme of FREE online training for women on community organising and leadership, getting into politics and using your voice online. This programme includes sessions on getting into politics specifically for women who are Black, Asian or part of a minority ethnicity.
You don't need any existing knowledge or experience. Sign up for several different sessions or just one, whatever works for you.
Take part to be inspired and gain the skills and knowledge to get more politically active. We welcome women from across the political parties.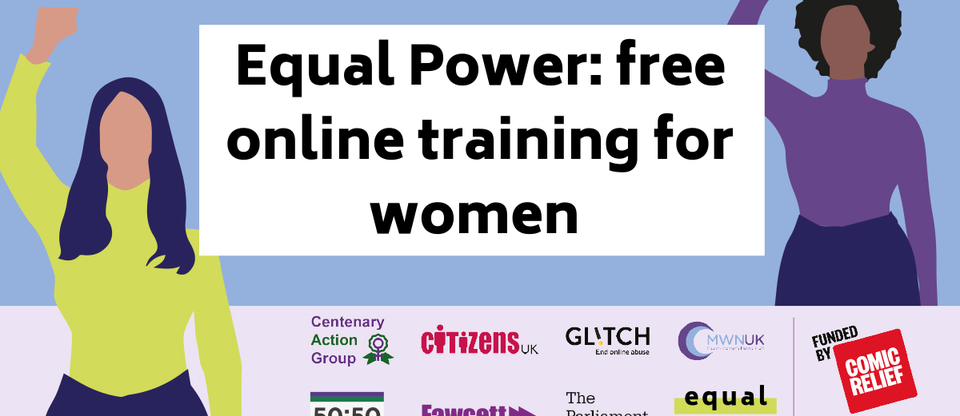 COMMUNITY ORGANISING AND LEADERSHIP
Effective action: how to make impact not just noise
Have you ever identified an injustice but not known how to take action? This is for women who want to learn how to make change. Citizens UK will talk you through a theoretical framework for planning effective action. You'll hear from women who've had an impact and do some practical action planning yourself.
9th June - sign up here
18th August - sign up here
Intro to Community Organising
Citizens UK will introduce you to 'broad based community organising' - this theory and training comes from the original training school for civil rights leaders including most famously Rosa Parks. You will learn how community organising works, some of its basic structures and how it helps ordinary people make change in their communities, neighbourhood, and even nation.
4th August - sign up here
Your next civic role. Take on a board role
Learn about being a charity trustee and on a company's board of directors with Muslim Women's Network UK. Get a better understanding of the recruitment process, responsibilities, time commitment and skills and experience you might need. Hear from inspiring women with board experience.
23rd September - sign up


GETTING INTO POLITICS
Getting into politics: finding your why
In this session run by The Parliament Project you will hear from an inspiring woman politician about why they got into politics. We will encourage you to articulate the difference that you want to make in society and explain how being elected can help you do that. Understand what your drive is, and how it can motivate others around you over the course of your political career.
11th June - Sign up here
How can I become a Councillor in England?
The Parliament Project will help you explore what councillors do. Learn about how councils work, explore councillors' responsibilities and the time commitment and skills you might need. Hear from women councillors across the political spectrum and learn about their journeys, be inspired to represent your local area.
8th July - Sign up here
How can I become an MP?
With the Parliament Project explore what UK Parliament does, how MPs fulfill their responsibilities, and the difference between being an MP in Government and in opposition. As well as the time commitment, skills and experiences required to take on the role. Hear from current women MPs about their route into politics, and the challenges and opportunities they've faced.
10th September - Sign up here

Meet The New Girls Network
50:50 Parliament support women getting into politics: 50 women inspired by the campaign stood in the last general election, and 9 MPs were elected. In these inspiring networking events, you'll learn how 50:50 Parliament can help you build your personal political profile and match you with a buddy from your party to support you on your journey. You will also meet some amazing women MPs and members of the 50:50 team.
21st May - join the wait list for this session
21st June - sign up here
21 July - sign up here


GETTING INTO POLITICS AS A BLACK, ASIAN OR MINORITY ETHNICITY WOMAN
Candid Conversations: on being a local councillor, and a woman, and BAME, and Muslim
Muslim Women's Network UK will be hosting a panel discussion with women councillors from different political parties who also from a BAME background and Muslim. Join to hear about their political journeys, the additional barriers they've faced as well as opportunities that have come from being in politics.
1st July - sign up here
Candid Conversations: On being an MP and a woman and BAME
Muslim Women's Network UK will be hosting a panel discussion with women MPs who are also from a BAME background from across different political parties. Join to hear about their journeys into politics, the change they been able to make as well as to hear about the additional barriers they've faced as BAME women MPs.
Exploring Your Political Pathway for BAME women
In this session The Parliament Project will help you explore ways to become more politically active and demystify the process of standing to be an MP or councillor. Connect with other BAME women also wanting to make a difference and get into politics.
20th July - sign up here



USING YOUR VOICE ONLINE
Digital Self Defence: How to Keep Politically Active Women Safe Online
Are you a woman involved in grassroots campaigns or a woman with political ambitions yet the fear of online abuse is preventing you from taking the next step forward? Is the toxicity on social media yet another barrier for you to take your rightful space? Are you a woman needing support to set boundaries and make digital spaces better serve you and your career ambitions? Then this one hour free online workshop is for you.
This interactive workshop will help you better understand online abuse and vital digital self defense and self care strategies to enable you to have a flourishing online presence without compromising your wellbeing.
30th June - sign up here
27th July - sign up here