First home-owners move into Community Land Trust half-price homes in Mile End.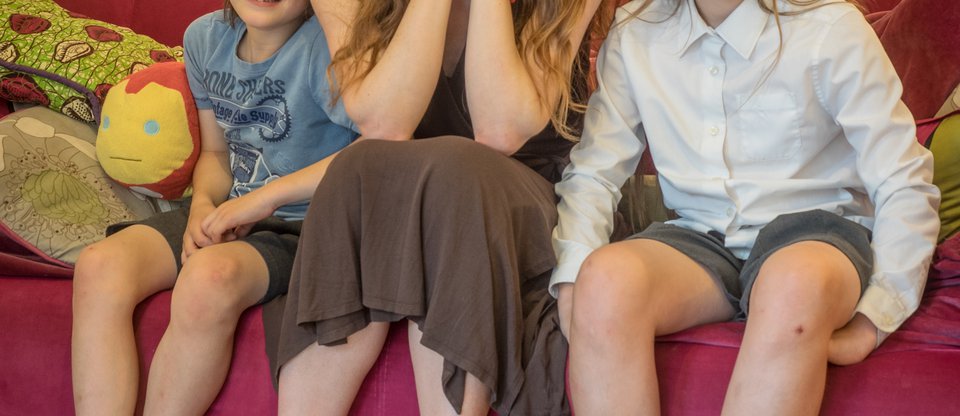 Bethan and her two children have just moved into their new three bedroom Community Land Trust home: " I thought that the only choice I had was to live in a flat that was too small for us or to give up and move out of London."
London's first Community Land Trust home-owners have started moving into their half-price homes on the St Clement's site in Mile End, East London.
The homes are being sold to local people by community organisation London Community Land Trust (London CLT) at prices less than half the market rate.
The prices of the homes are linked to local incomes in Tower Hamlets, meaning a one bedroom home can be bought for £130,000 , two bedroom homes for £182,000 and three bedroom homes for £235,000. The private flats at St Clement's available from Linden Homes start at £450,000 for a 1 bedroom apartment [1].
The campaign to create London's first community land trust at St Clement's was born out of the local community organising efforts of charity Citizens UK, who set up London CLT in 2007.
Since then it has garnered support from the respective Mayor's of London Ken Livingstone, Boris Johnson, and more recently Sadiq Khan. The Mayor of Tower Hamlets, John Biggs and Tower Hamlets Council, have also supported the project.
The homes are brand new, built to a high specification. The CLT homes are exactly the same size and meet the vigorous standards of all new build developments. The design was created through a community-led planning process, which contributed to it passing planning with unanimous consent of the planning committee, a rare occurrence in London.
The only 'catch' for CLT homeowners is that if they choose to move on, the same formula linked to incomes will be applied – meaning each year, prices will rise with average incomes across the borough, rather than with the open market. This ensures the homes are permanently affordable for generations to come. It also encourages people to think of their investment as purchasing a home, not just an asset.
To be able to apply for one of the 23 community land trust homes at St Clement's you have to meet the following criteria set by the London CLT:
You can get a mortgage offer and your household income is between:
£22,500 - £45,000 for a 1 bedroom
£30,000 - £60,000 for a 2 bedroom
£37,500 - £75,000 for a 3 bedroom
This home will be your only residence
Your current home does not meet your basic needs
You have a strong connection to Tower Hamlets lasting more than 5 years
You are involved in your local community in Tower Hamlets
You commit to learn about and support the work of London Community Land Trust
St Clement's, which has already won several national housing awards, is being built by Linden Homes in partnership with the Greater London Authority and Peabody. The project will provide 252 new homes, 35% of which will be affordable housing including the 23 community land trust homes.
The CLT turned to Ecology Building Society which supports community-led housing as well as providing lending on properties and projects that have a positive environmental impact. Ecology was able to partner with the CLT to develop an innovative bespoke solution which takes account of the homes' permanent affordability and ensures that they can provide mortgages for this type of scheme.
Bethan Lant, CLT resident: "I thought that the only choice I had was to live in a flat that was too small for us or to give up and move out of London. The CLT home has meant I don't have to make that choice; I can live in the place I love and my children can have the space they need as they grow. It's a dream come true."
Adrian Simpson, CLT resident : " Ecology are a good alternative to a conventional bank, they have a different ethos to mainstream banks. They are a building society with a big heart. From applying, it was really straight forward, they were really professional, courteous and gave me an answer straight away. Ecology's process was streamlined, I was impressed, it was very quick."
Calum Green, Co-Director at London CLT, said: "These homes mean 23 families will no longer have to leave the area they love and are able to stay in the community for as long as they want. CLTs provide a way for all Londoners, regardless of background, to have a place in this city. There are hundreds of sites in London that could help build genuinely affordable homes like this, and we have every intention of building lots more."
P aul Regan, Chair of London CLT and Trustee of Citizens UK: " As part of a group of local community leaders who persuaded the Olympic Authorities in 2004 to put CLT homes on the Olympic Park as an affordable legacy for local people, I am really pleased that London CLT has been able to deliver this pilot project at St Clements. This proves that CLTs are a viable proposition for London.
"I am delighted to see the first families moving into their new homes today. The housing market in London is not meeting the needs of people on modest incomes. This scheme shows how communities are willing to get involved and help create solutions to the problem. In 10 years' time I hope people will accept CLTs as part of common sense solutions to the housing crisis, just as the London Living Wage helps tackle in-work poverty in the capital."
James Murray, London's Deputy Mayor for Housing said: "Community-led housing like the St Clement's development offers Londoners the chance to be closely involved in delivering the genuinely affordable homes the capital so urgently needs. Fixing London's housing crisis won't happen overnight but these sorts of projects are one of a number of innovative new ways we are supporting to increase housing supply across the city."
Trevor Dempsey Managing Director at Linden Homes Eastern said: "We pride ourselves on delivering high quality homes across the UK and this collection is no exception. This CLT project at St Clement's is the first of its kind in the capital and we are extremely pleased to be the developer behind the delivery of these much needed homes for people in the area. It is an innovating model and we are looking forward to seeing how effective the programme is. It could help shape the way we plan and deliver housing developments of the future – so definitely one to watch."
To find out more information visit the website www.londonclt.org .
---
[1] http://london.lindenhomes.co.uk/developments/london/st-Clement's-london/availability-prices