Faith and Community Leaders launch Citizens UK election call for a time limit on migrant detention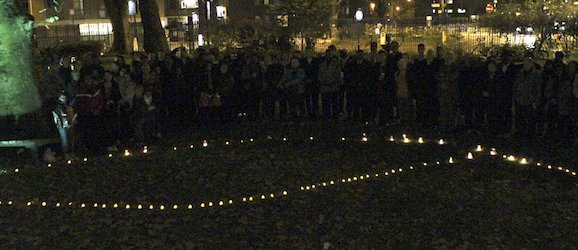 In the wake of yesterday's shocking Home Office figures revealing the scale of indefinite detention, Citizens UK today fired the starting pistol on their 2015 election campaign to persuade politicians to pledge a time limit on the detention of migrants.
The UK is the only European country where migrants can detained indefinitely for the administrative convenience of the Home Office. Official statistics show that over 30,000 people are detained annually (People entering detention 2013: 30,113
https://www.gov.uk/government/publications/immigration-statistics-january-to-march-2014/immigration-statistics-january-to-march-2014#detention-1 ) at a cost of £75 million a year according to an independent report by Matrix Chambers ( http://detentionaction.org.uk/wordpress/wp-content/uploads/2011/10/Matrix-Detention-Action-Economic-Analysis-0912.pdf ).
Citizens UK is the largest alliance of civil society organisations in the country, and trains thousands of community leaders to campaign on social justice issues every year. Its track record of achieving change includes the Living Wage campaign, which has now convinced over a thousand employers across the UK to pay higher wages, the first ethical Olympics, and numerous other local campaigns.
Prior to the 2010 general election, Citizens UK ran the Sanctuary Pledge campaign, which succeeded in persuading politicians of all parties to commit to ending the detention of children for immigration purposes. At a Citizens Assembly in 2010, David Cameron and Nick Clegg agreed to work with Citizens UK to fulfil the Sanctuary Pledge. As a result over 4,000 migrant children have avoided being locked up, and the commitment to keep children out of detention centres, such as Yarl's Wood, was enshrined in the Immigration Act 2014.
Now Citizens UK is planning to repeat the success at the 2015 election – with many of the migrant children who have personally benefited from the ending of child detention leading the call for a time limit on adult detention.
Twenty-year-old Dammy Baiyewu, a young community leader working with Citizens UK, told how he felt when as an eleven year old, he visited his mother who was being detained:
"I was so excited to see her for the first time in six months but when I arrived at the detention centre I froze. I couldn't bear to see her in a place like that and I had no idea when she would come home. I don't want other young people to go through this. That's why young migrants want to act in 2015 to make sure that there is a time limit on detention."
Bishop of Croydon, Rt Rev Jonathan Clark, said:
"Detaining people indefinitely in prison-like conditions without judicial oversight is unjust, ineffective and inhumane. That's why Citizens UK are calling on people of goodwill across the country to join them in taking this issue to their parliamentary candidates. We will ask the politicians to pledge their support for a time limit on the detention of adults - and to work with us if they get elected to make it happen."
Zrinka Bralo, Executive Director of the Migrant and Refugee Communities Forum and a leader with Citizens UK said:
"The scandal of indefinite detention is being done in our name and with our money. It is a complete affront to dignity. It's important that everyone knows and does something about it."​
See links below for the Independent coverage:
Link 1 - The Independent News
Link 2 - The Independent Voices