Dropping Anchor at Greenbelt Festival During Turbulent Times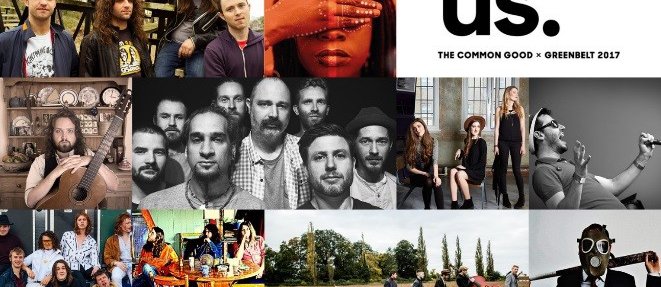 "A
Glastonbury shaped by the Gospel." Nick Wyke, The Times.
Citizens UK has teamed up with Greenbelt Festivals as an associate partner, and will join them at the Common Good Festival this year to celebrate four days of music, arts, activism, ideas, faith and spirituality. The annual event takes place at the idylic Broughton House, near Kettering, Northamptonshire, on Bank Holiday Weekend, 25-28th August.
The Greenbelt Festival is in its fourth year at this venue and organisers welcome all to the event, saying: "We're sailing in a strange boat. Here we are in 2017. A year that feels more uncertain than any we can remember. As we enter unchartered waters, we need a safe haven to head for. Somewhere to drop anchor. To get our bearings. To plot a new course. So, we are inviting you aboard the good ship Greenbelt this summer. We think that she might just be our best way forward. Together. For The Common Good."
Citizens UK executive director, Neil Jameson, says: "We are so looking forward to celebrating The Common Good at the Greenbelt Festival on this August Bank Holiday weekend. It will be a chance for us all to socialise, re-fuel and reflect on the year ahead, in the company of friends and fellow campaigners. Some of us are still reeling from the changes of the past year and it will be great to get together, have fun and prepare for the challenges ahead."
The Greenbelt Festival line-up includes ( more announcements in coming months ):
MUSIC:
With folk star KATE RUSBY in this, her 25th year in the music industry, plus innovative solo singer-songwriter NEWTON FAULKNER, British blues rock guitarist JOANNE SHAW TAYLOR, ska-funk-dub-afrobeat-party-bringers KING PORTER STOMP, south London rapper SPEECH DEBELLE, and beatbox legend SK SHLOMO. LEE BAINS III AND THE GLORY FIRES bring rock 'n' roll from Alabama, folk singer WILL VARLEY joins us after opening for Frank Turner, winner of the Bob Harris Emerging Artist award WILDWOOD KIN will be there, plus emerging young talent from the likes of CC SMUGGLERS, HARDWICKE CIRCUS, GOAN DOGS, LAZY HABITS, THE GOAT ROPER RODEO BAND, REMEDY, SLEEP TALKING. Also, THE SACRED SOUNDS WOMEN'S CHOIR, bringing Manchester women from different faith and cultural traditions together to sing.
More on all these music names here
.
IDEAS:
With founder and Director of Reprieve CLIVE STAFFORD SMITH, ANN PETTIFOR, who led a campaign that resulted in over $100bn of debt owed by the poorest countries to be cancelled, journalist and broadcaster PETER OBORNE, CHRISTENA CLEVELAND, social psychologist, theologian, author and Associate Professor of the Practice of Reconciliation at Duke University's Divinity School, USA, SARAH CORBETT of the Craftivist Collective, former Green Party leader NATALIE BENNETT, Benedictine Nun and physician TERESA FORCADES I VILA, out gay Episcopal Priest ELIZABETH EDMAN, Professor of theological ethics LUKE BRETHERTON, poet-priest and feminist theologian RACHEL MANN, and the DR WINSTON HALAPPUA, Archbishop of Polynesia.
More on all these thinkers, writers, speakers and activists here
.
LITERATURE:
With renowned British poet MICHAEL SYMMONS ROBERTS, Palestinian feminist writer KHULUD KHAMIS, and young Nigerian author CHIBUNDU ONUZO.
More on these literature names here
.
PERFORMING ARTS:
With the political and poignant Letters to Windsor House by Sh!t Theatre, the beautiful Paradise Lost by Lost Dog Dance, alternative takes on the legacy of World War 1 with Raising Lazarus by Kat Francois and This Evil Thing by Michael Mears, outdoor circus with Anyday by Max Calaf Seve, the captivating SEED by Pif Paf and the moving Lucy, Lucy & Lucy Barfield by Lucy Grace.
More on all this theatre here
.
----------------------------------------------------
Plus much more to be announced throughout March.
----------------------------------------------------
The programme introduces a rich and diverse array of thinkers, poets, musicians, theologians, covering themes of peace-making, migration, the economy, ecology, race, climate change, community-building and organising, interfaith, sexuality, and belonging.
As well as music, ideas and literature, exciting streams of comedy, performance, circus, theatre, and spoken word run throughout the festival – alongside spirituality and activism, and the festival's Sunday morning communion service.
The festival film can be viewed here
.
Ti
cket deals can be found here
.
Information about the 'Open Festival' offer is here
.
----------------------------------------------------

LISTING AND PRESS INFORMATION
All events take place at Boughton House, nr Kettering, Northamptonshire, 25th – 28th August 2017, with 10,000 festivalgoers expected.
For further information please contact:
Rachel Wakefield
Email:
rachel@greenbelt.org.uk
Phone:
+44 (0) 7989 515540
----------------------------------------------------
NOTES TO EDITORS
Greenbelt is a festival of arts, faith and justice. The best you've never heard of. Greenbelt saw its first edition way back in 1974 and has hosted its annual festival every single year since. But thinking of Greenbelt as just another 'festival' doesn't do it justice. It is also an idea, a way of seeing, a gathering of the clans – part movement, part moment. Its genius is that it defies easy description. You have to be there.
Celebrating artistry and nurturing activism, Greenbelt Festival is an act of the imagination – inspirational, provocative and fun. Energised by a progressive Christian worldview, Greenbelt creates a festival that is inclusive, open-minded, participatory and generous in spirit.
----------------------------------------------------
Greenbelt online
Website
/
Instagram
/
Twitter
/
YouTube
/
Facebook
----------------------------------------------------