David Cameron urged to reunite refugee families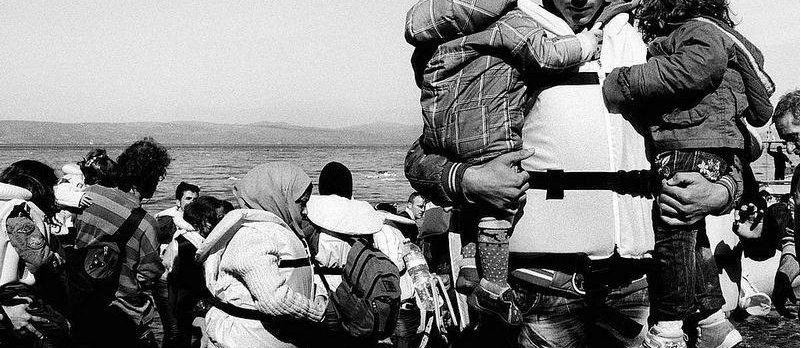 A host of leading public figures, including Andrew Garfield, David Morrissey, Juliet Stevenson, Jude Law, Mark Rylance, Michael Palin, Paloma Faith, Steve Coogan and Dame Vivienne Westwood are calling on David Cameron to step up the government's commitment to help Syrian refugees, by reuniting refugees stranded across Europe, with their families here in the UK.
In an open letter, over 80 leading figures from the world of music, theatre, literature and business – backed by Refugee Action and Citizens UK – ask the government to urgently change existing rules around family reunion so that refugees, currently languishing in appalling conditions in camps like those in Calais and Dunkirk, as well as in countries bordering Syria, can be reunited with their loved ones already here in the UK. The public figures say in the letter: "We call on you to increase our resettlement commitment and to strengthen family reunion policies to help separated children and divided families."
The letter comes just days before the UNHCR's high-level meeting on Syrian refugees in Geneva next Wednesday [30 March]. Richard Harrington MP, the under-secretary of state for Syrian Refugees, is due to attend and campaigners believe it offers the government a unique opportunity to increase its commitment to resettling refugees in Britain.
Some of those who have signed the letter have seen first-hand the situation in Calais, while others have visited the camps in Greece and countries neighbouring Syria. All believe the government can and should be doing more in its response to the crisis.
Actor and Refugee Action Patron, Juliet Stevenson, says: "It is completely unacceptable that in this day and age vulnerable refugees – who have fled the horrors of persecution and conflict - are being forced to survive in squalid conditions in camps across Europe when the government could be reuniting them with their families here in the UK.
"This crisis is not going to go away and the UNHCR summit in Geneva offers a unique opportunity for our government to increase its response. We will be watching."
Refugee Action Chief Executive, Stephen Hale, says: "This letter clearly demonstrates the huge support among some of Britain's leading public figures for a step change in the government's response to the refugee crisis. Every day at Refugee Action we meet individuals desperate to be reunited with their loved ones. The UNHCR meeting in Geneva next week offers the government with a unique opportunity to do more to help by expanding the rules around family reunion, so that those fleeing war and persecution are able to reunite safely with their family members already here in the UK."
Major Nick Coke, Raynes Park Salvation Army and Citizens UK, says: "The UNHCR conference presents government with a unique opportunity to continue Britain's proud history of resettling refugees. We urge David Cameron to make a bold announcement ahead of the conference: increase the UK's commitment to resettling refugees from Syria and the surrounding area, and speed up family reunification for those separated by conflict."
This letter has been coordinated by Refugee Action and Citizens UK with the support of Letters Live, Good Chance and Help Refugees.
The full letter reads:
Dear Prime Minister,
The conflict in Syria has now entered its sixth brutal and deadly year. Nearly twelve million Syrians have fled their homes; almost five million of them to Syria's neighbouring countries. The suffering they have endured and continue to endure can barely be imagined.
We applaud the UK for committing substantial aid spending to help these refugees, as well as resettling 20,000 of the most vulnerable by 2020. But as the crisis grows so too must our response.
Many organisations and public figures have stepped up to help protect children in Calais, but across Europe thousands of refugee children are still stranded without hope or support. In the UK, Syrians with close family in refugee camps or conflict zones often cannot legally bring their relatives to safety.
We are seeing the reality of this human crisis play out on our TV screens week after week. Families are desperate to reach their loved ones. Traumatised children have no-one to protect them. Men, women and children are putting their lives at risk to seek safety.
We know the UK has a proud history of protecting the victims of war. As the UNHCR convenes a high level meeting calling for world leaders to step up and do more to help Syrian refugees, we urge you to continue that legacy by urgently doing more to protect these vulnerable refugees. We call on you to increase our resettlement commitment and to strengthen family reunion policies to help separated children and divided families.
Yours,
Adrian Lester, Akram Khan, Aminatta Forna, Andrew Garfield, Andrew O'Hagan, Andy Serkis, Sir Anish Kapoor, Anoushka Shankar, Anthony Barnett, Barbara Broccoli, Beeban Kidron, Ben Bailey Smith (Doc Brown), Ben Drew (Plan B), Caroline Flack, Chiwetel Ejiofor, Chris Cleave, Chris O'Dowd, Clare Morpurgo, David Edgar, Sir David Hare, David Lan, David Morrissey, David Nicholls, David Oyelowo, Dawn O'Porter, Dinos Chapman, Dominic Cooper, Dougray Scott, Edna O'Brien, Emma Freud, Frank Cottrell Boyce, Gillian Slovo, Guy Garvey, Dame Harriet Walter, Baroness Helena Kennedy, Henry Porter, Hussein Chalayan, Jake Chapman, Jason Isaacs, Jefferson Hack, Jesse Quin, Jim Carter, Joe Wright, John McCarthy, Jude Law, Juliet Stevenson, Kate Mosse, Ken Loach, Laura Bailey, Lauren Laverne, Lee Hall, Lisa Appignanesi, Livia Firth, Mark Haddon, Mark Rylance, Baroness Martha Lane Fox, Michael Bond, Michael Morpurgo, Michael Palin, Mike Leigh, Natalie Abrahami, Natasha Walter, Sir Nicholas Hytner, Nicole Farhi, Paloma Faith, Phyllida Lloyd, Richard Curtis, Sir Richard Rogers, Riz Ahmed, Ruby Wax, Lady Ruth Rogers, Sabrina Guinness (Lady Stoppard), Sam Mendes, Samantha Morton, Samuel West, Shami Chakrabarti, Stephen Daldry, Steve Coogan, Susie Orbach, Tess Morris, Tim Rice-Oxley, Timberlake Wertenbaker, Toby Jones, Tom Chaplin, Sir Tom Stoppard, Tracey Seaward, Dame Vivienne Westwood, Benjamin Zephaniah, Jameela Jamil , Jamie Byng, Jeremy Thomas, Sir Patrick Stewart, Sarah Solemani, Stephen Frears