CORMAC: A MAN OF POLITICAL COURAGE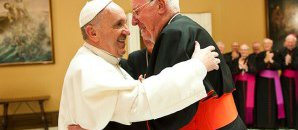 Cardinal Cormac Murphy O'Connor remembered
By Bernadette Farrell, the first Deputy Director of Citizens UK.
There will be a Citizens UK delegation at this Wednesday's Mass in Memory of the late Cardinal Cormac Murphy O'Connor at Westminster Cathedral from 17.00 to 19.00.
As Cardinal Murphy O'Connor is remembered this week, one image towers in my memory. It was May-day, 2007. Cormac walked out through the doors of Westminster Cathedral. Undeterred by the pouring rain, he greeted the waiting crowds, stretched across the piazza. Then, in colorful procession, he led them down Victoria Street and beyond Parliament. Standing in Trafalgar Square he addressed 15,000 people, all waving their national flags alongside union jacks. Beside him were senior representatives of all parties and religious traditions. It had taken Cormac's political courage to bring them together. At the first Mass for Migrants that he introduced the previous year, 2006, he had called for an amnesty for undocumented migrants.
How many previous Cardinals had become a voice for the people? In 1889, Henry Manning's intervention won a living wage for the starving dockers of East London. His words and actions led to 125 years of Catholic Social Teaching. Now, rising from Manning's chair, Cormac named the injustice of his own day, in the capital city he had grown to love: 'While our nation benefits economically from the presence of undocumented workers, too often we turn a blind eye when they are exploited by employers.' He continued, 'We want you to know that you belong … We are grateful for the role you play in our economy … We want you to be welcomed such that you are strangers no longer.' At his words, the entire assembly burst in to prolonged applause. Many people were in tears.
Leading the intercessions, at the first Mass, was "M." The daughter of parents with an ancestral claim to UK residence, she spent her formative years in London, an active member of her local parish, but had become 'illegal,' without knowing it, on turning eighteen. Her family were reeling from the loss of her brother in a car accident. In the chaos that followed his sudden death, M's mother overlooked the residency application for her daughter. When we met, she was a model citizen and parishioner, who worked hard, supported her family and volunteered regularly for her community. In the early hours of the morning her door was kicked down by immigration officers.
The Strangers into Citizens campaign grew from hundreds of similar stories, shared by Catholic priests, sisters and headteachers, trying, however possible, to offer support.
Crafted by CitizensUK, (founded by Neil Jameson CBE) it called for a one-off amnesty for those eligible, along similar lines to the 2005 Spanish amnesty, which regularized 700,000 people. An amnesty would greatly increase tax revenue to the treasury, but successive governments feared the 'pull factor.' According to BBC research in June 2006, the effect of the Spanish amnesty was to reduce illegal immigration. It would take decades (and over £8 billion, from LSE findings) to deport all those without legalized status from the UK.
In 2006 CitizensUK had brought together migrants from their member churches across three dioceses. In a spectacular procession, Catholics from around the world packed Westminster Cathedral, filling it with colour and vibrant music. Cormac supported Strangers into Citizens with his call for regularization and a path to citizenship. His then director-of-public-affairs, Dr Austen Ivereigh, imaginatively established and co-ordinated the campaign which, aswell as controversy, attracted huge interest. By 2008 the Mayor of London, Boris Johnson, had adopted the cause as his own.
The bishops commissioned a report from the Von Hugel Institute in Cambridge, examining the social, economic and pastoral needs of migrants. 'The Ground of Justice' was the first report of its kind in Europe and confirmed that thousands of catholic workers in the capital were on the lowest-paid jobs as cleaners and caterers. A later Oxford University study estimated that well over half of 'irregular' migrant children were born in the UK. Deportation was not a solution.
Although an amnesty was never declared, the political landscape shifted. In 2007 the government began a 'case-resolution exercise' offering status to eligible migrants. In 2008 they announced a 'path to citizenship.' We were aware of people quietly receiving long-awaited papers, following years (or decades) without status. Proposals were included by the LibDems at the 2010 election.
In the political hinterland of the present-day, with its anti-immigration rhetoric, Dietrich Bonhoeffer reminds us that not to speak is to speak, and not to act is to act. For him, an act of civil courage can only be a real choice made by a real person at a specific location or a specific time. As Cardinal, Cormac clearly decided which side of history he would be on. He made a choice of enormous courage. It was an action of the heart. His humanity was radiant. Cormac gave 'joy and hope' to thousands who needed an advocate. His political courage inspired a generation and led society to pursue the common good. This, by any standards, is an immense legacy.