Conflict Survivors Offer 300 Homes And Call On Cameron To Revive Tradition Of Sanctuary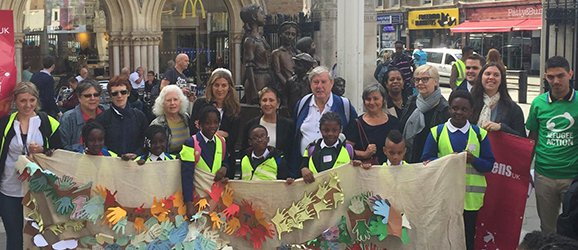 Elderly Jewish refugees and survivors of other conflicts today joined members of Citizens UK and Refugee Action to call upon David Cameron to revive the tradition of offering sanctuary in the UK to those who need it in response to the greatest refugee crisis since World War Two.
These survivors, many of whom are now in their 90s, are sharing their story of coming to the UK to seek refuge. Katherine Hallgarten of Alyth Synagogue, who came to England as a toddler with her parents in 1939, said:
"Britain was a place of safety for me and my family. It not only gave us refuge – it gave us a chance to grow and contribute. I am calling on the government to offer to same opportunities to refugees today".
Rabbi Mark Goldsmith, member of Citizens UK and leader of Alyth Synagogue, which counts over 1% of Britain's Jews as members and was founded in 1933, soon becoming home to hundreds of German Jewish refugees, said:
"In the 1930s we were a resettlement centre for Jewish refugees. Today we still run drop-in sessions for recent refugees. Ahead of Mr Cameron's EU Heads of Government meeting tomorrow we urge him to show courage and act now to help the neediest refugees."
"In 1938, as the country braced itself for war, the British government responded to the calls of faith and civil society groups to grant a place of safety in the UK to my community with 10,000 children being admitted entrance via the Kindertransport programme alone."
Rabbi Rebecca Qassim Birk, the leader of Finchley Progressive Synagogue and sits with others on the rabbinic advisory board of World Jewish Relief, the organisation that in its previous incarnation co-ordinated the Kindertransport said:
"We recognise the tremendous amount of aid that the government has spent and pledged to the people of Syria, but we'd hope more can be done. Mr Cameron has already set up the vulnerable person's relocation scheme. This has settled under 200 Syrians to the UK. The UN reports that 320,000 of the most vulnerable refugees need to be moved from camps and resettled as a matter of urgency. It's important, even essential, that our community, with its history of finding refuge in this country, can act for those who need it now."
Rabbi Mark Goldsmith adds,
"Today we ask the Prime Minister to listen to our communities. Through the Citizens UK campaign we can help house and welcome over 2,000 more refugees identified by the UN as those most at risk. Whilst this number is still a tiny proportion of those who need help, we believe this is an achievable, controlled step in the right direction. Our community includes many people who found safety themselves as refugees to the UK from Nazi Germany their children, grandchildren and great-grandchildren. When we hear the voices of today's refugees we are driven to action."
The elderly Jewish refugees are today joined by Citizens UK members from Muslim, Christian and those of no faith, communities, who have already identified 300 homes across the UK ranging from spare bedrooms and private rented accommodation to empty housing association properties and University flats. Finding homes has been part of the Citizens UK campaign to encourage local authorities to accept a small number of refugees into their area. In addition to locating homes, members have also promised a warm welcome to refugees and support for newcomers including English language classes and invites to mother and baby groups.
Stephen Hale, Chief Executive of Refugee Action said:
"The Prime Minister has expressed his support for increased Syrian resettlement. Now it's time to make a clear and substantial commitment. Germany is taking 30,000 Syrian refugees. So far, the UK has resettled just 187.
"In the past, Britain rescued tens of thousands of refugees from wars in Kosovo, Bosnia and Vietnam. As one of the leading charities providing resettlement to refugees in the UK, we know it can be done successfully again if the Prime Minister leads the way."
Citizens UK members have been lobbying local authority leaders across the country to sign up and offer to resettle refugees in their area. So far eight councils have agreed to welcome refugees. Today they are taking their call to the Houses of Parliament and a number of MPs have been asked to ask questions at PMQs to increase the number of the most vulnerable refugees identified by the UN to be resettled in the UK.
The leader of The Royal Borough of Kingston Council, Kevin Davis, has said that he wants to be supporting 50 Syrian refugees in Kingston and has made a personal pledge to lobby 50 other councils to join him in supporting Syrian refugees coming into the UK.
He said:
"Signing up to offer sanctuary to some of the most vulnerable refugees isn't an easy thing for a council to do, but it is the right thing to do.
"Council leaders and officers can't make these pledges alone. For refugees to be successfully resettled the community must support their councils and welcome the UN refugees as their neighbours. Practical issues like housing and education need to be addressed, and working together with civil society groups, we can do this."
Zrinka Bralo, of Citizens UK said:
"This isn't about an open-door immigration policy; it's about offering sanctuary to those that experts at the UN have identified as most in need.
"Britain has a proud tradition of helping refugees and stepping in to support those who need a place of safety in times of crisis. It's time to revive that tradition and civil society is offering to play its part."