Community groups and individuals settling refugees honoured in national awards ceremony
9 award winners have been recognised by senior figures including Canada's Deputy Minister for Immigration, Refugees and Citizenship, Catrina Tapley, UN High Commission for Refugees (UNCHR) representative in London, Rossella Pagliuchi-Lor and Rt Revd Paul Butler, Bishop of Durham.
The Community Sponsorship Awards were organised by the Foundation set up and supported by Citizens UK and was co-presented by Hani, one of the first Syrian Refugees to be settled by the scheme in the UK. They marked a special moment to reflect and celebrate some of the work done since the Refugee Welcome movement first shone a light on the refugee crisis. Since that time a groundswell of support helped bring thousands of people to safety.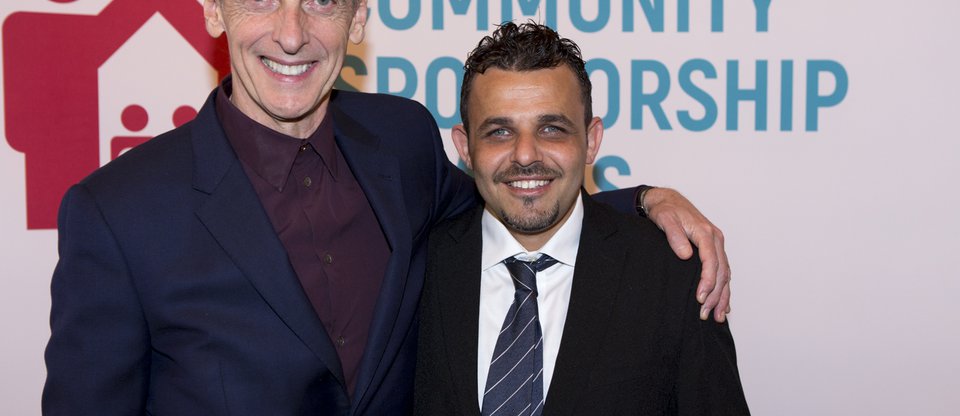 (c) Ian Brodie / Sponsor Refugees
Community groups from across the UK have been recognised at a prestigious awards ceremony in London for their pioneering work to bring Syrian refugee famil ies through the government's Community Sponsorship schem e – a way ordinary people can privately sponsor refugee families to find new lives free from the horrors of conflict in the UK.
Under the scheme, community groups take on the lead responsibility for welcoming and supporting a refugee family in their neighbourhood. It allows Syrian families who are currently living in a refugee camps in the Middle East to come to the UK through a safe and legal route.
The scheme is becoming a well-established part of the UK Governments refugee resettlement effort and takes its inspiration from the work pioneered in Canada which has resettled 300,000 refugees since it began in 1978.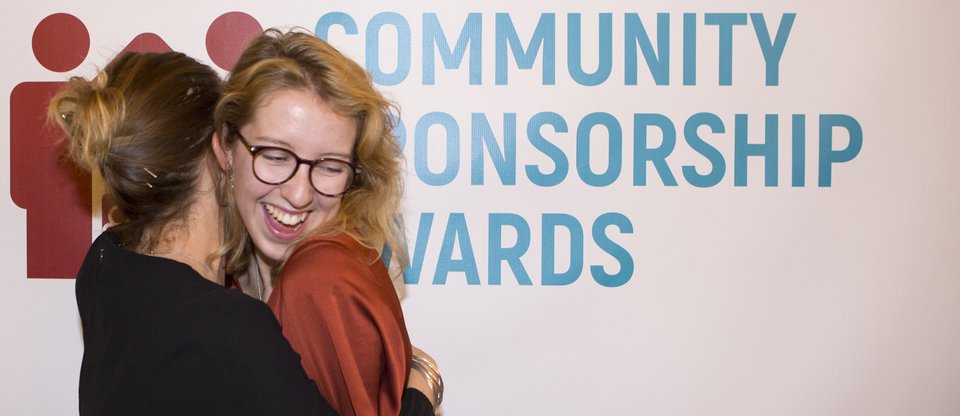 Around 200 community sponsorship groups have now formed around the UK, and 350 refugees have been settled since the scheme launched, with more families arriving through sponsorship on an almost weekly basis. The scheme has high-profile backing from the Archbishop of Canterbury Justin Welby and the Catholic Archbishop Vincent Nichols, who have both urged their congregations to get involved.
At the national Community Sponsorship awards ceremony (Tuesday 2 nd October) at Canada House in London 9 winners were commended for their work and dozens more pledges from new groups and established groups seeking to settle their second family were made to settle refugee families in 2019 and 2020.
Hani, who was settled by the ABIDE Community Sponsorship group in Devon and co-presented the awards said:
"We didn't know anything about the UK , but when we arrived the ABIDE Community Sponsorship group welcomed us like family. ABIDE helped to take my children to school and they helped me and my wife Amneh to learn English. It was a huge welcome."
Rt Revd Paul Butler, Bishop of Durham said:
"What an inspirational evening this has been, packed with stories of remarkable people doing good in the world. These are difficult and divided times, but Community Sponsorship is one of those civic activities, that doesn't hit the headlines, but which shows humanity at its best."
Tim Finch, Director Sponsor Refuges, the Citizens Foundation for Community Sponsorship, which organised the awards:
"Sponsor Refugees relies on thousands of quiet heroes from all walks of life, the inspiring winners from this year's award shows that the proud British tradition of welcoming refugees is alive and well."
ENDS
Nominees and winners of the Community Sponsorship awards 2018 were:
AWARDS HOSTS
Claudia Hammond, BBC Radio 4 and BBC World Service Presenter
Hani Arnaout, Syrian sponsored refugee
VOLUNTEER OF THE YEAR
SHORTLIST
Alison Watt, Haddenham Syrian Family Project, Buckinghamshire - winner
Erica Brooks, Refugee Sponsorship Edinburgh, Scotland
Sebit Nal, The Welcome Committee, London
YOUNG CHAMPION OF THE YEAR
SHORTLIST
Bea Forrester, Peckham Sponsors Refugees (London) - winner
& Rushholme Sponsors Refugees (Manchester)
Mouteb Ajaj, London
Pupils of Queen's College, Taunton, Somerset
LOCAL AUTHORITY OF THE YEAR
SHORTLIST
Bristol Council
Bury Council
Cyngor Sir Ceredigion County Council, Wales - winner
East Lindsey Council, Lincolnshire
Liverpool Council
NEW COMMUNITY SPONSORSHIP GROUP OF THE YEAR
SHORTLIST
Croeso Menai, North Wales (winner)
Greenlanes Mosque, Birmingham
Merton Schools, London
Refugee ReSETTLEment Community Sponsorship Group, Yorkshire
CHAMPION OF THE YEAR
SHORTLIST
Alaa Khattab, London (winner)
Eva Jonsson, London
Vicky Moller, Wales
INTERNATIONAL AWARD
Ireland
PARTNERSHIP OF THE YEAR
(CELEBRATING ALLIANCES & COMMUNITY COHESION)
SHORTLIST
Abraham's Tent Community Sponsorship Project, London
Croeso Roath Cathays, Wales
Old Swan Welcomes, Liverpool (winner)
NEWCOMER OF THE YEAR
SHORTLIST
Dalya, London
Hatem Al-Janabi, London
Samir Hamyeh, Manchester
Samer Khaled Karob, London