Citizens Welcome Canaries' Support For Living Wage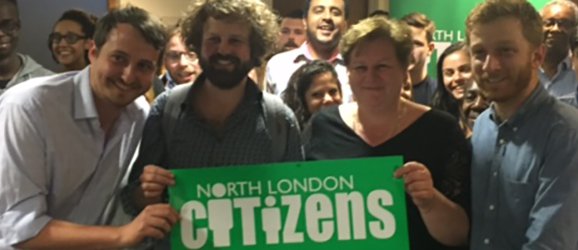 The Citizens UK Living Wage football campaign group is today welcoming the announcement from Norwich City FC that it will pay all directly employed staff at least the Living Wage, and will work towards accreditation as a Living Wage employer by the 2016-17 season, which will see the Living Wage hourly rate extended to contracted staff.
The move by the club returning to the Premier League for the 2015/16 season follows in the footsteps of champions, Chelsea FC, who last season became the only accredited Living Wage employer in the Premier League. The other accredited football clubs are Hearts of Midlothian, Luton Town and FC United Manchester.
Sophie Stephens, lead organiser, Citizens UK said:
"Last year we saw real movement on the issue of poverty pay in the Premier League with Chelsea FC accrediting as the first Living Wage employer. Many other clubs have committed to ensuring their directly employed staff are paid at least the Living Wage rate, but none of them has extended this commitment to their contracted staff like cleaners and caterers, which tend to be the areas where low pay is most prevalent at the clubs. It's exciting to hear that the Canaries have a plan in place to roll out the Living Wage to all of their staff over the course of the next season.
"Despite meeting with senior officials at the Premier League, they themselves refuse to accredit as Living Wage employers, which hardly sends out a positive message to the clubs. The reality of low pay at organisations like the Premier League means that tax payers are subsidising the poverty wages they pay to staff who are forced to claim in-work benefits despite working for a business that really could pay the Living Wage rate.
"Over the next few weeks as the transfer period opens we will see the negotiations for star footballers make headline news; we think that a focus on the clubs affairs off the pitch would be welcome, and call on fans, management and players to make this season the last where poverty pay has any role to play in the beautiful game."
The Citizens UK Living wage football campaign has been lobbying clubs and the Premier League for four seasons, and is part of the wider Living Wage campaign that calls on all business who can to pay the Living Wage. There are now over 1,500 accredited Living Wage employers in the UK including well-known brands such as Nestle, Nationwide and SSE. The Living Wage has cross-party political support and is increasingly being seen as a mark of responsible business.
Sophie Stephens continued:
"There is a brilliant Living Wage campaign group in Norwich who we know have been talking directly with Norwich City FC. This is a fantastic result for that group and is a great boost for other campaigners who can see that community pressure, combined with a strong desire from a club to do the right thing for their business and for their staff, will bring about positive change. We look forward to celebrating properly when they complete their accreditation process and become Living Wage employers."