Citizens UK teams up with Facebook
This Thursday [2 April] hundreds of faith leaders will congregate, not in place of worship but on a Zoom video conference, to tackle together the huge challenge presented to institutions by the Covid 19 pandemic.
The call, joined by global experts in faith and digital technology from Facebook comes after a huge survey by Citizens UK of faith and community organisations laid bare the need for adaptation and digital skills sharing amongst institutions. Many organisations are moving their services online as well as grappling with shortages of volunteers for foodbanks, befriending services and other community projects, caused by members of the congregation going into isolation.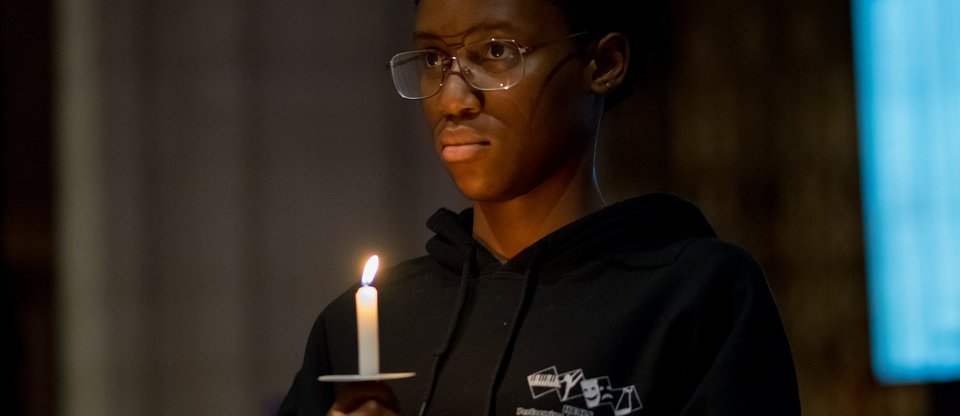 This will be the first in a series of mass video summits with hundreds of institutional leaders from across the major UK faiths to help faith leaders rapidly adapt to an online environment. The Government's Special Adviser for Faith and Communities will also brief on the latest developments in responses to Covid-19 and how faith communities can support the state response.
Following the outbreak of the Covid-19 pandemic, Citizens UK launched a rapid listening campaign across its 450 member organisations, to identify the main concerns that local communities are facing in this unexpected new era of social distancing. Across UK regions and faith communities, a real sense of unpreparedness around digital technology emerged with community leaders attempting to teach themselves in a matter of just a few days how to live stream or host video calls in a bid both to meet the practical needs of their congregations and parishes – such as arranging phone calls for those who are isolated and food deliveries for the elderly – while also switching to online forms of worship as all three Abrahamic faiths prepare to mark Passover, Easter and Ramadan respectively.
Matthew Bolton, Executive Director, Citizens UK said: "Our community organisers work in some of the most deprived communities in the country and it is vital faith organisations in those places are enabled to continue to support vulnerable groups within their congregations and communities. With large face-to-face gatherings out of the question we are combining tech and community organising and working with top experts to offer organisations expertise in this time of need."
Right Reverend Roger Morris, the Bishop of Colchester said :
Social isolating is a misnomer. We are rightly distancing ourselves physically and staying home for the good of others. But this does not mean that we need to be socially isolated. The careful use of technology can keep us socially connected while physically isolated. This is literally a Godsend for some of the most vulnerable and lonely in society.
Rabbi Laura Janner-Klausner, Senior Rabbi to Reform Judaism said: "It's been incredible and inspiring to see communities reinvent Judaism. Synagogue services online, teaching sessions and pastoral conversations have quickly become the norm despite the extraordinary and extremely difficult circumstances. However digital for some remains a challenge and I'm pleased this initiative is helping level up faith communities in that regard."
Sheikh Nuru Mohammed, Minister Of Religion, KSIMC Birmingham said: "Our Mosques and Islamic charities, alongside other faith organisations are the social glue that hold our communities together. We need to adapt and organise communities digitally to keep serving the left behind and vulnerable, so I'm delighted to join colleagues from all faiths in forming a collective response."
Angus Ritchie, Director, The Centre for Theology & Community, said:
"Many of us are on a really steep learning curve - with the move online happening at a time when churches' prayer, mutual care, and support of neighbours is more needed than ever. This is one of the ways in which being part of a wider community organising alliance is helping us respond."
ENDS
Notes to editors:
Contact: Andy May / andy.may@citizensuk.org / 07917 824009
About Citizens UK:
Citizens UK organises communities to act together for power, social justice and the common good. We are the home of community organising in the UK. Our diverse member organisations include schools, churches, mosques, synagogues, parents groups, health practices, charities and trade unions. We help these members to develop leaders, so they can participate in public life and hold politicians and other decision-makers to account on the issues that matter to them.
Further details on the event are below:
Organising Civil Society during the Covid-19 crisis
Date: Thursday 2 nd April [more details available on request]
Speakers and trainers:
Jonathan Hellewell, LVO, the Prime Minister's Special Adviser for Faith Communities
Nona Jones: Facebook's Global Head of Faith-based partnerships, Facebook
Matthew Bolton, Executive Director, Citizens UK
George Gabriel, Strategic Partnerships Manager, Community at Facebook
What we will cover:
Reflections on how to create a meaningful ways of worship in the digital age
A practical guide and Q&A from Facebook on how to build institutional resilience and response
Strengthening your organisation: Maintaining the day-to-day core function of their local organisations, from livestreaming, to volunteer identification, to raising income
Developing leaders: how can you use digital to develop leaders, build capacity and get civil society organised in preparation for mass mobilisation to support statutory authorities locally
Attendees
150+ community leaders from all faiths and denominations wishing to learn more about how to leverage technology to sustain their organisation.
In the interests of solidarity during this difficult time Citizens UK is opening this event to both members and nonmembers. Volunteers and Staff at faith institutions wishing to sign up can request the registration link by emailing supporters@citizensuk.org