Citizens UK Living Wage Football Campaign Response to Premier League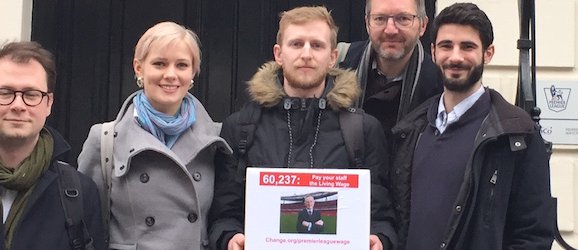 Sophie Stephens, Citizens UK said: "Citizens UK welcomes the news that the Premier League clubs have today committed to pay all directly employed staff the Living Wage.

"This is the first time since the announcement of the Off-Side Rule that the Premier League clubs have acted together to make such a momentous decision. Members of Citizens UK have been campaigning on this issue for the last four years and we are delighted.
"It's not clear at this stage how many people this will affect, as most low paid staff at the clubs are employed on sub-contracts. We hope this great move to pay the Living Wage to directly employed staff will be the first step towards Living Wage accreditation which means paying the Living Wage to the entire workforce.

"We began by singing Living Wage carols outside Arsenal and delivering 1000 letters calling for the Living Wage to Spurs back in 2011. It took Citizens UK members 10 years to make the Living Wage the norm in the financial sector. Today marks a milestone is beginning to make the Living Wage the norm in football."