Citizens UK leaders shortlisted for Living Wage award
The 2018 Living Wage Champion Awards celebrate individuals and organisations that have made an outstanding contribution to the Living Wage movement. A number of leaders from our member institutions have been shortlisted.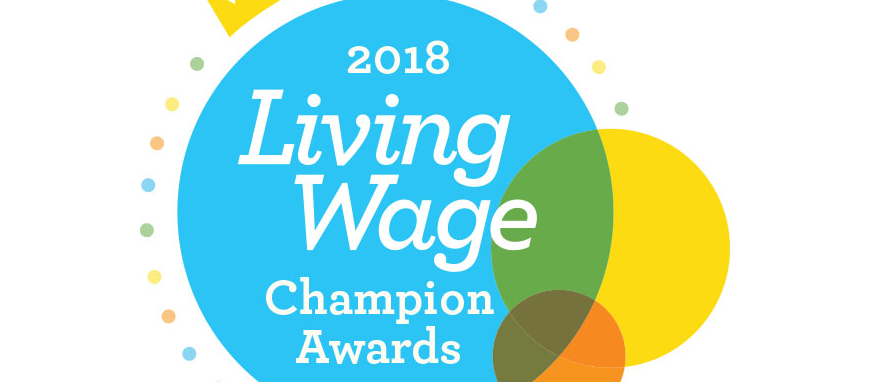 The award ceremony will be held on Wednesday 6 June and will see the announcement of the winners of seven categories, ranging from awards recognising service providers, employers and organisations that are championing the movement in their respective sectors.
The Civil Society Leadership Award will go to members of civil society who have gone above and beyond to champion the Living Wage. We are proud to see Citizens UK leaders among the shortlisted nominees. The nominees include:
Sarah Aggrey-Daniels
Sarah is a graduate from the University of Ea st London, a member institution of TELCO, our Chapter in East London. While studying at the university Sarah applied community organising principles to carry out listening campaigns and research actions with cleaners employed at the London Stadium. She shared her story in the media and conducted power analyses to help plan and deliver effective public actions and negotiate with key decision-makers.
Her efforts - and those of fellow students - played a crucial role in securing a pledge from, London Stadium to pay the real Living Wage and ensuring that West Ham United FC accredited as a Living Wage employer with the Living Wage Foundation.
Jayne Sadgrove
Jayne is the Chief Operating Officer at Cardiff University. She has played a vital part in progressing the real Living Wage in Wales: Sarah first turned Cardiff University into an accredited Living Wage employer, before championing the Living Wage in higher education across Wales and obtaining a commitment from all universities in Wales that they will match the Living Wage rates by the end of the next academic year (2018/19). Sarah also serves as a Living Wage Commissioner and chairs the new Living Wage for Wales Leadership Team.
Liz Coleman
In her role as Vice Chair of Birmingham Citizens Liz has consistently supported Living Wage Week events and activities. She has led our local Living Wage campaign by conducting countless 121s with a wide range of people, which has enabled her to play an instrumental role in finding powerful testimonies from families struggling on low incomes. Liz has worked with the leadership of St Francis Catholic Primary School, a member institution, to ensure they became the first primary school in the region that pays the real Living Wage to all its staff. Additionally, Liz has helped lead our campaign for the Commonwealth Games - which will take place in Birmingham in 2022 - to go Living Wage, by persuading stakeholders that the Games are an excellent opportunity to address poverty in the city.
Jose Mendes and Diogo Antao
Jose and Diogo are cleaners at Heathrow Airport and parishioner at St Anselm's Church in Southall, one of our member institutions. Joined by other cleaners and Citizens UK members, they led the campaign to get Heathrow Airport to become an accredited Living Wage employer. Their tenacity meant that they successfully organised a public action at the Airport with 360 workers taking part.
After speaking to a community organiser at their church, Jose and Diogo courageously began to speak up against the unjust low wages they and their colleagues were earning. They have been the catalyst for the beginning of the campaign, which eventually saw over 3,000 workers receive a pay rise following Heathrow Airport's accreditation as a Living Wage employer in November 2017.