Citizens UK Launches Proposal to Save Half a Million People From Debt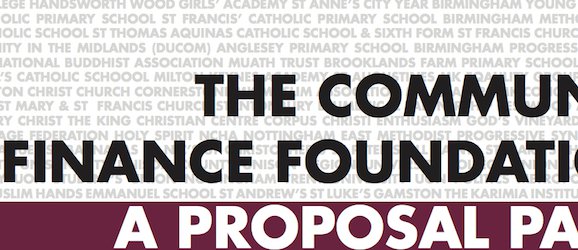 A proposal to use £200m of fines on banks and payday lenders to support community finance organisations such as credit unions has today been launched by the national community organising charity Citizens UK. The idea, which is supported by the Archbishop of Canterbury's Task Group on Responsible Credit and Savings, would see the creation of a Community Finance Foundation to help ethical alternatives to high-cost credit expand their reach and improve their sustainability. It is estimated that over the next five years such a venture would help 500,000 people avoid high-cost credit, saving them over £200m per year in interest and fees and reducing the cost of problem debt on wider society by £1.4bn.
The proposal is part of Citizens UK's Civil Society Manifesto, which will be put to major party leaders at a unique 'Accountability Assembly' on May 4 th in Methodist Central Hall, Westminster. The idea has come from Citizens' Just Money campaign, which in 2009 was the first to call for a cap on the cost of credit. Campaigners from mosques, churches, synagogues and schools joined the Bishop of Stepney to celebrate the introduction of that cap on 2 nd January this year by turning up outside the Wonga Headquarters in London wearing baseball caps.
The Community Finance Foundation is supported by a range of charities and think tanks, as well as the Archbishop of Canterbury's high-profile Task Group on Responsible Credit and Savings. Sir Hector Sants, the Chair of the Task Group, said:
"A vibrant community finance sector is in my view an essential element of a fairer and more inclusive financial system. This will not be achieved without significant investment and the Archbishop's Task Group believes the Community Finance Foundation can be major part of meeting that need."
Damon Gibbons, Director of the Centre for Responsible Credit, said:
"We desperately need an expansion of affordable credit in this country but Credit Unions and other community finance providers are hampered by a lack of dedicated funding to support their development. If we want to see them using mobile technology, undertaking widespread advertising campaigns, and pooling their resources to provide a serious alternative to the payday and other rip-off lenders then we need to establish a Community Finance Foundation along the lines of this proposal as a matter of urgency."
Professor Tim Hall from the University of East London which is a member organisation of Citizens UK, has seen the need for community finance first hand. After a number of his students reported problems with debt affecting their studies, he undertook research that found almost one in 10 students at the University had taken out a payday loan. Speaking about the Community Finance Fund proposal, he said:
"The fact that 10% of my students have taken out payday loans is a scandal. We need a stronger community finance sector in this country, and the fines collected on banks and payday lenders gives us the perfect opportunity to make that happen."
Citizens UK has pledged to find 50,000 new members for community finance organisations from its own member organisations over the course of the next Parliament. Community Organiser on the Just Money Campaign Emmanuel Gotora said:
"This is about protecting our families and our communities from the devastating effects of exploitative lending and debt. Our members are willing to step up and play their part, but we need Government to do its bit too. Every other country with a strong community finance sector has some form of infrastructure to make that possible, and the record levels of fines we've seen in the baking sector give us the perfect source for that support. Problem debt will continue to be a huge problem in the next Parliament, so why not use the proceeds of a broken financial system to start to build one that can really help people cope with the pressures of tough times?"
NOTES TO EDITORS
The Money Advice Service estimates that there are currently 8.8 million people in the UK who are over-indebted , and the UK's largest debt charity StepChange estimates that there are 2.9 million people in problem debt, with a social and economic cost to the country of £8.3bn . See http://www.stepchange.org/Portals/0/documents/media/reports/8_billion_challenge.pdf for more information.
Read the Community Finance Foundation Proposal paper here .
Read the full Citizens UK Civil Society Manifesto here .

The Community Finance Foundation is supported by the Archbishop's Task Group on Responsible Credit and Savings, The Centre for Responsible Credit, The Community Development Foundation, The Centre for the Study of Financial Innovation, The Financial Inclusion Centre, The Community Investment Coalition and the Community Development Finance Association.
CASE STUDIES
Colleen Beasley is a single mother who lives in Hoxton, East London. She took out a payday loan to pay for shoes for her daughter, and ended up trapped in debt for well over a year. She has since become a leading figure in the Just Money campaign, and led a successful petition to Hackney Council to ban payday loan adverts from publicly owned spaces. She is now a member of her local credit union. On the Community Finance Foundation she said, "If this initiative had existed when I needed access to credit then I might never have got into the spiral of payday debt that trapped me. People need a better alternative to help them stay afloat in difficult times, and this proposal will help make that possible."
Gavin Dudley is the sole earner for his family in Islington. In the past he has used payday lenders, and had to pawn family jewellery in order to meet the repayments. Since then he has joined his local credit union and was able to borrow safely from them when someone cloned his bank card and emptied his account just 10 days before Christmas.
For media enquiries or to arrange an interview with Colleen or Gavin please contact Emmanuel Gotora on 07956998909 or David Barclay on 07791633117.