Citizens UK General Election Accountability Assembly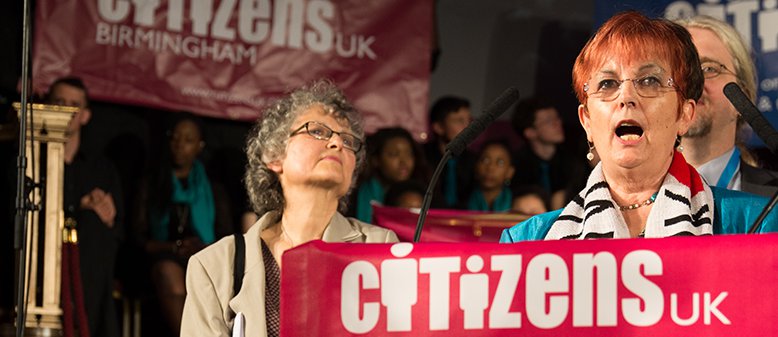 On Monday 4 th May over 2,200 Citizens UK members, supporters and guests enjoyed an afternoon of political action at Methodist Central Hall, London.
The Citizens UK General Election Accountability Assembly provided a platform for Citizens UK members to reflect and thank the Coalition government for the commitments they delivered on over the past five years, which were raised at the 2010 Assembly with Cameron, Clegg and Brown; before raising issues with each of the parties live on stage from the Citizens UK People's Manifesto 2015 .
Neil Jameson, director, Citizens UK said:
"On Monday I was proud to be part of a packed, diverse room who were enthusiastic, disciplined and engaged around a political agenda driven by the Citizens UK People's Manifesto .
"More than 200 people were involved on stage, with uplifting music and inspiring songs, to powerful testimony and considered questioning.
"The politicians, Sajid Javid, Nick Clegg and Ed Miliband, will, I'm sure remember our warm welcome but also our determined negotiations on the Living Wage, ending indefinite detention, the creation of a Community Finance Foundation and improving standards in social care.
"We are a non-partisan alliance, made up of 350 institutions; what binds us together is a common desire to seek social justice and work for the common good. We will be vocal on these issues together, we might make people feel uncomfortable when we present the real impact of poor care, low pay, debt and detention, but we commit to finding ways to support and work with those in power to make change happen."
Each of the parties agreed to continue to work with us over the course of the next parliament.
Neil Jameson continues:
"What's important now is that the 50,000 first time voters we have registered join us as active citizens on Thursday 7 th May and vote. Voting is just part of engaging with the democratic process. We have to deliver on our side of the commitment, from signing up people to join their local credit union, to training dementia friends or supporting local Living Wage businesses, as well as holding politicians and their parties to account."