Citizens UK Calls For Commission on Islam, Participation and Public Life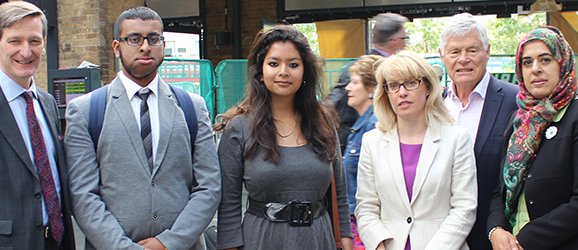 Citizens UK, national community organising charity, is today, Monday 6 th July, announcing its plan to launch a national commission, chaired by Rt Hon Dominic Grieve PC QC MP, to consider how the Muslim community could better participate in the life of British society.
Dominic Grieve MP will chair a group of no more than 25 commissioners drawn from a wide cross section of British society, and already includes General Sir Nick Parker, Sir Richard Dearlove, Jenny Watson, Professor Sophie Gilliat-Ray and Professor Mohamed El-Gomati.
Neil Jameson, director, Citizens UK said:
"Academic research shows us that Muslims are more likely to live in poverty and less likely to engage in many aspects of civil society.
"Our mission is to develop the capacity and skills of communities so they become involved and politically active for the common good. It's in the interest of the country as a whole to have a vibrant civil society that challenges and holds those in power to account. Yet Citizens UK current experience is that Muslim leaders are retreating from public life, fearful of being tarnished as extremist simply for having faith and groups who work with prominent Islamic institutions are being pilloried for partnering with alleged extremists.
"It's becoming increasingly difficult to include the Muslim community in our work; with the result that this disadvantaged community is distanced from the mainstream further still. Inclusion in democratic action is the best alternative to apathy, sectarianism and to violence. We hope that following a period of listening and reflection the commissioners will develop a series of recommendations that civil society and other sectors including government and business can act upon to reverse this trend of alienation."
The Commission will tour the UK and hold hearings in a number of towns and cities, including those where Citizens UK works directly with civil society institutions, to hear their testimony as well as evidence from the Muslim communities, business, education and government bodies.
Dominic Grieve MP said:
"Civil society must be accessible to all; a fractured social system will only worsen the current situation where a small minority of young Muslim men and women somehow see life with IS as a better choice than their situation at home.
"The best way to understand a situation is to speak and listen to the people involved. I'm pleased to accept the role as chair of the Citizens Commission on Islam, Participation and Public Life and look forward to working with the other commissioners to hear the experiences of those wishing to participate in civil society."
The first hearings are planned to take place in London and Cardiff, during autumn 2015, and it's expected that the commission will take a year to undertake this national listening process, before reflecting and producing a Report and Recommendations which will together will help form a Compact that Muslim and other institutions and groups will voluntarily sign up to.
General Sir Nick Parker, CBE, and former Commander of British Land Forces, said:
"Understandably we are always concerned about any threat to our physical security. Yet so often these threats will stem from those on the edges of our society and equal emphasis also needs to be placed on inspiring them and improving their opportunities. If communities can't participate in public life together, then that is a risk as we create division and alienation."