Citizens UK and Teacher's Union NASUWT Launch Refugee Welcome School Pilot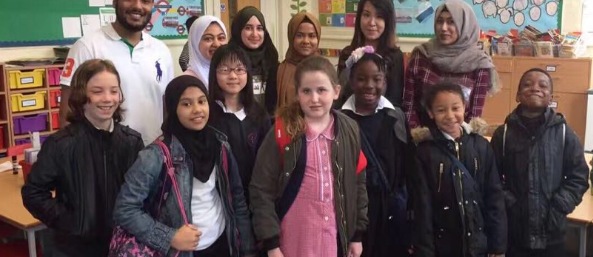 Citizens UK, the national community organising charity, and NASUWT, the Teachers' Union, have joined forces to promote Refugee Welcome Schools , an accreditation scheme to recognise schools that have made a commitment to welcome refugees in their institution and community, educate all their pupils and staff about the importance of refugee protection over the course of a year, and participate in campaigns to improve the lives of refugees in the UK.
The first three schools have now accredited, and over the next six months more schools in London, Birmingham and Wales, where the scheme is being piloted, will complete the accreditation process.
Jonathan Cox, Deputy Director, Citizens UK, said: "Citizens UK has been calling for the UK government to play its part in resettling refugees from Syria, and welcome the most vulnerable since 2014. Our member institutions, including schools, have told us that they want to help; this scheme is a practical way to help support school communities as they prepare to welcome refugees.
"The UK's response to the Syrian refugee crisis means that at least 20,000 refugees from that conflict will arrive here between now and 2020. Many will be resettled in communities that have never hosted refugees before. Every single resettled refugee will have a connection to a school, as only families are eligible for the Vulnerable Persons Relocation Programme. This means that schools become crucial places of welcome, orientation and integration for refugee families."
Schools taking part in the scheme will each develop a Refugee Welcome Plan: to make sure those seeking sanctuary in their school and wider community experience a warm and generous welcome; a Refugee Awareness Plan: to educate their pupils, staff and community on the issue of refugees and the importance of providing a welcome; and a Refugee Action Plan: to participate in community campaigns that improve the lives of refugees in the UK.
The first three institutions to accredit are, Saint Gabriel's College, Camberwell, South London; Leyton Sixth Form College, Waltham Forest, East London and Newman Catholic College, Brent, North London. They were supported to complete their applications by undergraduate students from UCL Institute of Education, who undertook placements in the schools to review existing refugee provision and develop new ideas and resources.
Stuart Tannock, Programme Leader, BA Education Studies, UCL Institute of Education said:
"Many of our students are passionate about social justice organising and education. Participating in the Refugee Welcome Schools project is an opportunity for our students to experience what social justice campaigns in the education sector can accomplish, learn first-hand about some of the excellent work that is already being done by local schools in supporting refugee children and their families, and also contribute their own ideas and energies in assisting schools develop new refugee education and organising projects in the coming year."
Citizens UK developed the Refugee Welcome School concept with one of its member schools, Saint Gabriel's College, a Church of England secondary school in South London in 2016, and have joined forces with the teachers' union, the NASUWT to ensure the scheme can be rolled out effectively across the pilot areas, in advance of a national launch.
Chris Keates, General Secretary of the NASUWT, said: "Schools and colleges are at the heart of the community and have a huge role to play in ensuring young refugees, and their families, are welcomed and integrated into the UK."
"Ensuring children and young people who are fleeing war and persecution are given access to high quality education and opportunities is critically important if their future potential is to be realised. This scheme will help achieve this by ensuring teachers, and the wider school community, are able to offer the warmest possible welcome within an environment where their presence enriches the educational environment for all."
Each Refugee Welcome School application will be scrutinised by a Refugee Welcome Schools Panel, made up of teachers, educationalists, trades unionists, children and refugees themselves.
Oliwia, a pupil from Saint Gabriel's College, Camberwell, South London said: "Our school is a member of Citizens UK, a community organising movement that helps people to become leaders, work together and change things for the better. We felt that the refugee crisis was very important to us so we wanted to take action that would make a difference. We are an inclusive Christian school with students of different faiths, languages and cultures, so we are already quite good at welcoming students who arrive from other countries. We thought about what a young refugee would need if they came to our school, and that we could set an example for how refugees should be treated."
Today, more schools are coming together at Leyton Sixth Form College, Waltham Forest, London, for a Refugee Welcome School summit.
Accredited Refugee Welcome Schools will be encouraged to display their accreditation certificate prominently and will gain access to the Refugee Welcome Schools Network and additional resources. Teachers interested in finding out more should contact: refugee.welcomeschools@citizensuk.org