Citizens leaders publish "Creating a Fair Work Economy" findings
Community leaders from Citizens UK local alliances in Tyne and Wear, London, Nottingham and Milton Keynes have published a report following a listening campaign that saw them have one-to-one conversations and hold workshops with over 700 workers affected by low pay, insecure hours and in-work poverty.
The listening campaign served two purposes: to identify both the hardships faced, but also the solutions needed to break people out of the in-work poverty trap.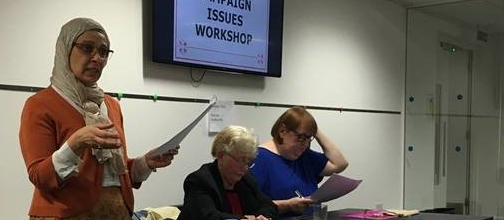 Read the full report here .
Workers told us about having their shifts cancelled on their way to work or the day before: making it impossible to budget. We were told about the power that shift-setting gives managers over employees with no or few guaranteed hours and how this can be abused.
But there are solutions. We welcome the Living Hours standard set by the Living Wage Foundation and draw hope from the campaign for the real Living Wage – championed by our institutions at Citizens UK and over 5,000 employers across the country – which demonstrates what can happen when workers, communities and employers work together..
The Living Wage Foundation is encouraging employers to guarantee at least 16 hours a week where the worker wants security - and a minimum notice period of 4 weeks before shift cancellation.
Find out more.