Child refugees: Vanessa Redgrave delivers urgent letter to Downing Street on lone child refugees in Calais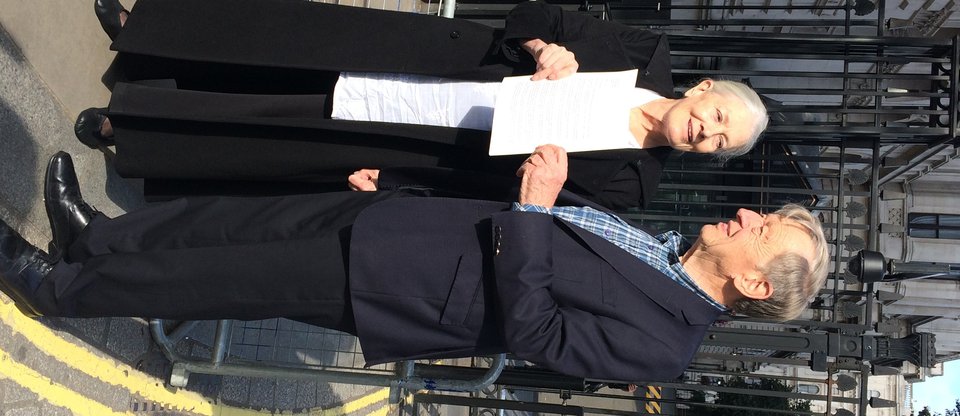 Vanessa Redgrave, Lord Alf Dubs and Aislin McGuckin today delivered a letter to Downing Street calling for an immediate amnesty for the unaccompanied minors in Calais identified by Citizens UK as having family in the UK. This action follows Wednesday's Home Affairs Committee report, Migration Crisis, which called for the 157 unaccompanied minors in Calais identified by Citizens UK to be brought to the UK in a one-off amnesty.
Citizens UK have been in Calais working with unaccompanied child refugees who have family in the UK since last year. In that time they have reunited over 40 children with their UK-based families, however, lawyers report that the process is still taking far too long. On average, three children a week are being reunited. This week Citizens UK revealed that there are currently 170 children in Calais who have close family in the UK, and at the current rate of reunification, many will face another winter in Calais.
Lord Dubs said: "It is vital that the UK Government shows strong moral leadership in this situation. The only reason that the 170 children identified by Citizens UK are still in Calais is lack of political will. They have every legal and moral right to be with their families in the UK. It is shameful that they remain stuck in a field, between two of the world's richest countries, surrounded by strangers."
So far Citizens UK efforts to persuade councils to participate in resettling Syrian refugees have persuaded 44 councils to offer 3,097 places. They've identified 700 private landlords who are offering properties, persuaded a dozen universities to offer £3.5 million of scholarships for refugees and successfully challenged the Prime Minister to resettle at least 1,000 people before Christmas.
Citizens UK has established Safe Passage; a group of volunteer lawyers, interpreters and refugee charity specialists who are setting up a process so that those who have a good legal right to claim asylum in the UK may do so. They have launched an emergency fund to raise money to help unaccompanied minors escape the immediate threat of demolition of the Calais camp.
The letter can be accessed here.