Brandenburg Choral Festival Concert in support of Citizens UK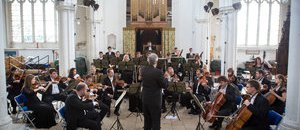 Brandenburg Choral Festival of London presents Mozart's Requiem to support Citizens UK.
This concert features the Brandenburg Festival Chorus and Brandenburg Sinfonia, in a programme of marvellous Mozart. In the second half, the festival's Artistic Director, Robert Porter, leads both groups in the dramatic Requiem , while in the first the instrumentalists will take centre stage with the Adagio and Fugue in C minor , Divertimento from The Marriage of Figaro , and the Serenade in D major , known as Serenata Notturna.
Programme
(All compositions by Wolfgang Amadeus Mozart)
Adagio and Fugue in C minor, K. 546
Divertimento, K. 492, from The Marriage of Figaro
Serenade no. 6 in D major. K. 239, ' Serenata Notturna'
Interval
Requiem in D minor, K. 626
Friday 10th November 2017 7.30pm
St. SEPULCHRE-WITHOUT-NEWGATE
HolbornViaduct London EC1A 2DQ
Tickets £23(premium)£18(unreserved) children£5 for tickets visit www.ticketsource.co.uk/event/191675?ref=citizensuk For more information email emmanuel.gotora@citizensuk.org